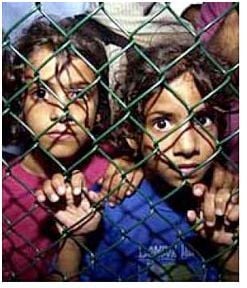 The subject of refugees is a highly emotive one. I've never felt it to be a bleaker time in my living memory of our history than when we were imprisoning already traumatised people – and their CHILDREN – behind razor wire.
I'll come clean about my own position. It's one of compassion. Don't talk to me about queues because this is not the Qantas terminal. In many war torn countries or places where people are being persecuted, there ARE no queues, no orderly manner of immigration. It's life and death. And if were YOUR life and death, the life or death of your children, would you take a non-existant number and wait in an orderly fashion to probably die? I wouldn't.
It is not illegal to turn up unannounced and ask for asylum. It is a basic human right. And my belief is that refugees and boat people have been often used as political pawns by governments who have wanted to capitalise on our most base and unattractive xenophobia (fear of foreigners) as a way to draw popular support. At the expense of the people who have the least in the world. The people who most need our compassion and ourhelp.
Anyway. I'm sure you have your own views. Everyone tends to. But the issue has cropped up again and I thought it might be useful to lay out some very basic facts. These facts are not my opinions or matters for conjecture. They're just the facts. What you make of them is up to you.
HOW MANY REFUGEES IN THE WORLD TODAY?
42 million people are uprooted from their homes today
16 million people are refugees and asylum seekers
26 million people are Internally Displaced Persons (IDPs)
ONSHORE AND OFFSHORE REFUGEES
Australia receives refugees in 2 ways:
1. Through it's offshore Refugee and Special Humanitarian program or
2. As onshore asylum seekers
OFFSHORE: AUSTRALIA'S REFUGEE AND SPECIAL HUMANITARIAN PROGRAM
Australia's Refugee and Special Humanitarian program is amongst the best in the world.
People are deemed refugees by the UNHCR offshore and are re-settled in Australia. (E.g., Sudanese community in Blacktown, NSW).
Through the program, people are integrated into the Australian community.
The UNHCR chief António Guterres praised Australia's refugee resettlement services when he visited Australia in February 2009.
HOW MANY REFUGEES DOES AUSTRALIA TAKE THROUGH ITS OFFSHORE PROGRAM?
13,750 refugees will be taken through its offshore humanitarian program in 2009-10
13,500 refugees were taken through offshore program last year
This figure is low by international standards per capita
ONSHORE ASYLUM SEEKERS
Australia's treatment of asylum seekers has been highly criticised by the international community,
The use of mandatory detention is highly criticised
The nature of war means that not all refugees can be resettled via the offshore humanitarian program. They are forced to flee undertaking desperate measures such as paying people smugglers to escape the perils of their home countries
HOW DO PEOPLE ARRIVE IN AUSTRALIA AS ONSHORE ASYLUM SEEKERS?
By plane – In 2008, 2291 people came by plane (Over 90% of the total number of asylum seekers). 55% of asylum claims made by people who arrive by aircraft are rejected.
By boat – In 2008, 206 people arrived by boat. Only 2-15% of claims made by people arriving by boat are denied. This year, many more have arrived by boat.
HOW MANY HAVE ARRIVED BY BOAT IN 2009
• As of 11 December, 2009, 53 boats have been intercepted this year, with about 2000 people sent to Christmas Island. Christmas Island is presently at capacity (over 1000 people)
AUSTRALIA'S MANDATORY DETENTION POLICY
Australia currently processes asylum seekers offshore in the $370 million mandatory detention facility on Christmas Island just over 350 kilometres south of Indonesia and 1600 kilometres from the Australian mainland
People are held within the centre's electrified 4 metre high razor-wire fences
Conditions are overcrowded
Lengthy stays result in mental health issues
A report from Australia's Human Rights Commission states that: "The immigration detention facilities on Christmas Island are not appropriate for detaining asylum seekers, particularly those with a background of torture or trauma. The Christmas Island Immigration Detention Centre (IDC) is a high security detention centre that looks like a prison. The construction camp facility is not appropriate for unaccompanied minors or families with children."
Most held there are currently from Afghanistan and Sri Lanka
Amnesty International's Secretary General Irene Khan demanded Australia shut down Christmas Island, and for people to be processed on the mainland
Australia does NOT process those who arrive by plane in mandatory detention facilities but rather processes them in Australia
WARS & GOVERNMENTS WHO MISTREAT THEIR CITIZENS THAT CAUSE PEOPLE TO FLEE
In 2001, many came to Australia were fleeing Afghanistan and Iraq.
More recently, the defeat of the Tamil Tigers by the Sri Lankan government have caused many Tamils to flee to Australia
Below shows top 10 offshore refugee visa grants (2005 -06) in Australia by country of birth:
Sudan 3,660
Iraq 1,834
Afghanistan 1,508
Liberia 554
Sierra Leone 508
Burma (Myanmar) 506
Burundi 442
Iran 392
Tanzania 372
Kenya 320
(from The Department of Immigration)
WHAT ARE AUSTRALIA'S OBLIGATIONS AS A SIGNATORY ON THE CONVENTION?
Australia was one of the very first signatories on the Convention relating to the Status of Refugees (1951).
Therefore Australia accepts responsibility to provide protection for the refugees who grace our shores.
Article 14.1 of the Universal Declaration of Human Rights, 1948 states, "Everyone has the right to seek and to enjoy in other countries asylum from persecution."
Now you know the facts. What do you think?