Netflix's royal drama The Crown sure had us hooked but let's be honest, it wasn't exactly Outlander when it came to ~sexiness~.
Aside from a now infamous cheeky reference to a blowjob where Matt Smith as Prince Phillip tells the queen "Either I could find some stilts to match up to my new, tall woman or… She could get on her knees", sex scenes – a period drama necessity, obviously – were non-existent.
But that wasn't always the case.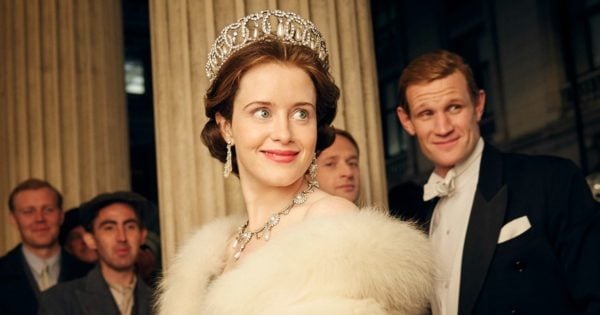 An interview with stars Smith and Claire Foy has resurfaced where the pair revealed there were scenes filmed that got a little raunchy.
For the biggest TV news of the week, listen to the newest episode of The Binge.
"There was more than that [episode seven], actually. There was a lot more than that. They didn't make it in," Foy told Nerdist last year.
"There were other ones, naked ones," Smith added.
Listen: Rosie Waterland can't get enough of The Crown on the latest episode of The Binge. Post continues after audio.