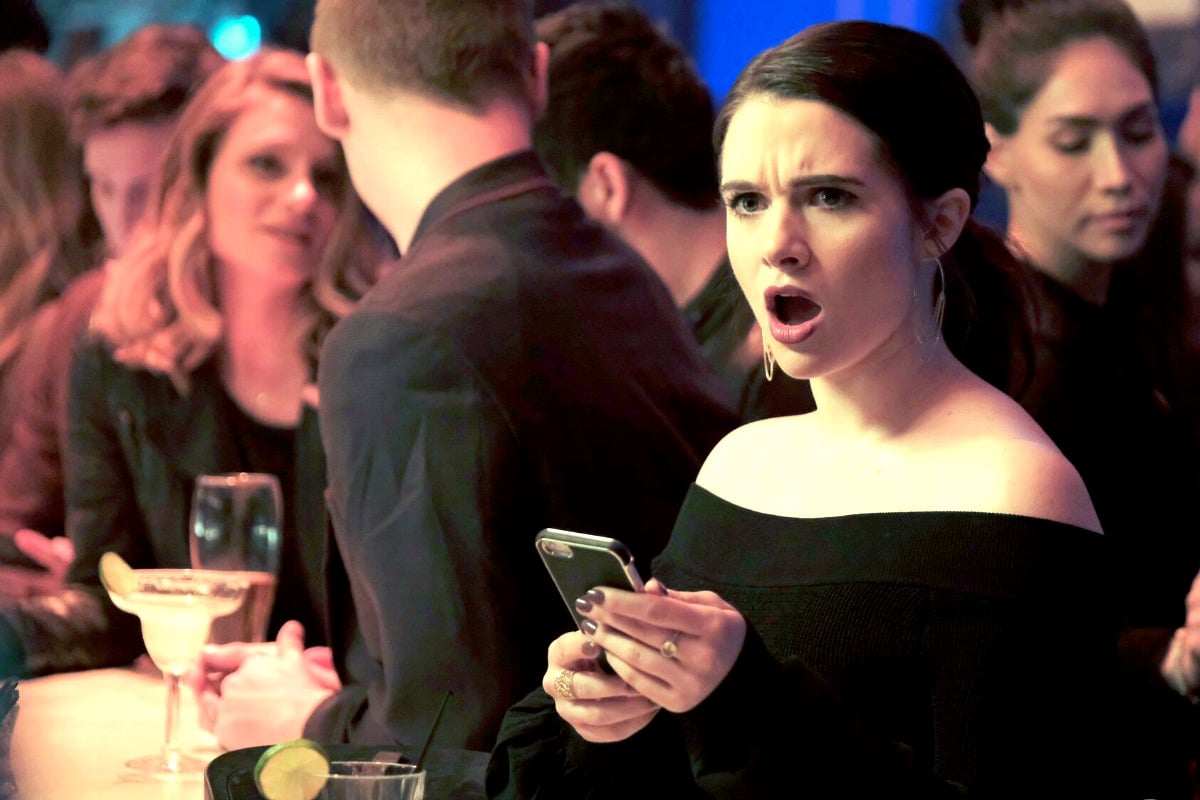 Katie Stevens is well aware that her job is a little weird.
The 27-year-old actress is now in her fourth season of portraying journalist Jane Sloan on The Bold Type, a role that sees her do everything from filming comedic shower-sex scenes to debating white privilege and women's fertility alongside two other actresses who now feel like family.
The Bold Type, which was inspired by the life of former Cosmopolitan Editor-In-Chief Joanna Coles, follows three 20-something women who work at the glossy Scarlet magazine in New York City.
In the series, Australian actress Aisha Dee portrays social media director, Kat, while Meghann Fahy plays fashion assistant turned fashion influencer, Sutton Brady.
Thanks to the show's glossy veneer, somewhat unattainable fashion and swoon-worthy love stories, The Bold Type was initially typecasted as a bit of TV froth, but all that changed when the series pivoted to more realistically reflect women's lives, merging the light with the dark.
Speaking to Mamamia's daily entertainment podcast The Spill, Katie Stevens said that while the onscreen presence of The Bold Type is very much an explosion of colour, behind the scenes it's all about the grey.
"The Bold Type came as a surprise to all of us, because when we first read the script it was just fun and we were all drawn to how it spoke on female friendships in a different way to how we've all been groomed to think," she said. "But it all changed when we started talking about what it was like to be a woman in this era, to be a woman of colour or a queer person. Now we're able to tell stories that are nuanced and show a grey area.
"I have never pushed back on a storyline, but I have definitely felt nervous about some of the storylines on the show. Especially in this day and age, because you never want to tell a story that will alienate anyone."
Listen to the Bold Type actress Katie Stevens talk about sex scenes, sisterhood and controversial storylines on The Spill, post continues.

In an interesting twist of fate, two of the storylines Katie was initially most apprehensive about filming both took place in the show's second season and have gone on to have the most lasting effect on fans.
In Stride of Pride, Jane is frustrated after being passed over for a plum role at a magazine because she adds no diversity to the team. In Betsy, she throws down with roommate, Sutton, over Sutton's right to own and keep a gun in their apartment.
"I was especially sensitive to the gun episode," Katie told The Spill. "In that episode, Jane is so judgmental and set in her thoughts about it all. We're also living in a time where everyone feels like they now need to have their opinion heard, especially around the issue of gun control, where it's easy for people to become emotional.