Last night on The Block, Andy and Ben – aka "The Boys", there must always be a team called "The Boys" – introduced us to the most mind-blowingly,  amazing shoe storage idea we have ever seen: The Rotator.
It sounds like an old school contraption you hang ties on or some kind of sex toy, but it is actually the spinny wardrobe shoe holder thingy of our dreams and the best thing anyone has found in a wardrobe since Narnia.
It made Shaynna, and us, do this: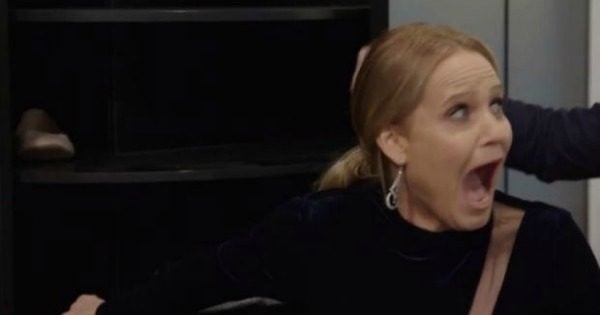 "Shaynna lost her mind at this point," said Scotty.
And so did we.
Listen: The Binge discusses why The Block has still got it. Post continues below.
The Rotator is a set of spinning shelves that fit in the corner of your wardrobe (you know, the part that is only useful for collecting dust, odd socks and ex-boyfriend artefacts.) The boys said it could be also used for clothes, but who are they kidding? This is a shoe shelf. The world's most glorious shoe shelf. It even has a full length mirror on the back.