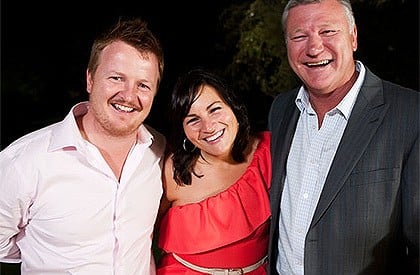 "We interrupt your Sunday night to let you know that we are no longer a couple."
Their relationship was shown to be less secure than Spencer Pratt and Heidi Montag from The Hills, so it's probably going to come as no surprise to anyone that The Block Fans vs Faves winners Steve O'Donnell and Chantelle Ford have broken up. Tear.
The couple won the 2014 season, taking home a ridiculous $736,000 in prize money, which they're probably going to fight over now that they've split, just like they fought over everything else in the show.
But of course, it's always sad when a relationship ends. So what better way to soften the blow than with a slightly sarcastic Facebook announcement.
"We interrupt your Sunday night to let you know that we are no longer a couple," the post began. You can read it in full below.
Well. If that's not the most awkward announcement of all time, we don't really know what is.
The relationship was shown over the reality show's season to be volatile and strained, with explosive fights dominating episodes. But, let's remember, this is reality television. Who knows what's actually real and what's not.
After the show ended, Chantelle denied break up rumours and said the show had strengthened their relationship.
"Every relationship goes through ups and downs and you have disagreements, ours just happened to be on national TV, that's nothing new,' she told Sydney Morning Herald last year.
"If you come out the other side of this, how could you not be strengthened."
In any case, we wish them well. It might be time to delete that joint Facebook page, though.
Click through the gallery below for all the past winners of The Block. 
All the past winners of The Block