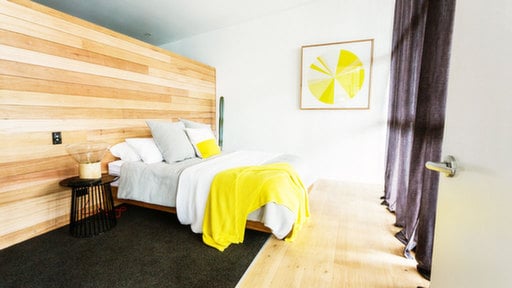 Shannon Vos from The Block, "Winning to us was second. We wanted everyone to do well."
It seems that brother Shannon and Simon Vos may just be ready to celebrate their win on reality TV show The Block, as the dust starts to settle on the controversial results.
The auction, which happened on Saturday and aired last night on Channel Nine, left only two teams with substantial winnings and the remaining three with less than what they needed to cover the cost of being on the show.
Still, Shannon thinks everyone on the show will benefit from it, despite the less-than-stellar auction results, saying all the teams will be able to launch careers from the show, albeit without the head start they were counting on.
"It's a massive platform," he explained. "Someone would be stupid not to put Michael in front of a camera for the rest of his life. Daz and Dee are just so marketable. Maxine and Karstan are in talks already. Maxine has a good head on her shoulders. Everyone is going to go very, very far."
Still, it must be a bittersweet victory for the boys, especially as Shannon says they are close to all of the other contestants. "I felt gutted. When Mike and Carlene came back with ten grand I hugged Carlene and just lost it. I would rather everyone won a lot of money."
The brothers won $335,000 in prize money and as the winners of the show, get to add an additional $100,000 to it. So, what are their plans for the prize money?
We asked Shannon if he and brother Simon plan to go into business together but Shannon says all money decision go to new wife Lisa. "We'lll think about that [going into business together] but I also have a lovely wife to answer to. 'Happy wife, happy life', as I'm quickly finding out."
Shannon and Lisa were married two weeks ago, during the school holidays to cater for Lisa's job. "She's a teacher so it had to happen during the school holidays," he explained. He wasn't tempted to get married on the show like Max and Karstan? "No, it was a private affair. We wanted to keep it private."
So what does the future of the show hold? Surely prospective contestants will be scared off by last night's volatile results. "I reckon that will scare some people, especially the ones who have to take the risk. It was a bit easier for Simon and myself because we don't have kids, so it was less of a risk for us. But we also have to split the money."
Shannon says he and Simon would return to the show if asked, despite this season leaving both of the brothers in ill health. He says they both lost 7-8 kilos and Simon "got really crook". "He didn't go too well after the show."