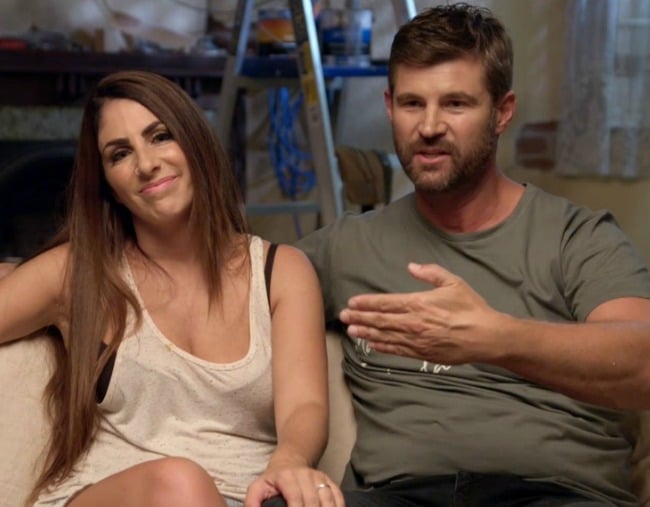 On Tuesday night's episode of The Block, Sara out Sara-ed herself.
The teams were given a six hour challenge to style a room each, in house that's for sale.
During the final minutes of the challenge, the flight attendant asked Norm and Jess for some of their flowers.
They very rightly refused.
She then came back a few minutes later and asked Norm to help her carry a heavy bench up the stairs.
Norm being the good bloke that he is, helped her out. Then Hayden followed them up the stairs a few minutes later carrying a few cords.
Fans were not impressed.
It's a bit rich asking for someone's last sip of water in the desert when you've been a jerk to them. What a hide! ???? #9TheBlock

— Bibs (@BibsWWPD) August 14, 2018
The sad thing is that norm is happy to help others and Sara is happy to abuse that good hearted nature. Don't expect her to help you when the situation is reversed #9TheBlock

— Janelle Berner (@missnellebelle) August 14, 2018
Sah-rah seems to like using people #9TheBlock

— Jeff Meyers (@rocket_speaks) August 14, 2018
So where the fuck was Hayden? Oh….carrying power cords. #9TheBlock pic.twitter.com/lE2C3H6OJf

— Sue K. (@SueKennedy19) August 14, 2018
Um Sara, that should be your PARTNERS job! #9TheBlock

— Bronwyn Cook (@broncook76) August 14, 2018
Doubt you would give them flowers if the tables were turned Sara. Don't think you would be any different #9TheBlock

— Janelle Berner (@missnellebelle) August 14, 2018
#9TheBlock Mystery- where was Hayden when Sarah needed help with that table thing-? ????????????

— OPHILLIA OPHILLIA (@OphilliaO) August 14, 2018
On Monday night's episode, Sara also infuriated fans.
While she was out choosing carpet for her spare room, Sara consulted an outside designer. The Block's number one rule is "No help from any outside designer".
When she returned to the Gatwick, a producer asked Sara about the phone call. The flight attendant brushed off the accusation, claiming she must have been speaking to her husband, Hayden, or her "wallpaper lady". Then she didn't, erm, buy any wallpaper.
 Jess, Carla and Bianca agreed that Sara had technically "cheated", but decided not to take it any further because she had already had a tough week.
"They've had a really crappy week where their confidence has been ripped from them," Jess told the camera.
Just another week of drama on The Block.