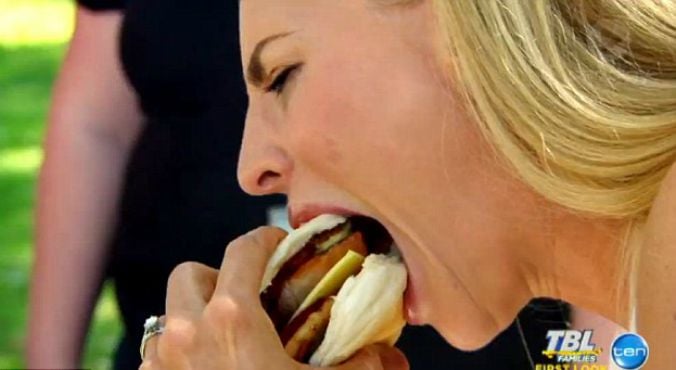 Image: Tiffiny Hall digs into a burger (Channel 10).
The 10th season of The Biggest Loser Australia — sorry, TBL Families — is officially upon us.
This year, the program has a new twist: each of the coaches is required to spend a week at home with their assigned family, adopt their diet and lifestyle, and join the weigh-in. On last night's episode, the four trainers — Michelle Bridges, Steve 'Commando' Willis, Tiffiny Hall and Shannon Ponton — were visibly horrified by the calorie-heavy dishes being served up to them.
Commando's first breakfast comprised cold chicken, chips and a bottle of soft drink; while Ponton was served a family-sized lasagna for lunch, then an entire Bavarian chocolate cake with ice cream as a snack.
Meanwhile, Bridges was driven to tears by her breakfast of soft drink, sugary cereal, ice cream and pizza, telling her family, "I cant believe you eat like this. This is really awful."