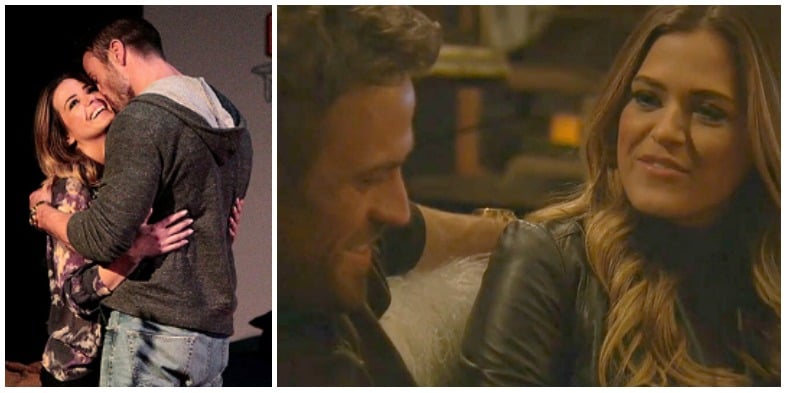 In every season of The Bachelor and it's sister show The Bachelorette, someone is inevitably cast as The Villain.
Last year's baddie was Emily Simms, who fought back against the way she was portrayed on season three of the homegrown version of the franchise. Then we had International Male Model David Witko, who dared to call our Queen Sam Frost a bully, and was soon condemned to the role of The Bad Guy.
On the latest season of the bat shit crazy US version of The Bachelorette, we have Chad, a man who proudly eats raw sweet potato like it's a regular piece of fruit and who is well on his way to becoming America's most hated man with his threats of violence, punching of doors, ripping other contestants' shirts, critical eye rolls and gentle reminders to Bachelorette JoJo to please stop nagging him.
The current US Bachelorette, JoJo Fletcher. 
It's only three weeks into the show and Chad's behaviour is already so repulsive he has morphed into a walking red flag, a screaming message to all girls young and old who watch the show that, despite the fact he can sometimes seem charming and sweet, he is everything you should not be looking for in a life partner.
Watch Chad - aka the worst potential suitor known to man - on the show. Post continues below.

After all, his one friend in the house has even gone so far as to compare him to Hitler and Mussolini, while another threatened to leave the competition if Chad remained.
But instead of sending him on his merry way home, The Bachelorette producers have instead decided to whack some security guards in his bedroom, you know, in case he MURDERS SOMEONE BECAUSE HE CAN NO LONGER LIFT WEIGHTS.
Chad will do his due on The Bachelorette, as all good villains do, sprinkling the show with its requisite dose of DRAMA as he stirs the pot on group dates and earns the ire of his fellow contestants.
There's no doubt he makes for great TV. Everyone loves a good baddie. And while this reality show may not be as real as the producers would like us to believe, this isn't a fictitious drama.
There comes a time when we need to say no. Watching a man use his physical presence as a threat to other contestants shouldn't be entertainment. Death threats should not be passed off as par for the course in the mansion. And if the promos for tonight's episode are anything to go by, we're in for much worse than we've already seen.
Sorry, Chad, but you don't deserve a rose.
You can watch The Bachelorette on Nine Life, or catch up online here.