We're only two episodes into The Bachelorette, and we've seen something we almost never see on The Bachelor. 
The Bro-code.
And that's not just because there's only one 'bro' on The Bachelor, so it would be a bit weird if he formed his own code.
I'm talking about that unspoken, respectful understanding between men that while you're in a pretty weird situation (one where you're literally competing for the attention of a woman), you're not going to step on each other's toes to win. It's the code men seem share that says that even though you're rivals, you can still be friends.
We saw it early on in Wednesday night's episode with the (frankly, quite bizarre) friendship of Aaron and Rhys.
It was as though Georgia wasn't even… there.
The two hit it off so quickly and gushed about each other's awesomeness so much that it was actually a turn-off for Georgia, who genuinely started to wonder whether they wanted her to leave.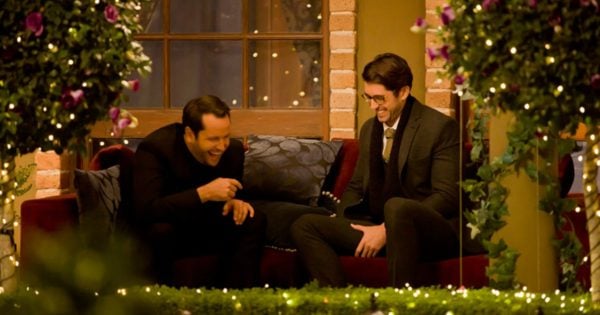 Then - there was the moment Jake was sitting next to Georgia, and Courtney wanted a moment with her.
So Jake got up, gave his seat to Courtney, and walked away. Then Courtney got the 'first impression rose' and Jake WASN'T EVEN THAT MAD.
Sure, comparisons can be drawn to The Bachelor. Alex and Nikki's friendship, for instance. I really respected how no matter how much attention Nikki was receiving from Richie, Alex continued to reiterate what a great, fun person Nikki was and how she could see why Richie would choose her.