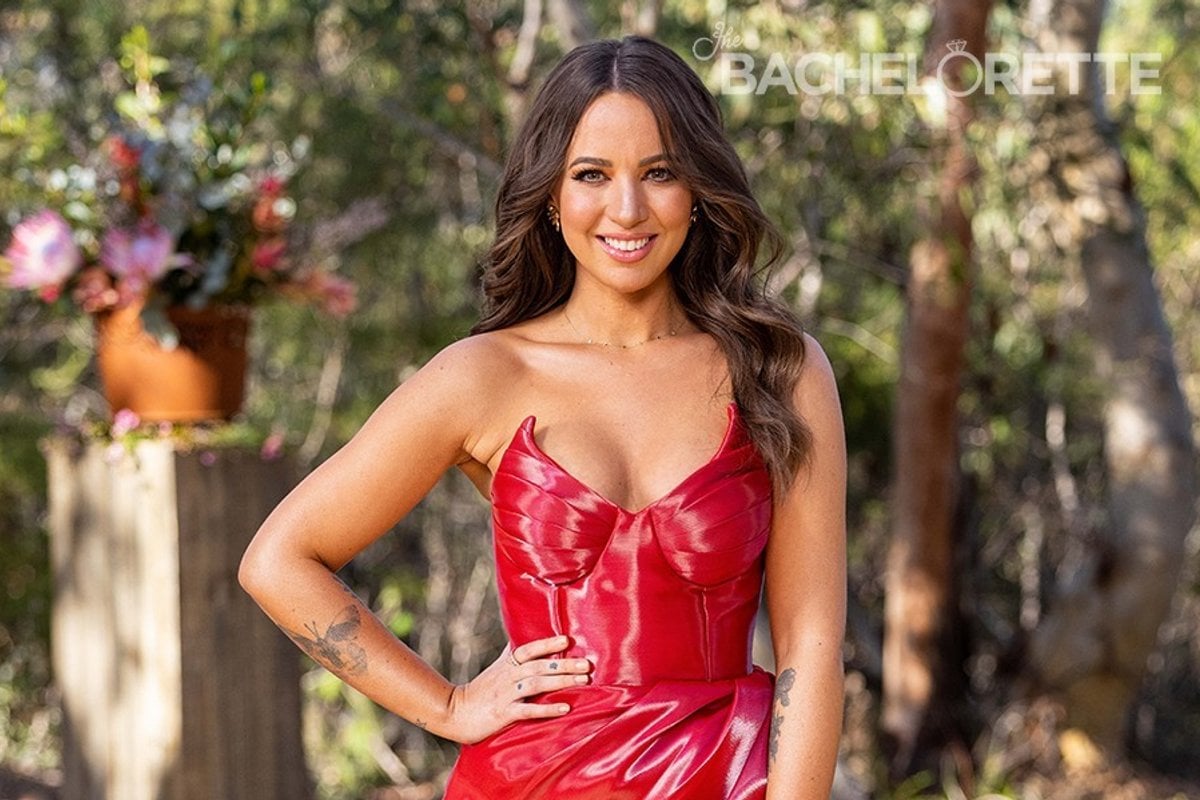 To catch up on all The Bachelorette Australia 2021 recaps and gossip, check out Mamamia's recaps and visit our The Bachelorette hub page.
It didn't take Jamie-Lee Dayz long after she stepped out of the car in that beautiful red dress on Bachelorette finale day to realise it wasn't going to be her.
That is one benefit - or downside, depending on your outlook - of knowing bachelorette Brooke so well. The pair had been friends for years, after initially meeting when they were both contestants on Nick Cummins' season of The Bachelor, and while that made a great springboard for their relationship, it wasn't enough for Brooke to choose her.
"I feel like throughout the whole season there had just been little moments where I feel like, because I know Brooke, she would look at me and there was no words needed and I think that was truly the case on that on that final day," Jamie-Lee told Mamamia after the finale aired.
"The minute I saw her I could tell that she was deflated. And her heart was breaking as well, and especially her heart was breaking for me. So I kind of knew pretty early on and I'm kind of glad. I think in these situations there aren't words that can describe how you're feeling but yeah, it was definitely difficult."
As she stood there, being broken up with by a woman she loved, Jamie-Lee felt a conflicting series of emotions.
Yes, she was heartbroken. But she was also happy for her friend's newfound love.
"I have always cared for her as a person and as a friend. And then I develop these romantic feelings. And it was really difficult to differentiate the two at that time because I wanted to care for Brooke, but also my heart was, you know, completely shattering at the same time," she explained.
"So it was really difficult to kind of juggle those emotions, then seeing the girl that you love crying in front of you because she's letting you down. It's just a really difficult, difficult one to navigate, and I just wanted to let her know that no matter what had happened, you know, I think she was being true to herself and she was doing it in the most respectful way."