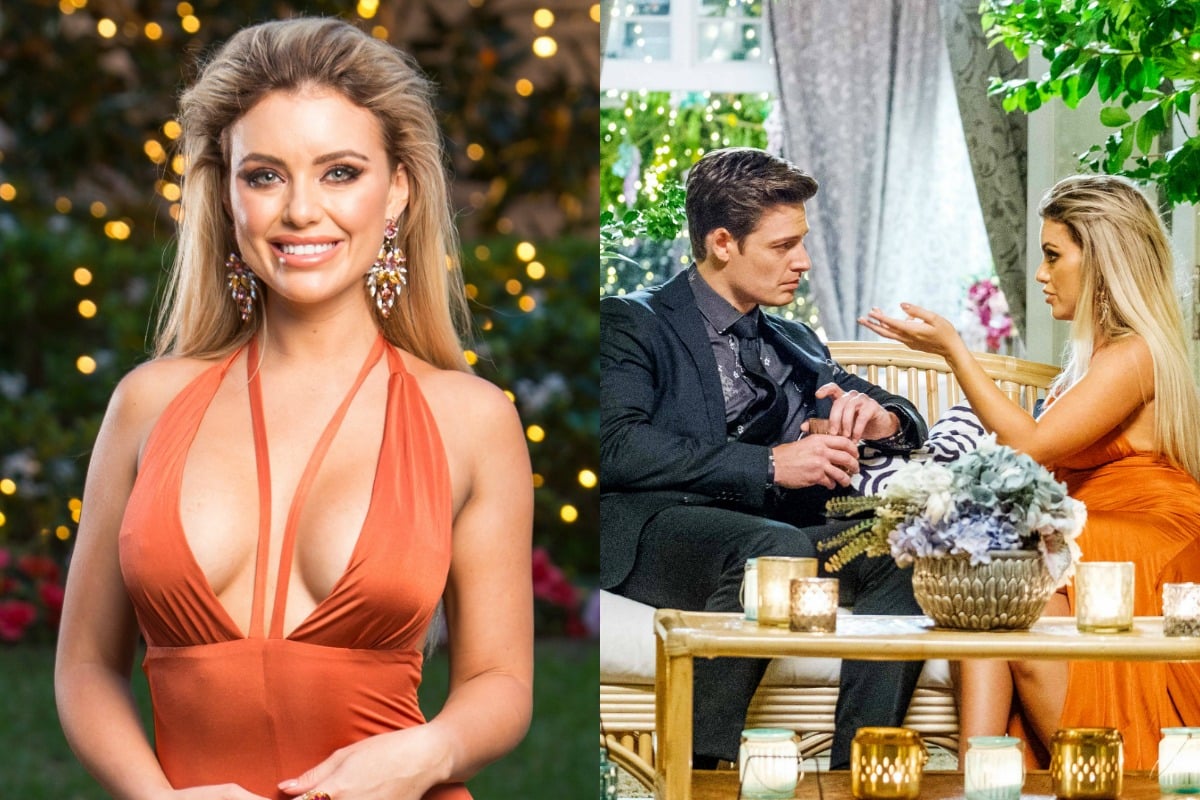 To catch up on all the Bachelor Australia 2019 recaps and gossip, check out Mamamia's recaps and visit our Bachelor hub page. Sign up to our "Mamamia Celebrity" newsletter for daily updates straight into your inbox, and join the conversation in our 'Bach Lols' Facebook group. We've got you covered. 
Monique Morley's Bachelor experience was… dramatic.
She rubbed some of the women *cough* Nichole *cough* up the wrong way from the get-go, and then was part of the show's biggest scandal so far after Abbie told Matt she called him a 'disrespectful pig' and what we here at Mamamia have creatively code-named 'woof woof'.
Watch Matt ask Monique to leave The Bachelor. Post continues below video.
Speaking to Mamamia following her exit on last night's show, Monique shared a bit of context around the Abbie drama and that now infamous… 'woof'.
Monique said the reason Abbie was outcast after her cocktail party kiss with the bachie was not so much about how she said she wouldn't kiss him and then did, and more about the fact that they didn't realise kissing at cocktail parties was a… thing.
Abbie has since said she felt isolated in the mansion after the kiss, felt sl*t-shamed, and had to make use of the network's psychologist.
In the episode before Matt and Abbie's steamy kiss, Matt and Elly also kissed at the cocktail party (something that's usually been 'taboo' in previous seasons), but the women of the mansion didn't know that.
And that was the problem… which then led to about 154,578 other problems.
"What you don't know is that we didn't know that [Matt and Elly kissed]. I found out because she was upset about it when everyone was hating on Abbie but I didn't feel like it was my right to tell all the other girls about it," Monique explained.
When Abbie kissed Matt, everyone was p*ssed and battle lines were drawn down the centre of the mansion (and its pool), which led to #doggate.