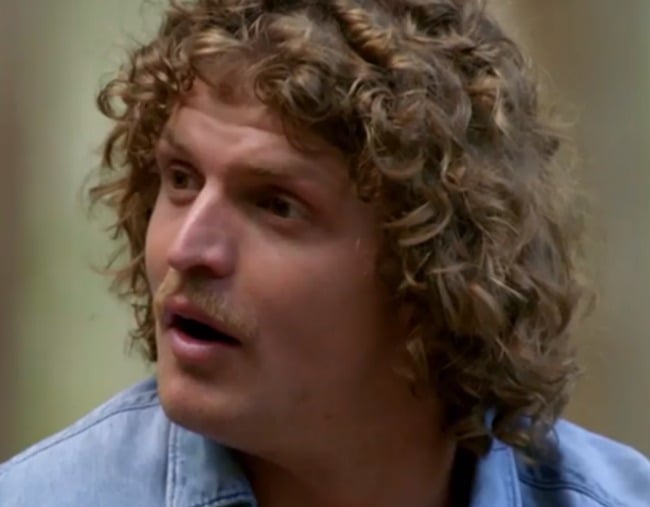 To keep up to date with The Honey Badger, AKA Nick Cummins, and all the best Bachelor 2018 news, cast and roses, check out our Bachelor hub. It's a blast.
Oh.
I see.
Vanessa Sunshine said a thing.
On Thursday night's episode of The Bachelor 2018, Vanessa Sunshine got a lil' bit of alone time with the Honey Badger.
She decided to take the opportunity to tell Nick that she's not that keen on the… mullet.
And the… moustache.
And his general… aesthetic.
It was super awkward but also possibly the most authentic moment in this TV series to date.
"I'm like, 'Who's this dude?'"she explained to a stunned Badger. "Blonde, curly mullet with this, like, curling moustache."
"And I'm going, 'Huh? OK.  Like, maybe he's, like, open to a little makeover or something'."
He was, erm, not open to a little makeover.
"If she's not feeling the Badger vibes, fair enough. There's someone out there for everyone… Hooroo," Nick then said to the camera.
She just wrecked his entire look #TheBachelorAU

— Kate (@kate_880) August 30, 2018
Ok, but is VANESSA WRONG. Like I've said before, imagine rocking up for Matty J 2.0 and finding someone who looks like ya dad in the '80s #TheBachelorAU

— Tahlia Pritchard (@Tahls) August 30, 2018
Why didn't Vanessa Sunshine just come out and say… I'm not here to date Joe Dirt #TheBachelorAU

— J E S S I C A (@Quisticles) August 30, 2018
Look, I'm not a scientist.. but it's probably not a great move to tell #TheBachelorAU you're not attracted to him.. ????????‍♀️

— Trav Roebuck (@Trav_Roebuck) August 30, 2018
Basically I thought with that mullet you were ugly but now I think I'm willing to give ugly a try. Jeez. #TheBachelorAU

— Sarah Curnow (@SarahMCurnow) August 30, 2018
"You have nice teeth" @TheBachelorAU #TheBachelorAU pic.twitter.com/Ha7n7OWIn0

— Michael Mosley (@mmosley93) August 30, 2018
This must just be so demoralising for the young rooster. #TheBachelorAU

— Bachelor of Hearts Podcast???? (@BOHpod) August 30, 2018
Later, at the camping-themed rose ceremony Nick sent Vanessa Sunshine home.
And she was confused as to why the curly-mulleted man was still talking ¯\_(ツ)_/¯.
Oh well at least Vanessa will be home in time for brunch (its a Melbourne thing) #TheBachelorAU

— The real Barry J (@therealbarryj) August 30, 2018
Vanessa Sunshine became the hero we didn't know we deserved. #TheBachelorAU

— Ashlee (@_itsashleeee_) August 30, 2018
Nick not picking Vanessa because she likes to get to know someone before deciding if she's attracted to them is typical of a man who has to go on TV to find a girlfriend #TheBachelorAU

— TheRealRQ (@imogenrq) August 30, 2018
respect for the other girls down a notch for not rushing to say bye like they do in every rose ceremony #TheBachelorAU

— nebi ????????✨ (@nebi_xgabrielle) August 30, 2018
Oh Vanessa Sunshine, you departed just as you entered – an I C O N #TheBachelorAU

— R (@twominutememory) August 30, 2018
Some say Vanessa still haunts that forest #TheBachelorAU

— Geo Kara (@geokara) August 30, 2018