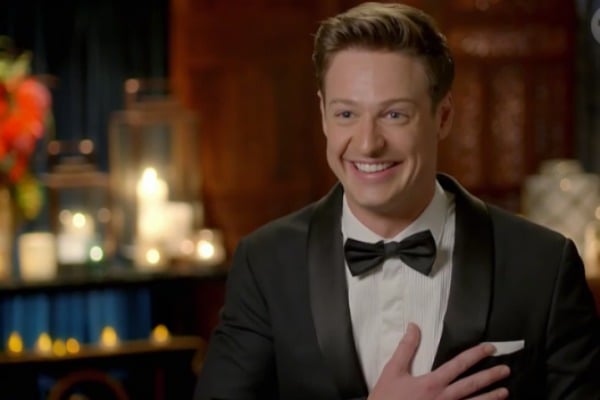 To catch up on all the Bachelor Australia 2019 recaps and gossip, check out Mamamia's recaps and visit our Bachelor hub page. 
Excuse us, but we have some very important Bachelor goss to share with the world.
You see, although we might be just two episodes into astrophysicist (yep, he's not an influencer) Matt Agnew's season of The Bachelor, the new season is already shrouded in endless spoilers and gossip.
From the rumour that Matt has sex with one of the contestants to the theory that once again, we basically already know who wins this year, we want to know all the things.
Mamamia meets The Bachelor, Matt Agnew. Post continues after video.
Fortunately, thanks to a new promo for an upcoming episode of the reality show, we now know that arguments between the contestants will lead Matt to hastily walk out during this week's episodes.
But according to new ~rumours~, it seems there might be even more drama going on behind the scenes of the show.
In fact, according to one report, tension between the contestants was quick to rise within the mansion.
"The tension was so bad that the girls started refusing to sleep in the same room as each other," one source told Woman's Day.
"At one stage there was something of a bedroom protest," they added, explaining that contestant Cassandra Mamone insisted she be moved from her shared bedroom.
The Spill is Mamamia's daily entertainment podcast that catches you up on everything pop culture. Get it in your ears below. Post continues after audio.
Woman's Day also reported that it's not just 'villain' Rachael Arahill that viewers need to look out for.
Instead, the publication claimed that Sogand Mohtat is the contestant to keep an eye on.
"She's been cast as nothing more than trouble," the source said.
"She went around accusing a lot of the girls being fake… it ruffled a lot of feathers."
It's believed tensions between the contestants will begin to build during this week's episodes of The Bachelor.
"The girls begin to get desperate and start to do outrageous things to get his attention [during this week's episodes]," New Idea reported.
A scandal ✔️ A sneaky pash ✔️ A walkout ✔️ #TheBachelorAU 7.30 Wednesday on 10. pic.twitter.com/z8A5TOpBd6

— The Bachelor Australia ???? (@TheBachelorAU) August 5, 2019
According to the magazine, intruder Monique Morley will be at the centre of a drama with Abbie 'Gemini' Chatfield in an upcoming episode.
"It's non-stop fireworks with [Monique], she just does not know how to hold her tongue," a source claimed.
Earlier this week, a source speaking to New Idea also claimed that Matt also, ahem, has sex with one of the contestants.
"The handsome astrophysicist even beds one of them and it's not the woman he ends up picking at the final rose ceremony!" the source claimed.
If true, it would be a first for the Australian franchise. But according to Grant Denyer, producers have enforced rules to stop the contestants from being sexually intimate.
"You're not allowed to get it on. There's no sex allowed on set," the Gold Logie winner shared on his 2DayFM radio show in 2018.
For more on this topic:
Sign up to our "Mamamia Celebrity" newsletter for daily updates straight into your inbox, follow us on Instagram at @mamamiaentertainment and join the conversation in our 'Bach Lols' Facebook group. We've got you covered.