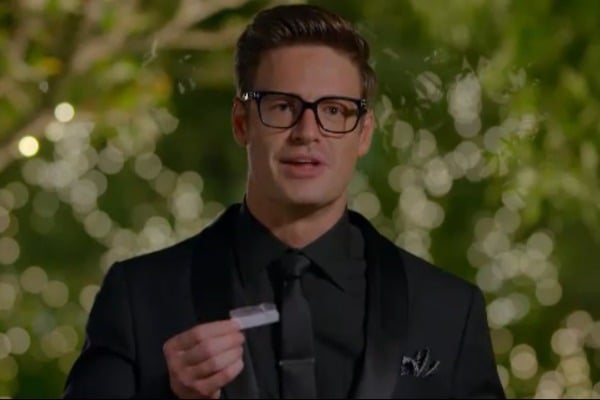 To catch up on all the Bachelor Australia 2019 recaps and gossip, check out Mamamia's recaps and visit our Bachelor hub page. 
It happened. It finally happened.
After weeks of rumours, Rachael Arahaill's ~secret romance~ with a Bachelor crew member has finally hit our screens and as expected, it's basically the best Bachelor sub-plot of all time.
In case you missed it, Rachael was caught out referring to a crew member of the reality show as her "Plan B".
The Spill is Mamamia's daily entertainment podcast that catches you up on everything in entertainment and pop culture.
Here's how it all went down:
During the cocktail party, Mary took Matt aside to tell him that Rachael was interested in an unnamed crew member.
Then, to make things even more dramatic, another Bachelor producer took Matt aside and showed him a slip of paper with Rachael's phone number on it, which had been given to the ~mysterious crew member~.
Excuse us, but is this The Bachelor, or an episode of Unreal?
Mamamia meets The Bachelor's Matt Agnew. Post continues after video.
While Rachael was speaking to the producers about her "Plan B" and how she planned to contact the crew member after the show finished, Matt approached.
Cue: Drama.
Although Matt heard every single word Rachael said, she decided to… blatantly lie and claim it was all a big joke. ¯\_(ツ)_/¯
The result? Matt called a car and sent her packing.
It was… amazing.
Here's how Twitter reacted to the drama-filled cocktail party:
the real hero of the evening is the gossipmonger producer who gave matt the note rach slipped to the crew member. we love a drama queen! #thebachelorau

— Jessica Lynch (@jesskalynch) August 28, 2019