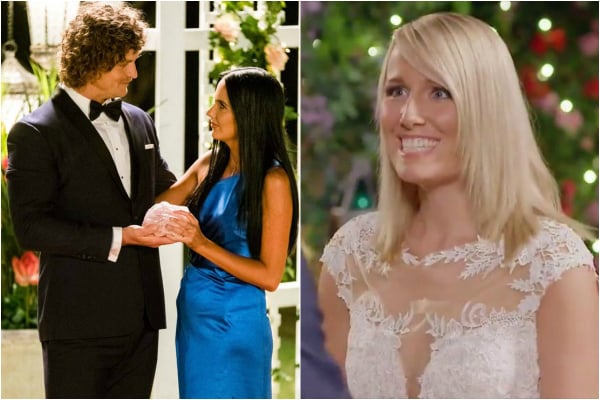 We're just six days out from the premiere of the new season of The Bachelor, so get that rose bush primed and pruned (not a euphemism) because we are so ready.
This year we'll witness 31-year-old astrophysicist Matt Agnew find love with his party of handpicked bachelorettes. Judging from the promos, it's going to be filled with allllll the drama. FUN.
While we wait for July 31 to roll around, we'd like to take a walk down nostalgia lane with all the weird, funny and touching moments we know we can expect from the premiere episode. In fact, history tells us this is true.
The Bachelor is here for yet another year, watch the promo featuring Matt Agnew right here:
So cast your mind back to the six Bachelor seasons of yesteryear, and join us as we play 'Bachelor Bingo'.
1. Somebody tries to make a standout impression, which absolutely goes balls up.
Look, we get it. As a contestant, you're competing against a bevvy of beautiful women who all have their eyes on the Bachelor prize, and everyone wants to stand out… so maybe you do something silly to get the camera's attention.
However, no one did that quite like Kayla, from the Honey Badger's season in 2018. Knowing her time to find Insta-fame love was running out, Kayla jumped into the pool in her sequined cocktail dress, much to the confusion of everyone. Although the Honey Badger didn't notice, we're guessing the producers were charmed by her 'go-getting nature' and she was allowed to stick around for the sake of good television.
Paddle on, Kayla, paddle on.