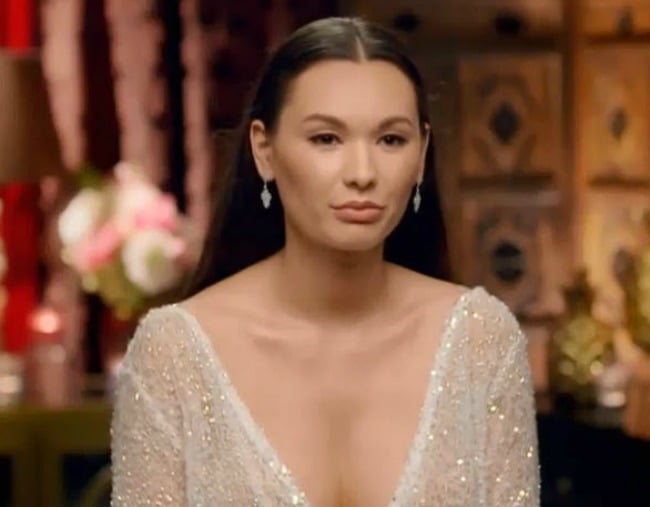 To keep up to date with The Honey Badger, AKA Nick Cummins, and all the best Bachelor 2018 news, cast and roses, check out our Bachelor hub. It's a blast.
On Monday night we were treated to the very first episode of the The Bachelor 2018 and it sure was something.
Together, we met the 25 (now 22) contestants competing for the heart of the Honey Badger but there was one particular standout, who captured our attention for all the wrong reasons.
And that was Vanessa Sunshine.
The 27-year-old legal secretary from Melbourne, wasn't exactly "thrilled" with her first impression of the show. She's not too keen on the Honey Badger's moustache, and would like all the other contestants to know that "this is The Bachelor, not 'Make New Girlfriends'".
To use a phrase inspired by the HB himself, she looked about as cheery as a poodle covered in hot sauce bung on a wood fire, but hot diggity dog, Vanessa Sunshine is going to be a brilliant villain this season (just guessing).
Was Australia ready for such a character to grace our screens? Most definitely not. But are we glad for all that's yet to come? Absolutely.
It's going to be a wild, wild ride, and here are the 17 best tweets that pretty much summarise how we're feeling right now.
Watch Vanessa Sunshine make her entrance:
"I mean, I didn't leave my life for nothing" – Vanessa Sunshine. THIS IS THE BEST BACHIE QUOTE TO DATE, YOUVE BEEN THERE ONE EP, what did you do, what did you leave behind, I can't ???????????? #THEBACHELORAU

— Jacqui Reed (@JacquiReed10) August 15, 2018
If i started throwing down shots every time Vanessa Sunshine said 'Vanessa Sunshine' I would be having my stomach pumped rn #TheBachelorAU

— Jessica Lynch (@jesskalynch) August 15, 2018
Vanessa of the famus Sunshine family #BachelorAU

— James Cheeseman (@shaggy84329) August 15, 2018
They all try to be Keira but there is only one bachie Queen #BachelorAu pic.twitter.com/DZ8hFLTUfU

— BrooksForTheDallyM (@princess_hann_) August 15, 2018
When's the new season of "Making Girlfriends" coming out?! ???? #BachelorAu

— Soapy Mc Soapbox (@soapymcsoapbox) August 15, 2018
We all know a Vanessa Sunshine don't we…. #BachelorAu #runNickrun pic.twitter.com/DN6H5q6M65

— Jo Kendray (@jokendray) August 15, 2018
THEY PUT VANESSA SUNSHINE'S FULL NAME ON HER TITLE CARD OMFG #BachelorAU

— lauren (@smolspideyy) August 15, 2018
"This is The Bachelor, not Make New Girlfriends" is the equivalent of "This is not Rupaul's Best Friend Race" #BachelorAU pic.twitter.com/fLpnHN227v

— Ku (@MissMichelleKu) August 15, 2018
How the hell is Miss Sunshine keeping those boobs up? I'm thinking sorcery. #BachelorAU

— jacs (@jacsvoice) August 15, 2018
Vanessa sunshine is such a mood #BachelorAU

— Tyla (@tylathecreat0r) August 15, 2018
I'll be hearing the name "Vanessa Sunshine" in my nightmares for sure #BachelorAu

— Miranda Napier (@Mighty_Snazzy) August 15, 2018
Vanessa Sunshine's thought track is HYSTERICAL. #notthrilled #bachelorau

— Sarah Harris ???? (@SarahHarris) August 15, 2018
More like Vanessa Raincloud amirite #BachelorAU

— Sarah McPhee (@_SarahMcPhee) August 15, 2018
Vanessa Sunshine is great branding imo, and according to Instagram she has a large cat #BachelorAU

— angus livingston (@anguslivingston) August 15, 2018
What are your thoughts on Vanessa Sunshine? Thoughts, raves and grievances in the comments please.