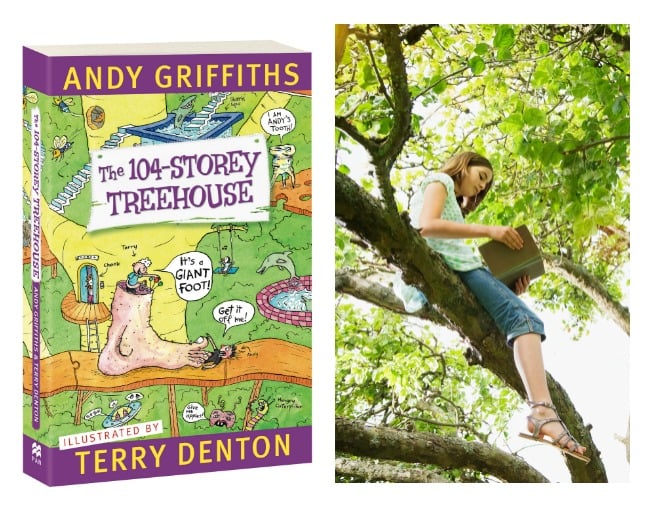 If you're a parent, you will know all about the beloved children's book series that started with The 13-Storey Treehouse, way back in 2011. Written by beloved and award-winning Australian children's author Andy Griffiths, the series has been published in more than 30 countries, because it's funny and relatable, to both kids and their parents.
The main characters are kids called Andy and Terry (named after the author, and the illustrator of the books, Terry Denton), and they have hilarious and imaginative adventures within their increasingly tall and wonderful treehouse.
Seven years and seven books later, the eighth book in the hugely popular series, The 104-Storey Treehouse, has just been released. Kids will read about making some money with the money-making machine, climbing the never-ending staircase, having a bunfight, depositing some burps in the burp bank, and getting tangled up in the tangled-up level.
But if the new book wasn't exciting enough, Mamamia has partnered with BIG W to bring you an fantastic competition to celebrate the launch.
On behalf of BIG W, we're giving away 10 copies of the popular children's book, personally signed by Griffiths himself.
Talk about making a special book even more special!
Sorry. This form is no longer available.
Terms and Conditions
Entries close at 12pm 5th September AEST 2018. Entries open to residents of Australia. Entrants must be 18 years or older. Winners will be notified via email by Thursday 6th September 2018. Prizes are distributed at the Promoter's discretion. The Prize is non-transferable and non-exchangeable, cannot be substituted for any other product or cash equivalent and cannot be redeemed by anyone other than the Prize Winner. Mamamia is the Promoter of the competition. See Terms and Conditions for more.
The book is also available to purchase in BIG W stores and online now.