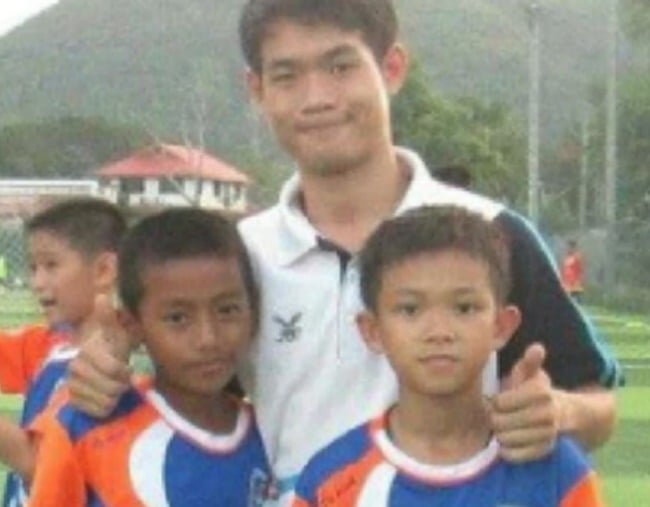 At 25 years old, Ekkapol Chantawong, the assistant coach of the Moo Pa Thai soccer team who were found trapped in a cave after nine days, has endured more tragedy than most would experience in a lifetime.
Known to friends as 'Ake', Ekkapol grew up in a small village in North Thailand with his family. But in 2003, when he was only 10, a disease swept through the village, killing his mother, father, and seven-year-old brother.
For the next two years, Ekkapol was cared for by extended family, and was described by aunt Umporn Sriwichai to The Australian as "sad and lonely".
When he was 12 years old, he made the decision along with relatives to study to become a monk, and spent a decade in a Buddhist temple learning to meditate, abstaining from alcohol and disseminating Buddhist teachings.
Ekkapol decided to leave the temple when he received news his grandmother needed support, and has lived with her ever since.
There are four boys and Ekkapol left inside the Tham Luang cave in Thailand. Post continues. 
Another aunt, Amporn Sriwichai, told The New York Times, "He is a really good boy… He is very helpful. He loves soccer."
It was his love for soccer that drew him to the Moo Pa (Wild Boars) soccer team, made up of many players who come from poor families and belong to ethnic minorities, led by head coach Nopparat Khanthavong.
Ekkapol connected immediately with the team, working with the head coach to motivate the underprivileged boys academically. If they worked hard and achieved good results, they would be rewarded with new soccer boots or shorts. When parents couldn't drop them at training, Ekkapol himself would pick them up and drive them home, treating the boys as if they were his own.
Along with Nopparat, Ekapol searched for sponsorship – wanting to provide the boys with every opportunity possible.