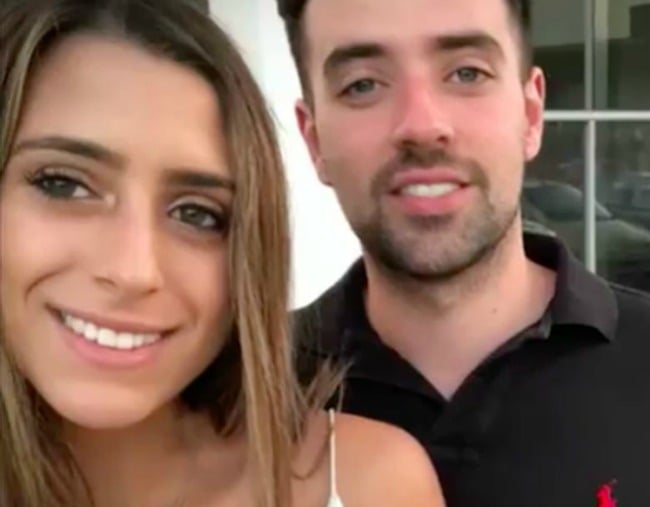 With AAP.
1. 23-year-old South Australian man dies less than a week after diagnosis.

The family of a man who died five days after his cancer diagnosis are campaigning for routine blood tests in the hope of boosting early detection of the disease.
Michael Owens, 23, died in his sleep on April 9, 2018, of Acute Myeloid Leukaemia, less than a week after presenting to his doctor with a sore neck and a cough, according to 7 News.
Two days after the diagnosis he proposed to his girlfriend, Rosie Rechichi, from his hospital bed.
"He was someone really special," she told the network. "He was really kind, he listened, he was funny."
Each year, 900 Australians are diagnosed with Acute Myeloid Leukaemia, a type of cancer that affects the blood and bone marrow.
Michael's father, Peter Owens, will be walking from Port Augusta to Adelaide in September to raise funds for research into the disease, and is urging Australians to ask their doctor for routine blood tests.
"You normally have to have a reason to have a blood test. Michael showed no signs of any illness," he told 7 News. "If at annual check-ups in the future you always had a blood test … it would be brilliant."
2. Four boys have been saved from the Thailand cave in a treacherous 11-hour rescue.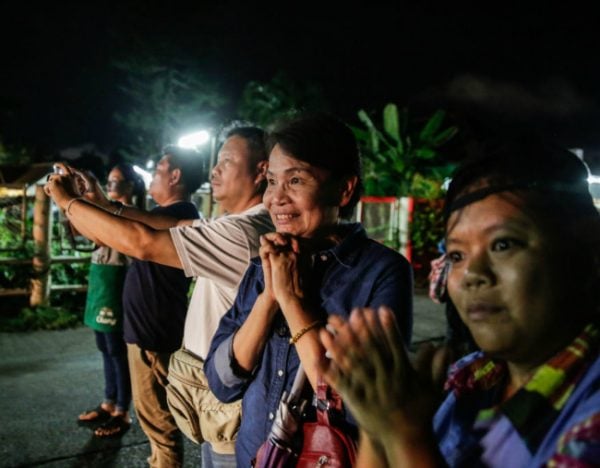 Four boys have been rescued from the cave in northern Thailand where they had been trapped for more than two weeks and have been taken to hospital.
The head of the operation to rescue the 12 boys and their coach said on Sunday it was going "better than expected" and would resume on Monday.
The operation to rescue the boys, aged 11 to 16, and their 25-year-old coach by having them dive out of the flooded cave began on Sunday morning, with expert divers entering the sprawling complex for the complicated and dangerous mission.
Shortly before 8pm, Thai navy SEALs, who are taking part in the rescue operation, reported on their official Facebook page that four had been rescued.
Chiang Rai acting govemor Narongsak Osatanakorn, who is heading the operation, said the four boys had been taken to a hospital.
"The operation went much better than expected," Chiang Rai acting govemor Narongsak Osatanakorn said at a news conference. He said the next phase of the operation would start in 10 to 20 hours.
The entire operation to rescue all 13 could last two to four days, depending on weather and water conditions, said army Major General Chalongchai Chaiyakam.
Narongsak said earlier in the day 13 foreign and five Thai divers were taking part in the rescue and that two divers would accompany each boy as they're gradually extracted.
The divers entered the Chiang Rai cave on an 11-hour round trip to rescue the 12 boys and their soccer coach at 10am on Sunday (1300 AEST).
They planned for two divers to accompany each boy back to the surface through the four kilometres of tight, muddy, water-filled passageways, some of which are less than a metre in diameter.
Six of the divers are with the Australian Federal Police, while another is an anaesthetist from Adelaide along with his diving partner.
A spokesperson for Foreign Minister Julie Bishop said the anaesthetist entered the cave on Saturday to check the boys' health and has been working closely with on-site doctors.
Experienced cave rescue experts consider an underwater escape a last resort, especially with people untrained in diving, as the boys are. The path out is considered especially complicated because of twists and turns in narrow flooded passages.
But Narongsak said earlier that mild weather and falling water levels over the past few days had created optimal conditions for an underwater evacuation that won't last if it rains again.
Before announcing that the rescue was under way, authorities ordered the throngs of media that had gathered at the cave from around the world to leave.
The boys and their coach became stranded when they went exploring in the cave after a practice game on June 23. Monsoon flooding cut off their escape and prevented rescuers from finding them for almost 10 days.
3. Mother-of-three named as woman killed in Cranbourne North attack and house fire.
The woman killed in a house fire in Melbourne's Cranbourne North over the weekend has been named as childcare educator and mother-of-three Amanda Harris.
The 36-year-old's remains were discovered after her home caught on fire at around 10.45am on Saturday. It's believed she sustained stab wounds and severe burns, according to The Age.
A 38-year old man, believed to be her partner, was arrested later that day and has since been charged with one count of murder.
Harris' three children were recovered safely and taken into care.
The crime has shocked Harris' friends and loved ones, as well as the local community.
"You could go to every house in this street and a bad word against them does not exist," a neighbour told The Age. "Against her or him... They were the perfect family but you know you only see what is on the outside, not behind closed doors."
4. Torrential rains claim 66 lives and strand 1000 more in western Japan.
At least 62 dead in Japan after "unprecedented" rain, dozens missing https://t.co/ccAJ439ulD pic.twitter.com/cBgoDylzSE

— Reuters Top News (@Reuters) July 8, 2018
Unprecedented rains that have killed at least 66 people have also stranded 1000 in the western Japanese city of Kurashiki on Sunday, including about 100 at a hospital.
Kurashiki, with a population of just under 500,000, has been hit hardest by the torrential rains that pounded some parts of western Japan with three times the usual precipitation for a normal July.
Television footage showed people, apparently patients and staff, waiting to be rescued on a balcony at Mabi Memorial Hospital, while many cars floated in muddy water and a person was rescued by helicopter from an elderly care facility.
The overall death toll from the rains in Japan rose to at least 66 on Sunday from 49 overnight after floodwaters forced several million people from their homes, media reports and the Fire and Disaster Management Agency said.
Another 60 were missing, national broadcaster NHK said, and more rain was set to hit some areas for at least another day.
The rain set off landslides and flooded rivers, trapping many people in their houses or on rooftops.
"We've never experienced this kind of rain before," an official at the Japanese Meteorological Agency (JMA) told a news conference. "This is a situation of extreme danger."
Among the missing was a nine-year-old boy believed trapped in his house by a landslide that killed at least three others, including a man in his 80s.
Japan's government set up an emergency management centre at the prime minister's office and some 54,000 rescuers from the military, police and fire departments were dispatched across a wide swath of southwestern and western Japan.
Evacuation orders remained in place for some 2 million people and another 2.3 million were advised to evacuate, although rain had stopped and floodwaters receded in some areas. Landslide warnings were issued in more than a quarter of Japan's prefectures.
5. Calls for a review of NSW gun laws after father opened fire on his two teenagers with legally obtained weapons.
The horrendous shooting murder of two teenagers at the hands of their father has prompted calls for a review of gun laws.
Firearm licences would be reassessed as soon as gun owners were involved in family court proceedings under one proposal aired after the deaths of Jack, 15, and Jennifer Edwards, 13.
The teenagers were killed in the bedroom of their West Pennant Hills home by their father John Edwards on Thursday.
The 68-year-old, who took his own life shortly after the shooting, had been in a long-running custody battle with the children's mother and bought the murder weapons only months earlier.
Opposition leader Luke Foley on Sunday said the deaths should prompt the community to "pause and reflect" and examine what can change.
He suggested reviewing the NSW laws surrounding gun clubs and removing guns from their premises.
Mr Foley and the not-for-profit group Gun Control Australia also floated the idea people be allowed a say when their partners or ex-partners apply for a gun licence.
GCA also wants firearm licences reviewed as soon as family court proceedings begin, saying current gun laws fail to adequately protect women and children because they require an AVO to be in place or a criminal charge before a licence may be revoked or suspended.
"By then, it may be too late to save a life," GCA director Samantha Lee said in a statement.
The new checks would be compulsory and include a firearm licence review where police would check if any person involved in family court proceedings had a gun licence and if there was any concern for the safety of that person, their immediate family or the public.
Police would also notify the partner if the other party had a gun licence, made an application for a firearm licence or an application to obtain a permit to acquire a licence.
The partner would be able to object to the application or continuation of the licence if they had safety concerns.
Under the reforms, police would have the power to suspend or revoke a licence and not issue a permit.
"The NSW government will consider any appropriate measures that will improve family and community safety, which is our paramount concern," a spokeswoman said in a statement on Sunday.
Police say two "quite powerful" handguns registered in John Edwards' name were used to kill his children and were found later at Edwards' Normanhurst home.
He also held licences for several other guns.
For crisis suicide support call 1800 RESPECT (1800 737 732), or Lifeline on 13 11 14. Help for children under the age of 18 is available on Kids Helpline 1800 55 1800.
6. Royal family will come together for the christening of Prince Louis on Monday.
Prince Louis will be christened in front of close members of the royal family on Monday.
The 11-week-old, who is fifth in line to the throne, will be baptised by the Archbishop of Canterbury, the Most Reverend Justin Welby, in the Chapel Royal at St James' Palace.
Prince George, four, and three-year-old Princess Charlotte will be there for their younger brother's big day.
It will be the first time Prince William, Kate and their three children will be seen together as a family of five.
Kensington Palace has yet to release the guest list, but royal christenings are usually a small, family affair.
Louis' godparents, who will be announced on the day, will take part in the private 40-minute traditional religious ceremony, which begins at 4pm.
There is speculation the Cambridges, who usually opt for close friends and confidantes, may choose William's trusted private secretary Miguel Head, who is leaving the post this month, to be a godfather.
The baby prince will be dressed in the same frilly, cream gown used for George and Charlotte's baptism.