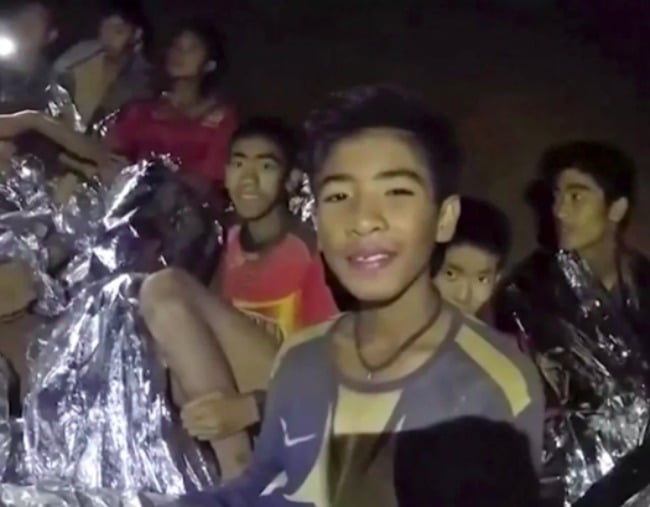 Australian cave diver Craig Challen has shared how drugs played a vital role in getting the 12 Thai boys and their coach out of the Tham Luang cave safely.
The retired Perth vet and his diving partner, Adelaide doctor Richard Harris, believe the children would not have made it out of the cave alive if they weren't sedated.
"They had drugs," Mr Challen told the Sunday Telegraph.
"We could not have panicking kids in there, they would have killed themselves and possibly killed the rescuer as well," he said.
"If you put me in a full face mask with no previous experience and dragged me out of a cave… then I would be terrified and probably panicking as well."
There are conflicting reports about what the boys were given to sedate them.
Although reports initially stated that the boys were given ketamine (a type of horse tranquilliser often used as a recreational drugs), Thai Prime Minister Prayuth Chan-O-Cha has stated that the boys were given anxiolytic, an anti-anxiety medication.
On the other hand, a Spanish diver told Daily Mail that the boys were "unconscious".
Watch: The young boys are rescued from the Thailand cave.
Mr Challen also spoke about how risky the rescue operation was, even with the children sedated.
"It was time consuming and fraught with danger because you really only need to do one little thing wrong that makes the breathing apparatus not work properly or have a little leak or something like that, which may go unnoticed when they set off," he said.
"It's out of the question to even attempt any sort of resuscitation or something like that."
Dr Harris also opened up about the immense pressure he felt as the rescue mission commenced.
"I have never seen anything like it," Dr Richard Harris wrote on Facebook.

Dr Harris and Mr Challen were two of eight Australians involved in the precarious rescue.
Dr Harris was the last person to exit the cave on Tuesday, when all 12 boys and their 25-year-old coach from the Wild Boar soccer team were successfully rescued.
There are calls for Dr Harris and his diving partner Craig Challen to be awarded a Cross of Valour, Australia's highest bravery decoration.