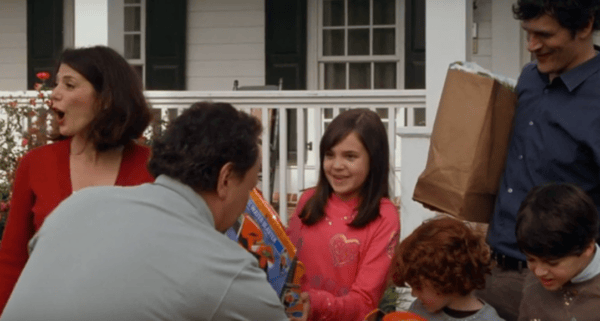 I'm pretty sure my brother hates me.
It was my son Philip's 11th birthday, two years ago, on that dark dark day it all started.
Most family members had asked me what Philip might like as a gift and I happily suggested quiet, non-messy items that would please us both.
Listen to a story about the worst Christmas presents ever on This Glorious Mess. 
My brother, who after acting all his life like I was one of his favourite people in the whole wide world, bought my son a Horror Makeup kit complete with black face paint and fake blood.
A passive-aggressive gift if I've ever seen one. And it made such an incredible mess. He used it in the bathroom and it seriously looked like a murder scene.
Why didn't he just buy him a paintball gun? Or a toy with a repetitive song that would send me straight to the mad house?
Why not just walk into my house and fling paint everywhere, pausing only to hand me some spray cleaner and a cleaning cloth before strutting out the door?
When it comes to buying gifts for other people's children there are unwritten rules to follow. All you need to do is use your head. Kinnetic Sand? You really want that scattered all over your already-really-busy friend's house?
With Christmas fast approaching I feel it is my civic duty to clearly list the rules you should follow when it comes to buying gifts for other people's kids.
Unless you do really hate them, in wish case feel free to do the exact opposite and feign innocence in a perfect act of passive-aggression.
1. If the toy requires batteries, include the batteries!
I don't mean to sound angry but seriously, if you buy my child a toy and it needs batteries, then include a pack of them. Particularly at Christmas when ALL THE SHOPS ARE FRIGGIN CLOSED and if I do manage to find a petrol station that sells batteries they cost one million dollars!
2. Nothing that makes a mess
Playdough, Kinnectic Sand, Horror Makeup kits are all on the BANNED list. In fact, anything that makes a mess, regardless of how creative it claims to be, is not a good gift idea. I detest those little painting sculpture kids because the paint isn't washable and their clothes and whatever they were painting them on are just ruined!
3. I don't want to play with my kids
If you buy my six-year-old daughter a Chocolate Making kit or a Baking kit, I'm going to have to help her, aren't I. So are you trying to please her or torture me? The gift is for her, not for me. Same goes for kites – I'd have to help them fly it wouldn't I?!?!? – and anything that requires parental guidance or assistance.