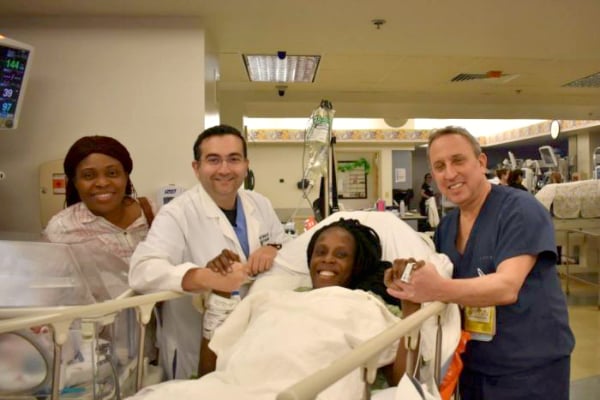 It took just nine minutes for Thelma Chiaka to add six new members to her family. Last Friday, just before 5am, she gave birth to sextuplets at the Woman's Hospital of Texas.
The sextuplets have been described as two sets of boy twins and one set of girl twins, implying three fertilised eggs each splitting to become identical twins.
So far, Chiaka has only announced the names of the girls, Zina and Zuriel.
The hospital has announced that the odds of giving birth to sextuplets are one in 4.7 billion. Those are the odds without fertility treatment.

The babies' birth weights varied from just under 800g to 1.3kg, and they're in stable condition in intensive care.
So what's it like being in a family with sextuplets? Here are some of the most famous.
The Rosenkowitzes
The world's first surviving sextuplets were born to Susan Wilson and Colin Rosenkowitz in South Africa on January 11, 1974. In a Sunday Times article celebrating the children's 30th birthday, Colin explained that his wife had been on fertility treatment to regulate her periods, and they hadn't been expecting multiple births. The couple already had two children.
"When we heard the news, my wife fainted and I got a runny stomach," Colin said. "When we told our maid, she ran away."
The children were named David, Grant, Jason, Emma, Nicolette and Elizabeth. They were celebrities growing up in South Africa, but as they reached adulthood, most moved overseas. Grant said he really enjoyed the publicity that came with being a sextuplet.
"Sometimes it got a bit much to be constantly seen as one of the six, but I wouldn't change anything that happened. Everyone likes attention."
The Waltons
Janet and Graham Walton from Liverpool in the UK had been trying for five years to start a family. Fertility treatment didn't seem to be helping, and they'd just been approved as adoptive parents when Janet found out she was pregnant – with six. On November 18, 1983, Janet gave birth to Hannah, Luci, Ruth, Sarah, Kate and Jennifer.
Graham took a year off from his job as a painter and decorator to help Janet look after the babies. Later, he converted the couple's home so that each girl could have her own bedroom.
"But they were in and out of each other's room most of the time," he told The Mirror in 2014.
"They'd swap clothes, swap beds, swap everything… even swap boyfriends later on. I'm only kidding."
To celebrate their 30th birthday, the sextuplets all got matching heart tattoos.
"It's always been about the six hearts and they represent each one of us," Jennie said. "They are all interlined like us."
The Dilleys
Becki and Keith Dilley met when they were both working at a Wendy's restaurant in Indiana. After five years of trying to fall pregnant, they turned to fertility drugs. To their shock, an ultrasound showed they were expecting quintuplets. Or, at least, that's what they thought.