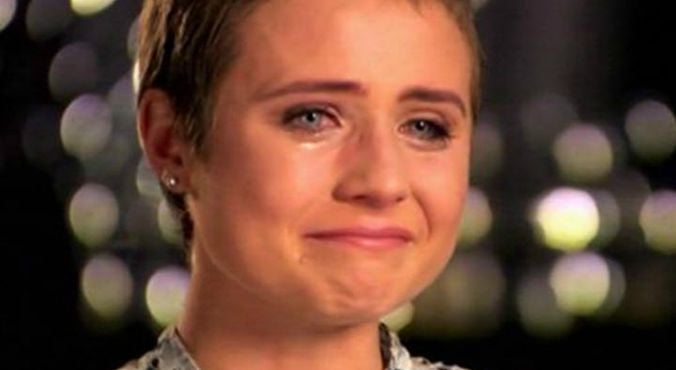 Image: Sunday Night/Channel 7
Former Home and Away star Tessa James says she used to look at actresses who were experiencing personal hardships and think, 'Well, I don't have a story. My life's really great.'
Now, almost one year after being diagnosed with cancer, the 24-year-old has a story of her own — and tonight, she shared that story publicly for the first time.
RELATED: Tessa James: "My cancer treatment is done and dusted."
In an emotional interview with Channel 7's Sunday Night, James reflected on her battle with Hodgkin Lymphoma, a rare blood cancer that affects the lymphatic system. There are around 550 diagnoses of the condition in Australia each year.
"Yeah, I have a story now," James, who left her role as Nicole Franklin on Home and Away in 2011, told Sunday Night. "No one should have to go through that."
In 2014, James had been living in Los Angeles, where she'd moved to pursue a Hollywood career, for just a few weeks when she began to feel unwell. She'd often experience cold sweats and nightmares. "I wasn't myself," she recalled.
She eventually found a large lump on her neck, above her collarbone, and had a feeling something wasn't right - a feeling that was shared by her parents, who urged her to fly home for testing. A biopsy in September revealed her cancer, and James moved home to the Gold Coast be with her family, including her NRL player husband Nate Myles, and undergo treatment.
RELATED: The new machine that helps cancer patients keep hair through chemo.
"I was just in shock," she said. Making her situation even tougher was the fact her father, former AFL player Stephen James, had been recently diagnosed with a similar form of cancer - non-Hodgkin Lymphoma. The two lymphatic cancers affect the body in slightly different ways but are both potentially fatal.
"It was devastating ... I think, 'Out of the whole family it's happened to me, that's fine'. To happen to your baby girl, it was tough," Mr James said. His wife, Charis, said it felt as though the "innocence had gone out" of the James family.
Tessa underwent 12 rounds of chemotherapy, every two weeks for six months, accompanied each time by her husband and mother. (Post continues after gallery.)
"You can't describe the feeling because it's beyond feeling sick or nauseous. To sit in that chair and know in like a couple hours I wasn't going to feel good, that was hard. The change was just huge," she recalled.
Six rounds in, James had her long blonde hair shaved. "It made it real, even moreso than what already was. It was like, this isn't going to be as quick fix as I thought," she said.
Although James maintained high spirits in the initial rounds - helped by the "really fun" environment created by the hospital staff who attended to her - the treatment eventually wore her down.
RELATED: Tessa James shares a beautiful selfie during cancer treatment.
"A couple of times … something came over me and I just felt sick, I felt really, really unwell. I think I was frightened," James says, describing the experience as traumatic.
At one point, she had a panic attack. "I remember calling Dad and saying, 'I want to die, I don't want to do this. I'm not strong enough. This isn't worth it. I don't want to feel sick any more. There's got to be another way'," she said.