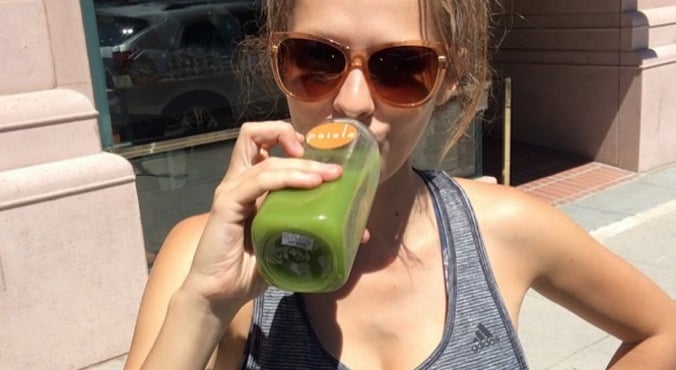 Image via iStock.
By Teresa Palmer, who's mother to Bodhi Rain.
So I thought I'd write about my pregnancy workout. I've always heard of labour described as similar to "running a marathon," so I knew that one of the most important aspects of my pregnancy would be maintaining my fitness level.
I've been pretty active over the last five years and didn't want to let pregnancy be an excuse to stop my workouts. I also downloaded "Exercising Through Pregnancy" by James Clapp and Catherine Cram, which talked about certain myths in pregnancy exercise and how being told to "slow down" doesn't mean "stop altogether."
RELATED: The 4 safest (and unsafest) gym classes for pregnant women
After reading this ebook I understood that the old belief of keeping your heart rate below 140 bpm was both a dated and conservative idea that needn't apply to women who were used to having a much higher heart rate during exercise.
There are, however, certain things that I knew I would have to change, for instance I knew I couldn't participate in hot yoga. Our babies are already a few degrees warmer than us whilst in our tummies so it's important not to put strain on their little bodies by overheating ourselves and them. Here is what I have been doing...
First trimester
I really listened to my body during this first and very important trimester. I didn't have any morning sickness but I was shooting films back to back and felt very tired. I decided to start prenatal yoga early and attended my first class at 6 weeks. (Post continues after gallery.)
The best and worst gym classes for pregnant women
For those who don't know what to expect in prenatal yoga, it's basically a much slower version of a regular yoga class. It emphasises bonding with the little spirit within you and makes amendments for certain yoga postures which don't serve us during pregnancy (i.e twisting inwards and inversions etc). The teachers also really prep you for labour and how dealing with the intensity of labour through yoga poses and deep breathing (Ujjayi breath) during your birthing day will be really helpful in finding more comfort.
RELATED: Zooey Deschanel is one celeb who won't be worrying about her "post-baby body".
For me, since I'm planning a drug-free natural water birth at home, I know that what I learn in my prenatal yoga will be incredibly beneficial in preparing me for this incredible day.