You might have told your family and friends the good news about your pending arrival,but how do you tell the boss you're pregnant?
Should you hold off on sharing your preggo news or do you need to book a meeting room ASAP and have 'the chat'?
Mamamia's Head of Human Resources, Liz Short, joined Hello, Bump hosts Bec Judd and Monique Bowley to help navigate the minefield of telling the boss you're pregnant.
Listen to Liz's words of wisdom on Hello Bump right here:
When it comes to best practices, Short says there's not really a 'best time' to reveal you're pregnant and recommends sharing the news as early as you are comfortable with in order to allow you work place time to think about how maternity leave and your return to work will look like.
"There are some requirements, so by law you need to give at least 10 weeks notice of your intention to take Mat Leave unless it's not possible."
The HR veteran explains that it doesn't always have to be a formal conversation with management and it really depends on the relationship you have with your boss.
"If you don't feel as though you're in a place that supports women going off and having babies then you should have somebody there to support you and you absolutely can."
If you are returning to work you have the option to request a further 12 months leave as well as flexible work options. Short continues.
And, if you have served 12 months of continuous service in your role at an organization, the employer has to hold open the same position or the same level of responsibility and seniority that was left.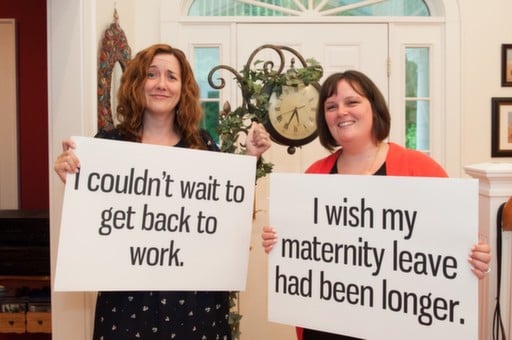 There are of course the horror stories about employers that don't play by the rules.
"I've heard stories where people have been said goodbye to when going on mat leave and they [the employer] won't even hold a position open.  I've had others [employees] where it's been agreed for them to come back part time but the role has still be full time and they've just nearly drowned under the workload." said Short.