Australian women living in remote communities are turning to 'telephone abortions' due to a critical lack of resources for safe terminations.
And whilst the system is far from perfect, at the moment it is their only option.
The barriers between these women and a safe abortion are immense. Firstly, there's the distance: women living in rural communities, mining towns, or isolated farms cannot always travel the hundreds of thousands of kilometers to their closest hospital for a surgical abortion.
Also, some Australian states still consider abortion illegal unless a minimum of two doctors rule the pregnancy to be a danger to the mother's mental or physical health.
And even if this is the case, a surgical abortion is generally the only option, with the non-invasive 'medical abortion' option of the RU486 tablet being stocked by only four per cent of Australian doctors.
Oh, and if you live in the NT? It's not stocked by anyone at all… Because it's against the law to do so.
(You can see the laws explained fully, here.)
Telephone abortions.
Little surprise, therefore, that so many women are seizing the opportunity to carry out their own 'telephone abortion'.
A 'telephone abortion' is the term given for at-home abortions performed by women without any face-to-face contact with a medical team. In other words, they're on their own.
Connected only with their phone and the mail service; these women are guided through the abortion process by psychologists and doctors over the phone, and are supplied with the drugs in the mail. They're sent not just the RU486 drugs, but also antibiotics, painkillers, and anti-inflammatories to prevent infection.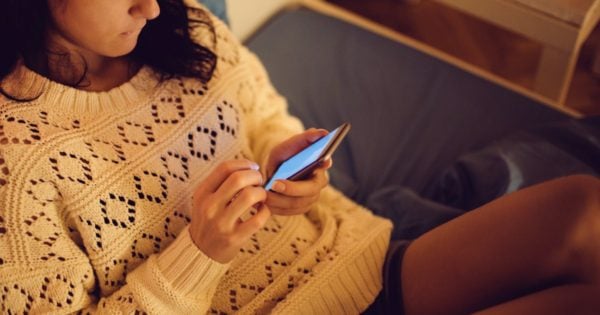 The Tabbot Foundation.
But before they can even reach this point, they have another hurdle to cross - figuring out how to obtain RU486 in the first place. And that's where the Tabbot Foundation comes in.
As it stands, the Tabbot Foundation is Australia's only service linking isolated women with safe abortion options.
Founded in 2013, the team at the Tabbot Foundation are led by Dr Paul Hyland, who is quick to point out that this is nothing new - Australia is merely behind.
"This has been available overseas since 1998, so we're 20 years behind the times," said Dr Hyland to Vice Broadly.
"Our model avoids harassment, abuse, and intimidation. And you don't have to travel to and then sit in a clinic to see a doctor or go through rounds of testing."
But whilst it is the best of the bad options, these 'telephone abortions' are far from perfect.
Still not available to all.
With 20 per cent of women requiring some kind of urgent aftercare after taking the drug - such as the pregnancy not terminating completely - the Tabbot Foundation requires any woman they work with to be at least one hour from medical care: hospital, clinic, surgery, or otherwise.
And for a lot of Aussie women, this is simply not possible.
So what does this mean? We need more options in connecting isolated women with a medical team that can help them mentally and physically through the abortion process, without prompting feelings of guilt.
Made to feel like 'criminals'.
Australia has a long way to go in supporting our female population with safe, clean, and unbiased abortion options. Out west, a conservative sentiment presides over pregnancy and women's health. Those women who do seek to terminate an unwanted pregnancy are made to feel like criminals for doing so.
Medical researcher Frances Doran notes the feeling of guilt among rural women is unsurprising, since Australia law deems abortion to be illegal.
"Having abortion in the criminal code isn't good for providers or women," she told Broadly. "It increases the stigma."
Difficult to locate, difficult to obtain.
With the general attitude to RU486 murky at best (it's still illegal in the Northern Territory), most doctors steer clear from prescribing it to patients, regardless of their location.
In fact, The Age suggest that a mere four per cent of Australian doctors are prescribing RU486.
"While the drugs were listed on the Pharmaceutical Benefits Scheme in 2013 to make them widely available, only 1244 doctors have become certified prescribers - a small proportion of the estimated 30,000 GPs and gynaecologists working in Australia."
The safety of RU486 has come under a critical eye since it's introduction to Australia in recent years. But the facts speak for themselves: the Therapeutics Goods Administration (TGA) only approved the drug after administering an extensive study of 13,345 women.
Only four per cent of women suffered complications, all of whom refused medical help following the abortion - against doctor's orders. (The Australian)
A major issue for the Northern Territory.
And whilst RU486 is difficult to obtain for so many rural women, it is next to impossible for those living in the Northern Territory, where it is still banned.
As it stands, women in the NT can only obtain a surgical abortion through one of their three major hospitals. The barriers to entry are immense: long waiting lists, high costs, and huge travel time that is just not available to many of the communities struggling in lower socioeconomic conditions.
"It is about the choice of women," independent MP Alison Anderson told Parliament earlier this year.
"I think we need to modernise ourselves as the Territory. I think every other state and jurisdiction has left us behind." (ABC)
We must do better.
Abortions - surgical, medical, or otherwise - are all dangerous. The risk of infection is high. You require a clean and hygienic environment, emotional support, and medical guidance.
And for so many Australian women who live in remote communities, their only connection with the help they need is over the phone.
And whilst that's better than nothing - it's just not good enough.
If you live in a rural or isolated region in Australia, you can find out more about telephone abortions by visiting The Tabbot Foundation on their website: http://www.tabbot.com.au/
Or by calling them directly on their national hotline 1800 180 880.