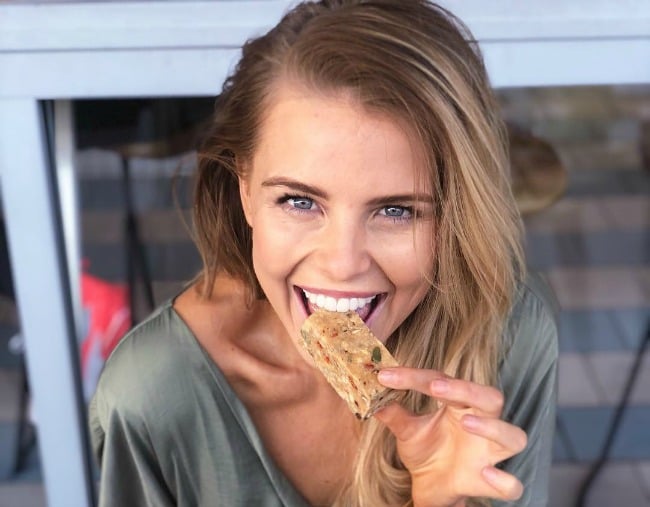 Over the past month, former Miss Australia Tegan Martin has been peddling her new health coaching business to her 121,000 Instagram followers; a pursuit she described as her "passion and purpose in this lifetime".
In a message posted her her account on June 28, the Sydney model said she would taking on "a small number" of clients once she launched her website in the coming months.
But according to emails obtained by The Daily Telegraph, at least one of those potential clients has not been provided with accurate information about Martin's qualifications.
The outlet quotes a July 5 email in which Martin reportedly claimed to have "done two courses, one in nutrition and a health coaching cert at IIN the worlds [sic] leading school", when she hasn't, in fact, completed either.
According to the paper, Martin stated that she charges $300 for each 50 minute session.
BEAUTY queen Tegan Martin has been caught out exaggerating her qualifications for a "health coaching business". The former Miss Universe Australia has also advised potential clients she can help them overcome serious illnesses. Via @AnnabelHennessy https://t.co/NMdrmxTMMm

— The Daily Telegraph (@dailytelegraph) July 22, 2018
Speaking to The Telegraph, Martin, who appeared on Celebrity Apprentice in 2015 and I'm A Celebrity, Get Me Out of Here in 2017, conceded that she never finished her nutrition course, due to struggles with Chronic Fatigue Syndrome.
"I did study," she told The Daily Telegraph. "However, due to being at the lowest point of my CFS in my early twenties, I unfortunately wasn't able to complete and attain my certificate."
In an Instagram post on Sunday night, Martin wrote that she has a "mid year certificate" at IIN and will receive her final certificate in a few week's time at which point she will begin offering her services.
"My study at IIN has taught me how I can communicate with others and help them think outside the box when it comes to their health. When I received my mid year certificate earlier this year to start practicing as a health coach I couldn't believe I had finally achieved my dream and was pursuing a true passion of mine," she wrote.
IIN – the Institute for Integrative Nutrition – is a US-based company that offers an online course in health coaching – a role it describes as a "supportive mentor and wellness authority helping clients feel their best through food and lifestyle changes by tailoring individualized wellness programs to meet their clients' needs."
Graduates of the 12-month online program (which include controversial chef and wellness campaigner Pete Evans) receive a "certificate" in Health Coaching.
And the industry technically doesn't demand anything further. Professional nutrition practice is not regulated in Australia, meaning there is no legal protection over the term 'Nutritionist'. In other words, anyone can lay claim to the title.
In order to combat the loose nature of the industry, the Australian Society of Nutritionists has established a register of professionals that calls for a Bachelor degree or equivalent as a minimum requirement for inclusion. Far shy of IIN's 'certificate'.
Nonethless, Martin believes 'health coaching' is the way of the future, and even a solution for established disease.
"I truly believe health coaches will change the world and love watching many successful coaches around the world who often have had their own health struggles, continue to inspire and change peoples lives. I believe that no one can truly touch another human being unless they have walked a mile in their shoes," she wrote on Instagram.
Mamamia has reached out to Tegan Martin for comment.