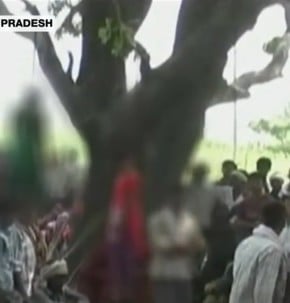 Trigger warning: This post deals with child rape and other forms of violence against women, and may be distressing for some readers.
Two teenage girls left their house on Tuesday evening and never returned.
The cousins – just 14 and 15 – had ventured from their home in the northern Indian state of Uttar Pradesh to visit the toilet. But outside in the darkness, something went terribly wrong.
The girls encountered a pack of five men and were brutally gang-raped and strangled. The next morning, their swinging bodies were found hanging from a tree in a local orchard by local villagers. There are now conflicting reports about what happened to the girls: was this suicide or did their attackers return?
The tale is beyond tragic but the men's sickening treatment of the girls isn't the only shocking aspect of the story. Further reports indicate the suspects in this case include police officers and that local police may have had a hand in covering up what happened; protecting the perpetrators.
Al Jazeera reports that authorities say at least two police officers are counted among the suspects. The victims' families claim local police have been shielding the attackers, the Sydney Morning Herald reports.