1. "She would have been 19 on Sunday." Horror flu season claims another young life.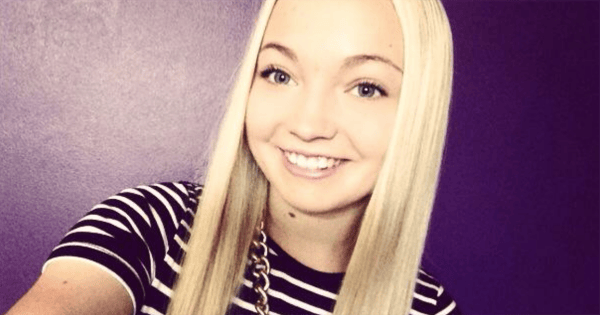 The family of Queensland teen Madeline "Maddy" Jones has spoken about their grief after the 18-year-old died from complications with the flu in one of the worst season's Australia has seen.
Maddy, who would have turned 19 on Sunday, was studying law and business at Queensland's University of Technology; she coached tennis to young kids; and had previously volunteered at the RSPCA, the Courier Mail reports. Her funeral was on Friday.
"She was very funny, beautiful and very smart and she loved animals," her mother Danielle Nielsen told the Courier Mail.
"She was a good girl and a good daughter. She was also very independent, very strong willed, very determined and that's why she was going to make a great lawyer."
It was during a holiday at Caloundra with her boyfriend Callum Royle that Maddy started showing symptoms of a sore throat and runny nose. Five days later, and she was admitted to the intensive care unit at the Prince Charles Hospital where she fell into a coma and never woke up.
It's reported Maddy died from sepsis, or organ failure, that came from suffering the flu alongside a bacterial infection.
"It's hard to believe that only a month ago we were having a discussion about our future and we were pretty certain that we were going to spend the rest of our lives together," Callum told the Courier Mail.
This year has seen one of Australia's most horrific flu seasons on record. According to the Federal Health Department, there have been at least 170,000 cases of influenza confirmed, which is more than two-and-a-half times the number seen of last year.
As well as this, more than 73 Australians have died in the winter months after contracting influenza.
For more information on receiving vaccinations and how to keep safe, click here.
To read the Courier Mail's full report, click here.
2. Fashion photographer Terry Richardson's admission after being banned by world's biggest magazines.
Creep gets banned: Vogue will no longer work with photographer Terry Richardson https://t.co/4rNtcHTq1M via @nparts pic.twitter.com/uM8vge3mOr

— National Post (@nationalpost) October 24, 2017
The reputation of fashion photographer Terry Richardson has been shadowed by whispers of sexual misconduct for years.
Now, one of the world's biggest magazine pubishers Condé Nast International - responsible for titles such as Vogue, GQ and Vanity Fair - has banned its publications from working with him, The Telegraph reports.
In an email sent internally on Monday, the company's executive vice president and chief operating officer James Woolhouse told staff any work already commissioned from Richardson but not yet published should be "killed or substituted with other material".
In a statement to The Telegraph, a spokeswoman for 52-year-old Richardson said he admitted to interacting with models in a sexually explicit manner.
"He is an artist who has been known for his sexually explicit work so many of his professional interactions with subjects were sexual and explicit in nature but all of the subjects of his work participated consensually."
This comes after a UK newspaper published an op-ed at the weekend, questioning why 52-year-old Richardson was still being hired, particularly considering the Harvey Weinstein allegations. Mamamia also published a detailed history of the allegations against Richardson on Friday.
Throughout his career Richardson has worked with big names such as Beyonce and Lady Gaga. Models such as Jamie Peck and Charlotte Waters have accused him of sexual harassment - claims he's vehemently denied. He was also the director of Miley Cyrus' 2013 film clip for her song Wrecking Ball, in which is is naked.
3. Nearly 12 million gay marriage votes have been returned. Vote yes.
This is going straight to the pool room!

It's the VIBE. #PostYourYES #VoteYES #MarriageEquality pic.twitter.com/4FtwiMHvi3

— AU Marriage Equality (@AMEquality) October 23, 2017
Three out of four eligible Australians have so far voted in the postal survey on same-sex marriage.
The Australian Bureau of Statistics has received an estimated 11.9 million (74.5 per cent) survey forms.
With form scanning now well under way, the estimate is based on a count of forms scanned rather than earlier estimates that were based on the weight of the bulk containers of returned forms waiting to be scanned.
This is the final week of voting, with the decision to be announced on November 10.
4. Husband of Australian teacher killed in Kenya arrested for her murder.
Gabrielle Maina's #Husband, another #Man #Arrested #Kenya: https://t.co/VeOR2TowP3, https://t.co/LAI0ShMCC6 pic.twitter.com/WX340WxiEk

— Kenya Women News (@KenyaWomenNews) October 24, 2017
The estranged husband of Australian teacher Gabrielle Maina, 40, is being questioned as the prime suspect in her murder, a Kenyan newspaper reports.
The mother of two was shot dead in Nairobi on Thursday, AAP reports.
Ms Maina's husband, Cyrus Bernard Maina Njuguna, and another man, John Njuguna Waithira, were arrested on Monday over the shooting in the exclusive suburb of Karen.
Her lawyer, George King'ori, earlier on Tuesday told AAP the couple was in the midst of divorce proceedings in the Kenyan courts after the 40-year-old had been granted a restraining order against her husband in April.
"She feared he had become irrational," Mr King'Ori said.
Karen police confirmed to Kenya's The Standard that Mr Maina was being held as the prime suspect in Ms Maina's murder.
"We believe he has information that can help us know how and why she was murdered," Karen OCPD Cunningham Suiyanka told the newspaper."He is here with another suspect for interrogation by the DCI."
It's believed Ms Maina was accosted by three men as she walked home.
After she was shot, the three men took her mobile phone and fled on a motorbike.
She was kneeling at the time of the attack, according to a post-mortem.
Ms Maina moved to Nairobi from Sydney in 2015 so her two sons could experience another culture and grow up near her husband's extended family, a friend told AAP this week.
Before moving to Nairobi, where Ms Maina was head teacher at the elite Hillcrest Preparatory School, she taught English and drama for almost five years at Sarah Redfern High School in Sydney.
5. Canberra named top Australian destination and has been "criminally overlooked". Wait, what?
Forget Sydney Harbour and St Kilda, only one Australian capital has made it onto Lonely Planet's top cities list 2018 and it sits on the shores of Lake Burley Griffin.
Lonely Planet handed bronze to the bush capital in the Best in Travel 2018 guide while Seville in Spain came in first and Detroit in the United States took second.
Canberra's dull reputation for politicians and roundabouts no longer fit with the attractive nation's capital, Lonely Planet's Chris Zeiher told AAP.
Cities were assessed on three categories; all-rounder or family-friendliness, topicality, and X-factor
The city's cultural highlights - from the museums to art galleries, vineyards and parks - meant there was plenty for all audiences, Mr Zeiher said.
"There's just a plethora of museums and galleries that have upped their game," he said, adding the capital had been "criminally overlooked".
6. Breastfeeding reduces heart disease risk, study finds.
How Breastfeeding Lowers a Mom's Risk of Heart Disease

A strong body Breast feeding and its health benifits… https://t.co/cRrfNgy9nj

— FitSpirit (@FitSpirit1) June 22, 2017
Breastfeeding significantly reduces a woman's risk of dying from cardiovascular disease, Australia's largest cohort study has found.
Research from the Sax Institute's 45 and Up Study, which was presented at a forum in Sydney on Tuesday, found breastfeeding reduced a woman's risk of developing cardiovascular disease (CVD) by 14 per cent.
"The risk of dying from cardiovascular disease was about 34 per cent lower," lead researcher Ms Binh Nguyen told AAP.
"This is very meaningful because cardiovascular disease is the biggest killer of women worldwide and in Australia."
Researchers, led by the PhD student at Sydney University's school of public health, followed a sample of 1000 mothers for six years to investigate the association between breastfeeding and the risk of developing CVD.
Not only did they find an association between breastfeeding and a lower risk of CVD but the longer a woman breastfed the lower their risk, Ms Nguyen said.
According to the data, a woman who breastfed for between 12 to 24 months had a 16 per cent lower risk of developing CVD.
Ms Nguyen said the findings were consistent with previous studies that suggested breastfeeding was not only good for the baby but for the mother's heart too.