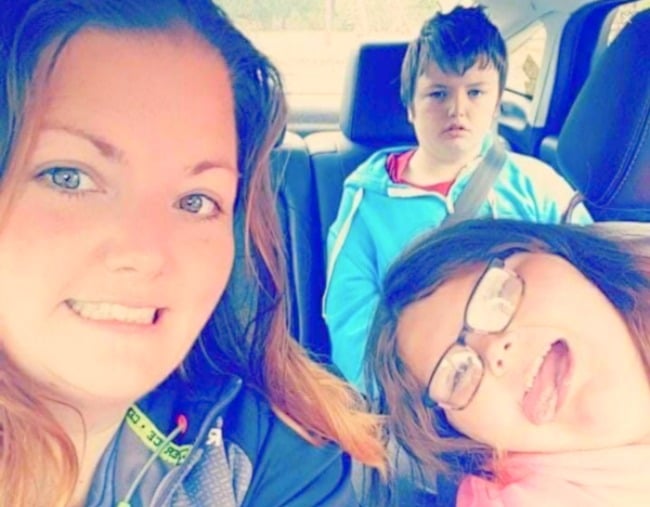 It should have been an ordinary family outing, where memories are made, but thanks to one unkind stranger, Ashley Wright and her children encountered intolerance and cruelty.
Ashley, a mum from Peterborough, Ontario, had taken her 13-year-old son, Logan, and 11-year-old daughter, Brinlee to the zoo, an approximate two-hour drive from their home When they arrived, the family needed the bathroom, and that's when Ashley noticed a man (who was with his own family) staring at them. In his excitement, Logan, who has autism, was flapping his arms and making loud noises, and it seems that behaviour is what attracted the man's attention.
He wasn't happy about it, and decided to let them know. Loudly.
He asked, "Why do people bring kids like that out in public?"
Shaken, Ashley decided not to confront the man in front of her children, but later wrote an open letter to him on Facebook, answering his question directly.
"To the man at the Peterborough Zoo today . . . This letter is for you. Will you probably ever see it? No. Do I think you will actually care even if you did? Probably not. Maybe, just maybe, someone else will read this, though, and think twice about making someone feel the way you did today," Ashley wrote in a post that has since gone viral.
Ashley explained that Logan seemed distressed as soon as they left the bathroom. He had started to pinch himself while grinding his teeth and making a loud, growling noise.
"I held on his arms and the three of us walked to the picnic area not far from the bathrooms," Ashley wrote.
"I noticed you and your family were stopped and staring at us again…I could see it out of the corner of my eye as Logan tried to grab my hair, and when he couldn't, he pulled his own while still very loudly screaming. He bit his arm."
Ashley noticed that other people were also staring, but they had the decency to let the family deal with their own situation – unlike this stranger.