In 2017, primary school teacher Demi Hilton taught her first-ever class, a group of Year Ones.
It was a fateful pairing, as they fell in love with each other – and last month, the little students walked their former teacher down the aisle at her wedding.
It all started when Demi, 23, began planning her wedding to her partner Matthew, 30. She knew she wanted her special class to be part of the day. And so last month, on 7th April 2018, at the Stella Maris Catholic Church in Maroochydore, Demi had 'her kids' in her bridal party as page boys and flowers girls.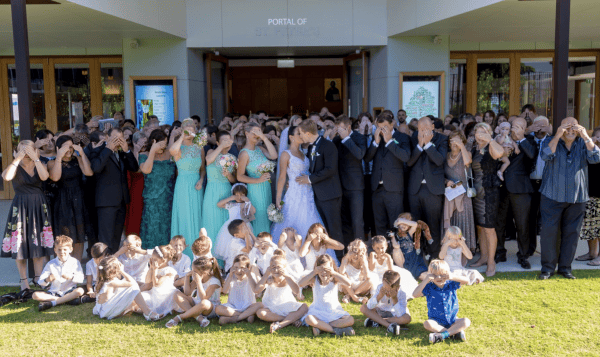 "My students are such a big part of my life and I knew as soon as we started the wedding planning that I would like to have them involved in our special day," Demi told Mamamia.
"I asked my soon to be husband and he wasn't surprised at all as he knows how special they are to me."
Demi had three adult bridesmaids, and another little flower girl. But she said that by far, her students were the most thrilled to be part of the bridal party.
"They were so excited when I asked them...they squealed with delight and gave me the most precious smiles, one little girl started to cry, they could hardly contain their excitement!"