It happened to Jennifer Lawrence. It happened to Anne Hathaway. It's been happening to Delta Goodrem for some time.
If a woman has ever been referred to as "[insert country name here]'s Sweetheart", chances are, she will experience it, too.
It's the natural turning of a tide: where once it was almost impossible to put a foot wrong, now every movement is a misstep.
Just this week her girl squad has been called out for being elitist, she's being humiliated for "farting" at the VMAs and her new video, Wildest Dreams, has been greeted with accusations of racism and whitewashing. Yes, Taylor Swift may be on the edge of her own, inevitable fall from grace.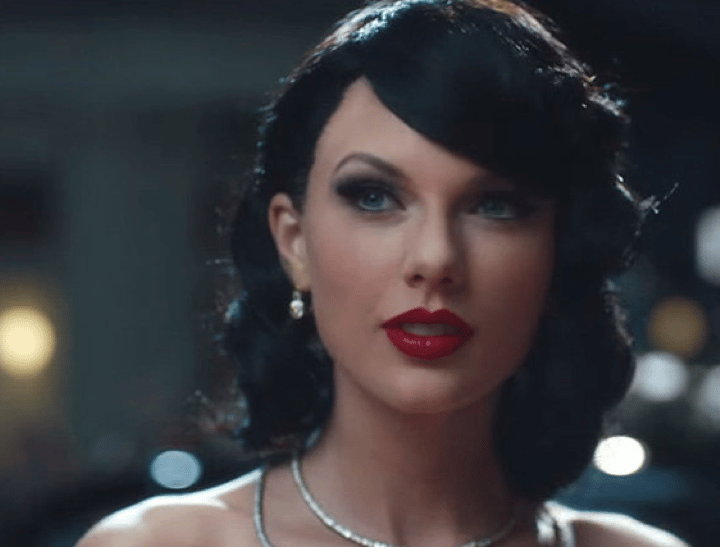 A problem common to, but not unique to, high-profile women, this en masse backlash is experienced particularly by public personas who seem too perfect, too flawless, too big for their own goddamn boots.
Step up, Tay-Tay.
Swift has been on the ascent since she released her first country-pop album as a teenager.
Since then, she's lost the long, blonde curls and cowboy boots and morphed into a bona fide pop superstar, with the red lips and skin-baring costumes to match.
With the release of her newest album, 1989, which was savvily teased on social media until Swifties were in a lather of anticipation, Taylor Swift seemed to be announcing her arrival as a real, grown-up megastar.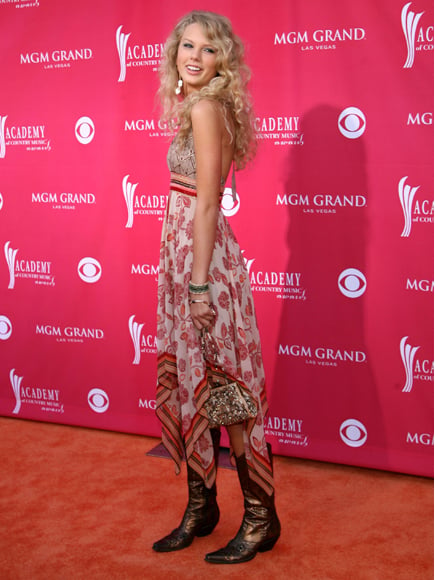 The first single to be released from the album, Shake it Off, had a video that some commentators said was vaguely racist and objectified women of colour.
The storm passed but the cracks had already appeared. America's pop princess had been rebuked, was not perfect, and would err again. It was on.
Next on the hit list: her relentless befriending of other women.
It began as a kind of sisterhood move on Swift's part, but then began to look decidedly like a cool-girl gang, and the likes of you and me are not permitted to join.
Squad goals entered the vernacular, with Swift and her ladies the embodiment of the term.
The much-hyped and record-breaking video for Swift's second single, Bad Blood, reinforced this, especially as it pitted her girl squad (featuring, among many, many others, Cindy Crawford, Cara Delevingne, Karlie Kloss, and Ellie Goulding) against someone else's.
It was a bold move for the sweet and mild-mannered Swift, and a step away from the girl's best friend persona that's worked so well for her so far.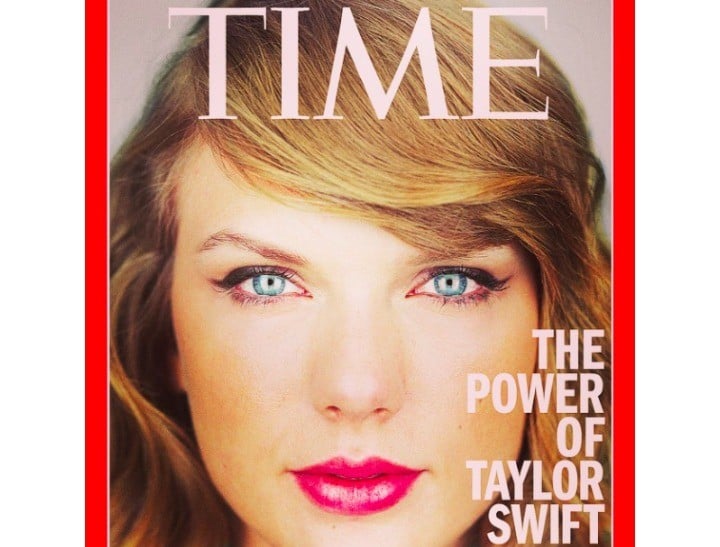 The person with whom Swift had "bad blood" was rumoured to be fellow pop-star Katy Perry, who by virtue of her relative reticence on the subject, comes out looking better than Swift.
Miley Cyrus, who told The New York Times recently that she definitely doesn't want to be part of Swift's squad, spoke to Marie Claire of the video:
"I don't get the violence revenge thing… That's supposed to be a good example? And I'm a bad role model because I'm running around with my titties out? I'm not sure how titties are worse than guns."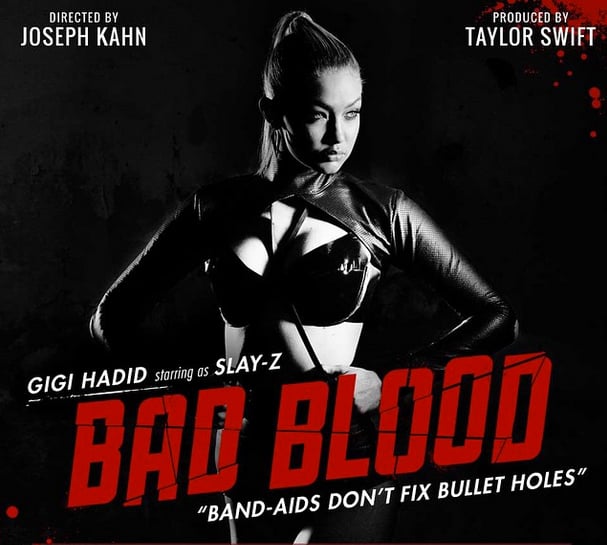 The whole "girl squad" thing was never more apparent and exclusive than at the recent MTV VMAs, when a bevy of 10 or more statuesque stunners, mostly models, all shiny hair and golden skin, posed for pictures on the red carpet with Swift, their fearless leader, always in the center.
All jumped in unison as Swift picked up award after award, even appearing on stage with her.
Now, it's being said that Swift runs her squad with an iron fist. She even announced at the VMAs that they'd all appeared in Bad Blood for free. Are a whole generation of supermodels in an abusive relationship with Taylor Swift?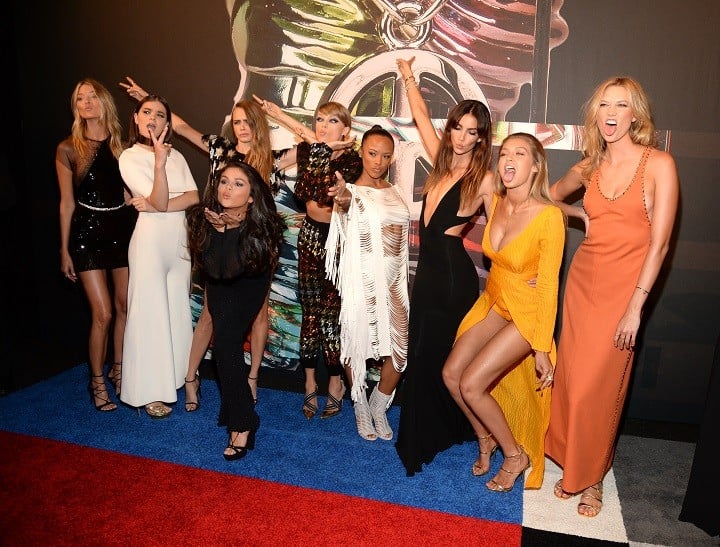 Lead singer of Grizzly Bear, Edward Droste, recently tweeted about a "terribly calculated and mean" celebrity, though he didn't identify Swift.
He wrote: "Met a celebrity I always speculated was terribly calculated and mean, and they exceeded all my expectations of rudeness and arrogance. HATE.
"If you know please don't @ the person, they see all and have the capacity and desire to destroy, seriously, please just know and lol. … This is an eternal blind item, bc I'm too petrified of their insane power. No need to speculate, just HAD to voice my disgust."
These tweets have now been deleted.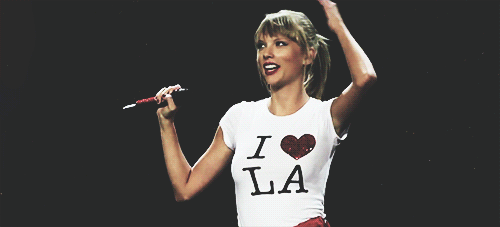 The person in question being Swift seems likely though — shortly after Droste posted a link to a story called "Mean girl Taylor's friendship rules!" that reported Swift's pals aren't allowed to speak unless spoken to, and that they are not permitted to wear outfits that may upstage her.
He wrote: ""Obsessed that people are catching on."
Now, her video for Wildest Dreams, featuring Scott Eastwood as her love interest, is being torn apart for its glorification of colonial Africa, and its complete absence of a single black person.
The Huffington Post, Salon, Jezebel and many others are calling it an "African colonial fantasy".
Watch Wildest Dreams below. Post continues after video…
"Instead of the cultural appropriation that has become almost status quo in today's pop music, Swift has opted for the bolder option of actually just embodying the political exploitation of a region and its people," wrote Lauren Duca in the Huffington Post.
The same people who once defended Swift are now, with great ease, slamming her and her highly polished veneer of perfection is beginning to slip.
It will be very interesting to see whether Taylor Swift will be able to straighten her pop princess crown.
Check out our gallery of the rise and rise of Taylor Swift.