1. Taylor Swift has been accused of plagiarising Hilary Duff's lyrics and eeeek this is awkward.
Taylor Swift's reputation may have just taken another hit (heh, see what we did there?) with Hilary Duff fans accusing her of stealing lyrics from the 2000s pop queen.
Swift's song  'Getaway Car' from her newly released album Reputation features the line: "X marks the spot where we fell apart."
Listen: Look what Taylor Swift made us do. (Post continues…)

And if that sounds familiar to you, then you might have listened to Duff's 2015 song 'Breath In. Breathe Out', specifically the part that goes, "X marks the spot where we left our hearts, and X marks the spot where we fell apart."
Oh the horror.
Fans were quick to point out the similarities on Twitter, with some saying Hilary should "sue" her, which frankly we think is a bit… out of hand.
After all, we're pretty sure 'X Marks the Spot' is an entire song by Coldplay, so wouldn't they need get some of the cut?
2. Sylvia Jeffreys shares the side to brother-in-law Karl Stefanovic that we don't see.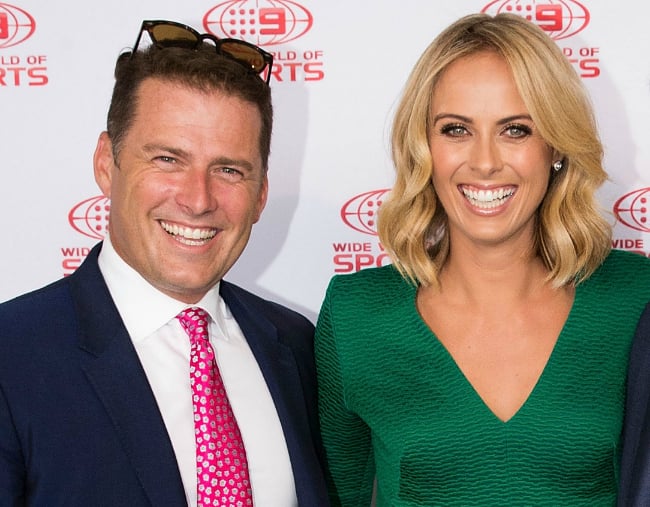 The Karl Stefanovic we see on our screens is just a fraction of the person he is, according to fellow Today Show presenter and sister-in-law Sylvia Jeffreys.
In an interview with The Courier-Mail, the 31-year-old had some very kind words to say about her husband Pete's brother.
"You see the larrikin and the boyish charm every single morning on air, but what I see every day is an incredibly generous, kind and compassionate man very aware of his ability to help people navigate things that he's already navigated.
"He's a very quiet mentor at the network, which I think a lot of people don't realise.
"He hates it when I say nice things about him but what I see every day is someone who goes out of his way to pump up reporters on the road, to pump up the cameramen on set."
Well, that's actually quite beautiful.
Moving right along before we get mushy...
3. Kourtney Kardashian chops off her hair. Looks basically the same.
The headlines this morning came in thick and fast: Kourtney Kardashian got a haircut and now she doesn't look like Kourtney Kardashian anymore.
Well, not exactly that. But close! Like this:
Kourtney Kardashian Just Got a Major Haircut! See Her Long Bob
Kourtney Kardashian Just Chopped Her Hair Off — & She Looks SO Different
The news outlets got one thing right. Kourtney Kardashian did get a haircut. It's just that... well, she looks beautiful, but the same. She literally doesn't look any different. At all.

In fact, if you hadn't have told us she didn't get a haircut, perhaps we would never have known.
Alas, happy haircut day Kourtney Kardashian. Here's to looking much like you did yesterday.
4. Sofia Richie says her dad is "cool" with her dating Scott Disick... we beg to disagree.
Well. Isn't this just a bit candid.
Overnight, Sofia Richie and her father Lionel Richie made a joint red carpet appearance at SAG-AFTRA Patron of the Artists Award.
When interviewed on the red carpet by E! News, Sofia was asked how her father was handling her "dating". (And when they say 'dating', they mean dating a man by the name of Scott Disick who is 15 years her senior. Oh, and a self-labelled "sex addict".)
"He's good. He's been very nice. He's been very cool. He's very supportive, whatever that means," the 19-year-old said which was nice and lovely.
It's just that, well, her dad was in the background. And he didn't seem cool and supportive, unless cool and supportive means putting a fake gun to your head.  ¯\_(ツ)_/¯
We will just leave this one here...
5. Just lovely: Johanna Griggs is 44 and about to become a grandmother.
She's one of the sunniest people on Australian television, and at just 44, Johanna Griggs is about to embark on a new adventure: she's becoming a grandmother.
Griggs, who is best known for hosting Channel Seven's Better Homes and Gardens and, of course, for winning a bronze medal in backstroke at the 1990 Commonwealth Games, wrote about her youngest son Joe's baby news on Friday on Instagram.
"Got to feel my grandson kick for the first time tonight," Griggs wrote to her 36,000 followers. "It was so awesome. Katie is looking so beautiful, and everyone is so excited. Bring on 2018…"
For the full story, click here.
That's all for celebrity gossip and news today. What's your favourite story of the day?