1. Taylor Swift has been accused of plagiarising Hilary Duff's lyrics and eeeek this is awkward.
Taylor Swift's reputation may have just taken another hit (heh, see what we did there?) with Hilary Duff fans accusing her of stealing lyrics from the 2000s pop queen.
Swift's song  'Getaway Car' from her newly released album Reputation features the line: "X marks the spot where we fell apart."
Listen: Look what Taylor Swift made us do. (Post continues…)

And if that sounds familiar to you, then you might have listened to Duff's 2015 song 'Breath In. Breathe Out', specifically the part that goes, "X marks the spot where we left our hearts, and X marks the spot where we fell apart."
Oh the horror.
Fans were quick to point out the similarities on Twitter, with some saying Hilary should "sue" her, which frankly we think is a bit… out of hand.
After all, we're pretty sure 'X Marks the Spot' is an entire song by Coldplay, so wouldn't they need get some of the cut?
2. Sylvia Jeffreys shares the side to brother-in-law Karl Stefanovic that we don't see.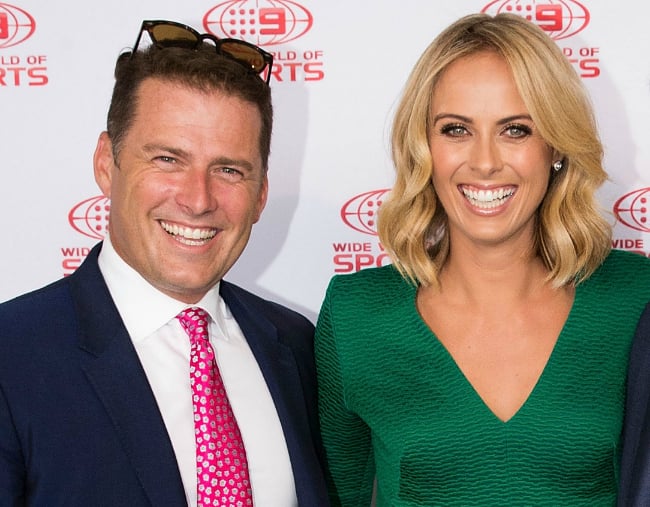 The Karl Stefanovic we see on our screens is just a fraction of the person he is, according to fellow Today Show presenter and sister-in-law Sylvia Jeffreys.
In an interview with The Courier-Mail, the 31-year-old had some very kind words to say about her husband Pete's brother.
"You see the larrikin and the boyish charm every single morning on air, but what I see every day is an incredibly generous, kind and compassionate man very aware of his ability to help people navigate things that he's already navigated.