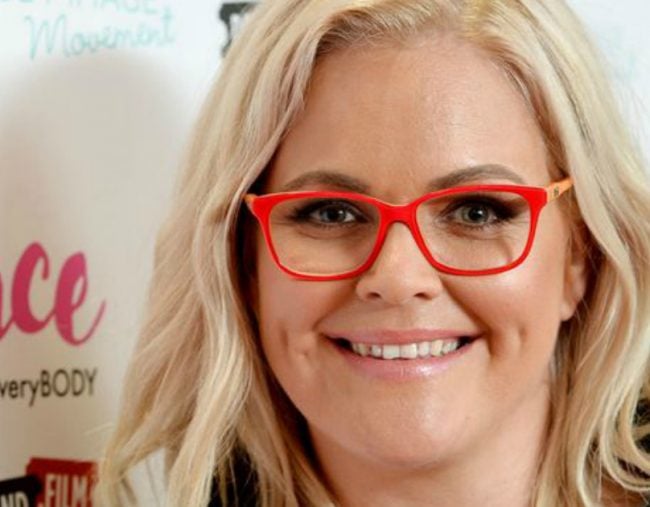 Taryn Brumfitt is a body positivity activist, writer, documentary filmmaker and the founder of a body image movement.
So why then, in so many interviews, is she first referred to as a mum-of-three?
That's not to say she's not a mum – she is. The Adelaide woman has three kids: Oliver, Cruz and Mikaela.
It's just "fascinating" to Brumfitt that in so many of the news stories written about her and the TV segments featuring her comments since a before-and-after photo thrust her into the public sphere in 2013, she's been first (and sometimes solely) referred to as a "mum-of-three".
Taryn Brumfitt tells Mia Freedman about the photo that broke the internet. Post continues.
She's fascinated because she has noticed it never happens to her male counterparts. Damon Gameau is introduced as an actor and star and director of That Sugar Film, not father-of-one. And who even knows if David Bradbury has kids (or a wife or a personal life) four decades into his documentary filmmaking career.
And it's not to say that having kids and a family isn't a huge part of Taryn's life. It's just, in the context of her career, her role as a mother isn't that relevant. And it certainly shouldn't be the sole marker of her identity, just like fatherhood isn't for the vast majority of men.
Taryn told Mamamia's Lady Startup host Rachel Corbett about how the issue reared its head again on a recent trip to Germany, where her film Embrace was seen by more than 52,000 people.
For context, the "hugely successful" run outdid Marvel's Guardians of The Galaxy Volume 2 in its opening weekend. Yet, Brumfitt couldn't help but be disappointed by the headlines she saw at the time.
Is what happened to Taryn Brumfitt sexist? We sure think so. Post continues.
"It was amazing. And yet the headlines were 'Adelaide mum-of-three…'," she said.
Brumfitt said she can also remember clearly when she and a male filmmaker appeared on the same show in the same episode and yet were treated differently, without anyone in production seeming to realise.
"I was doing a TV interview once, and they were speaking to a [male] film director just before me and I was listening in on the earpiece.
"And then I came in and did my piece.
"I looked at the interview later on TV. It was fascinating to see how he was 'film director' – that was his title along the bottom of the screen. And mine was 'Adelaide mum of three'. And I thought, 'hmmm…'."
Brumfitt – who has used the platform she gained in 2013 to launch a campaign urging women to love and accept their bodies – said the experience highlighted an area of sexism still not fully addressed.
"This kind of inequality really drives me a bit bonkers," she said.
"But we'll just keep talking about it and keep demanding for more."
You can listen to more of Taryn Brumfitt's chat on Lady Startup. Catch the full episode here, or download it from your favourite podcast app.