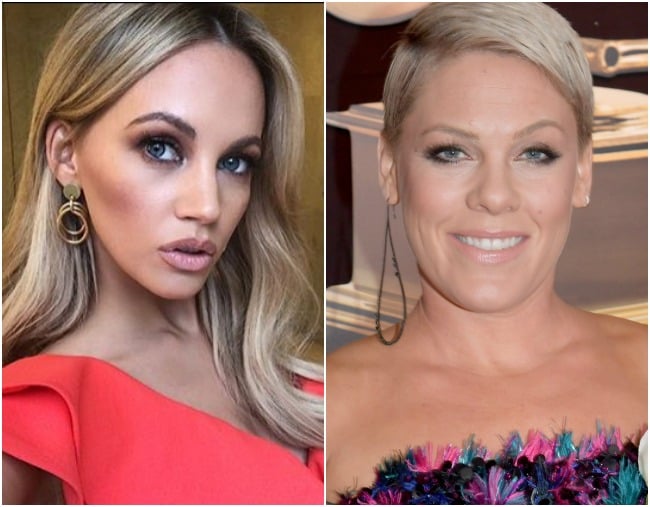 1. Samantha Jade has Pink's back following concert cancellations.

Pink fans have shared mixed reactions following the singer's postponement of a third Sydney concert today, with many taking to social media to voice their frustrations.
The pop star postponed Friday night's performance of her Beautiful Trauma world tour, but performed on Saturday.
She was admitted to St Vincent's Hospital on Sunday night with dehydration, and was readmitted and diagnosed with a gastric virus on Monday.
Fellow singer, Samantha Jade, has come out backing Pink, telling Yahoo!Be, that anyone can be struck down by illness at anytime, including musicians on the road.
"You can't help when you're sick. You can't. There's nothing you can really do about it," she said.
Samantha, who will soon hit the road on her The Best Of My Love tour, said nothing is guaranteed, but she is taking vitamins, working out and "trying to be as healthy as I can be" to lessen her chances of getting sick during her own tour.
2. Why Lindy Klim is keeping her ex-husband's name. (For now, anyway.)
It's been two-and-a-half years since Lindy Klim split from her husband, Michael Klim. Yet she's still yet to ditch the former Olympic swimmer's last name.
In a recent interview with Kidspot's The Juggling Act podcast, the Balinese mum explained her decision is rooted in her own upbringing.
When she was three, her mother shed their surname, Rama, and took on her stepfather's name; a move that left a young Lindy feeling hurt and like an outcast within her own family.
"It's because of what I went through as a child and feeling like an outsider, and I don't want that for my children," she said.
The model turned fashion entrepreneur, who married property developer Adam Ellis in Italy on Thursday, said she has floated the possibility of a name change with her and Klim's three children - Stella, Rocco and Frankie. But for now at least, she has no concrete plans.
"It's taken me a long time to discuss with them, talk to them [about] how they feel about it, and obviously Goldie [her eight-month-old daughter with Adam] is an 'Ellis' so they're getting used to that," she said.
"Slowly, over time, I will definitely change my name. But it's a long process, it's something that is not that easy."
3. Keith Urban was short on cash (???) so a stranger helped him out. 
Substitute teacher Ruth Reed from New Jersey, made a resolution to herself to help out others when they were short of cash at Wawa, a supermarket in the United States. So when the man in front of her at the supermarket realised he didn't have enough cash on him, she immediately offered.
"This man was short a few dollars, he asked a lady with him if she had money. I jumped in and said I would pay and explained why. He thanked me and asked my name," she shared on Facebook.
When she noticed the man looked strikingly like Keith Urban, he responded that he actually was Keith Urban.
"He graciously allowed me to get my picture taken with him. Another Ruth Reed moment!" she added.
The country music singer is worth approximately $75 million, but the photo is priceless.
Keith Urban is currently touring the United States, and is not at all short of cash.
4. Serena Williams says she's struggling with 'postpartum emotions'.

Tennis superstar Serena Williams has posted a raw Instagram about motherhood.
Captioning a photo of her silhouette at the beach, Williams admitted that she had been in a "funk" last week with some major mummy-guilt. She explained that her hectic schedule had not left her enough time to be the mother she wanted to be to 11-month-old daughter, Alexis Olympia.
"Last week was not easy for me. Not only was I accepting some tough personal stuff, but I just was in a funk," the 36-year-old wrote.
"Mostly, I felt like I was not a good mom,"
The 23-time grand slam champion has very high expectations of herself, indeed. This week, she was forced to withdraw from the Rogers Cup in Montreal, citing "personal issues".
"I read several articles that said postpartum emotions can last up to 3 years if not dealt with," Williams continued in her post.
"I like communication best. Talking things through with my mom, my sisters, my friends let me know that my feelings are totally normal."
Williams concluded with a shout out to all mums who are just doing the best they can.
"We have all been there. I work a lot, I train, and I'm trying to be the best athlete I can be," she said.
"However, that means although I have been with her every day of her life, I'm not around as much as I would like to be. Most of you moms deal with the same thing. Whether stay-at-home or working, finding that balance with kids is a true art. You are the true heroes."
5. Sam Cochrane just gave even more searing insight into his break-up with Tara Pavlovic.

Why did Sam and Tara break up? It's a question a lot of people were asking when the reality TV pair parted ways in June.
Now both Sam Cochrane and Tara Pavlovic have spoken publicly about the breakdown of their "unhealthy" relationship – and things have got seriously ugly.
Today, Sam has posted another searing insight into the relationship breakdown on Instagram, claiming he hadn't spoken to the media before now, because he thought he would always love her.
"I've woken up today wondering how I could have misjudged an individual so much. I never wanted to discuss the things I had experienced and wanted to move forward with my life. I put up two posts and never mentioned her name and never put her down. Just my sadness in what is now out in public. Ultimately I didn't talk because I was embarrassed and ashamed at what had taken place but also because I thought I would always love her," he began.
Read the full story here.