It's been just over two years since a group of oversized tampons danced on the lawns of Parliament House calling for the so-called "tampon tax" to be axed.
Women Australia-wide were seeing red over the 10% GST on sanitary items after a petition began circulating to have them re-classed as "important health goods", rather than taxable "luxury items"  they became in the year 2000.
More than 100,000 people signed and Treasurer of the day Joe Hockey even promised to lobby state treasurers on the issue.
For a moment it looked like we were getting somewhere, but when a majority of treasurers failed to agree on the change nothing came of it, and menstruating Aussies continued forking out extra dosh once a month.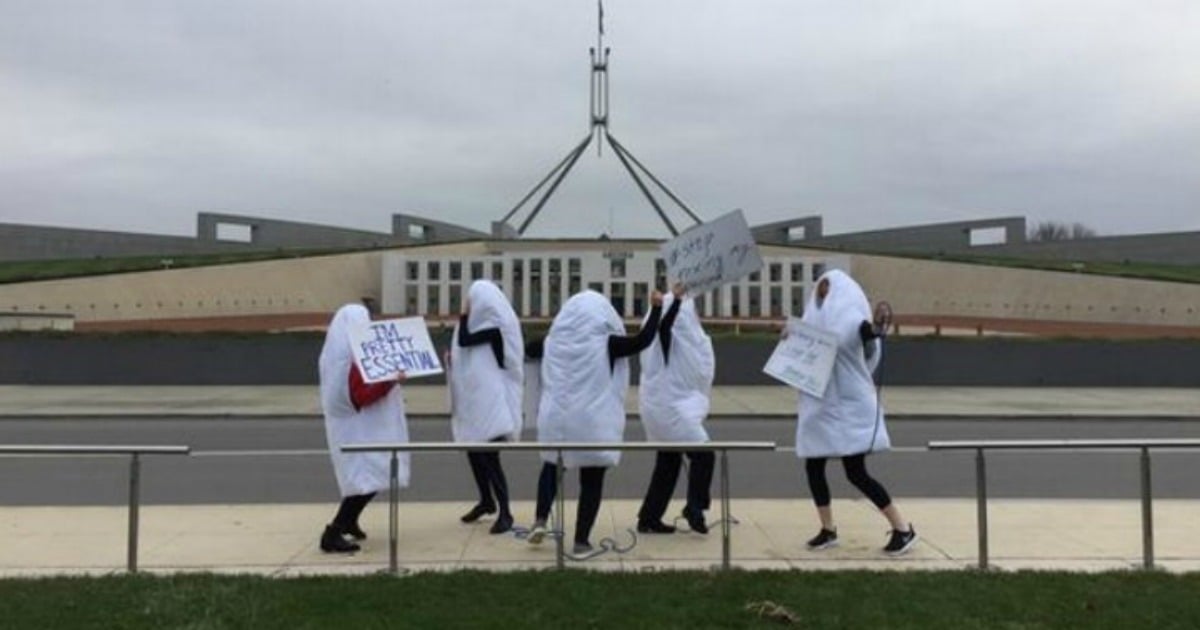 But the Australian Greens have not given up on removing the "sexist" tax and say the time is nigh for the federal government to do it with minimal effect on state budget bottom lines.
In fact, according to costings commissioned by the party, if a plan to introduce GST on items bought online for under $1000 being debated this week is successful, states and territories could theoretically wave goodbye to the tax and still end up $185 million better off over the next three years.
"The tampon tax is a tax on women's biology that financially penalises women for simply existing," Greens Deputy and spokesperson for women Larissa Waters said in a statement.
"It's sexist and opportunistic and it's shameful that successive Labor and Coalition governments have refused to abolish it.
If you need a refresher on this whole debate, here's the Mamamia Out Loud team talking about it way back in 2015 (post continues)...
"Men earn more than women but there is no tax on male personal products like condoms or lubricants.  For too long successive governments, have been happy to let this sexist tax persist."
According to the new modeling, removing the "tampon tax" would cost $115 million, while the new GST on online goods plans to raise an extra $300 million in three years, so states and territories wouldn't be left in the red.
Waters' plan would link the removal of the tampon tax to the new online tax under The Treasury Laws Amendment (GST Low Value Goods) Bill.
She has written to the WA, NSW, NT and Tasmanian governments with her idea and asked them to join Queensland, Victoria, South Australia and the Australian Capital Territory to put an end to the "tax on women's biology" once and for all.
It would be about bloody time, really.