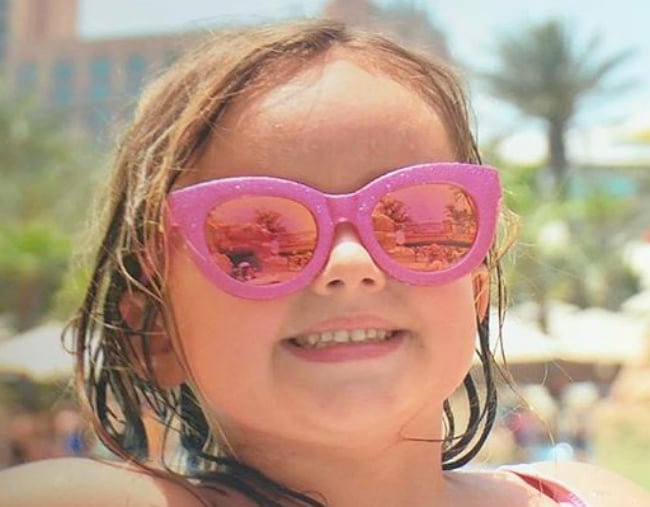 For Tamara Ecclestone, the 34-year-old heiress daughter of Formula One chief executive Bernie Ecclestone, money is not an object.
In the past the mother has been slammed for 'spoiling' her four-year-old daughter Fifi, perhaps stemming from the extravagant $100,000 first birthday party that was held for the tiny heiress. Or, going back even further, the at least five different prams Fifi was seen in as a baby, valued at $10,000.
With a giant balloon castle, a petting zoo and a zebra, no detail was overlooked. (Too bad she doesn't remember it.)
Now Ecclestone in hot water once more after buying her daughter, who is often lauded as the most pampered child in the world, another puppy.
Posting a photo of her daughter holding the puppy to Instagram three days ago, the heiress captioned the image "Now the cats out bag or actually the pups out the bag and we broke the news to @jayrutland meet our new addition Fluffy."
Instagram users quickly responded to the image.
"Just ask and mummy will buy it," wrote one user.
"Does that mean Teddy has been downgraded to the basement cages with the rest of the designer hounds you stash like Hermes bags?" wrote one user, referring to the fact that the heiress has previously bragged about her nine or 10 dogs on her television show Tamara's World.
The first teaser for the show last year gave viewers a sneak peek inside the 33-year-old's 57-room West London mansion, which she shares with more than 50 members of staff – including two assistants, butlers, housekeepers and a chef – and "nine or 10 dogs".
But it's the playroom of Tamara's daughter Sophia (better known as "Fifi") that has sparked the claim that she is literally the most pampered four-year-old girl in the entire world.
There are multiple rocking horses. A craft desk with paints and markers galore. And a life-sized doll's house. If that's not enough to make you reflect on how you're going to pay rent this month when a four-year-old has 10 puppies, there is also a huge neon sign with her parents' names "Tamara and Jay Always".
When she learns to read, Fifi might wonder who Tamara and Jay are, given that she would call her parents mum and dad.
Of course, it doesn't stop there.
In the first episode of Tamara's World, the toddler is surprised by an even more lavish gift: an $87,000 ball pit.
Ecclestone and her husband, Essex bussinessman, Jay Rutland surprise their daughter with a stunning multilevel playroom complete with a slide, jungle gym, and everything a little girl could want.
Sophia was of course overjoyed, audibly shouting "I'm always asking for a ball pit!", and of course just one year later Kylie Jenner had an equally impressive ball pit at her 21st birthday party.
According to the Daily Mail UK, an anonymous source said that the couple spent 50,000 pounds (roughly $87,000 AUD) on the play area, which they plan on "repurposing at a later date."
"It was her old swimming pool that they didn't use, so Tamara decided to turn it into a soft play area as Fifi loves it," they said. "She's always in there with Petra's [Tamara's sister] kids… If they want to turn it back into a pool, they can in the future."
For Fifi, life is an endless blur of ponies, toy cars and $87,000 ball pits.
With Tamara Ecclestone's worth sitting around $300 million, we doubt this is the end of the pampering.