There's no shortage of great shows to watch or stream, but if you're looking for something a little different then we've found something to add to your must-watch list.
It's called Taboo, it stars Tom Hardy and Mamamia Entertainment Editor and The Binge host Laura Brodnik is "obsessed".
Listen: The Binge hosts explain why you must start watching Taboo. 
Set in "ye olde London" aka 1814, Hardy plays James Delaney, a man who returns to London with fourteen stolen diamonds after spending 10 years in Africa.
Everyone had presumed he was dead, so when he appears at the church for his father's funeral people assume he is a ghost.
"They don't specifically explain in the first episode what these powers or special strengths he has come from or what they are, but he's got some kind of voodoo mojo thing going on around him," Laura explained on the latest episode of the podcast.
Delaney believes his father wasn't in his right mind when he died as his company and inheritance are set to be taken over by The East India Company.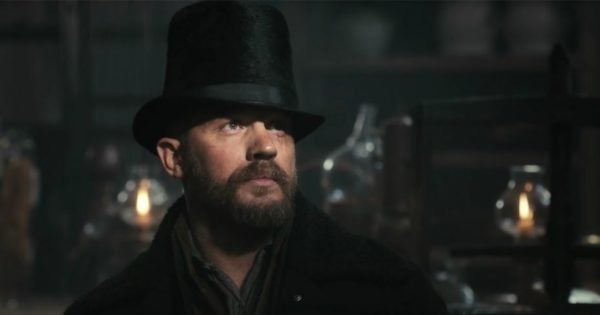 "Saying that, it sounds like it's going to be some sort of family business drama but I promise it's not that," says Laura.
Delaney ends up reuniting with his half sister Zilpha who is played by Oona Chaplin, an actress you may recognise as Talisa Maegyr, Rob Stark's pregnant wife who meets a terrible end at the Red Wedding, from Game Of Thrones.
The story follows him trying to work out who killed his father.
"It's building on this murder mystery with dramatic intrigue,. People are saying its Downton Abby because of the era, but with a really creepy, disturbing and disgusting twist," says Laura.