We've rounded up all the latest stories from Australia and around the world – so you don't have to go searching.
1. British newspaper publishes heartbreaking images of drowned child.
The Independent has published an image of a dead refugee child washed up ashore a beach in Turkey.
The boy – aged three and thought to be Syrian, drowned while trying to flee his country.
He is pictured dressed in a red T-shirt and shorts, lying motionless on Bodrum beach in Turkey – another photo shows an official carrying him in his arms off the beach.
He is one of 11 Syrian refugees feared dead after they drowned trying to cross the Mediterranean on two boats bound for the Greek island of Kos.
The Daily Mail have named him as three-year old Aylan Kurdi.
The Independent published the image in full – without blurring out the child's face. They wrote:
The Independent has taken the decision to publish these images because, among the often glib words about the "ongoing migrant crisis", it is all too easy to forget the reality of the desperate situation facing many refugees.
The image has now been shared across social media.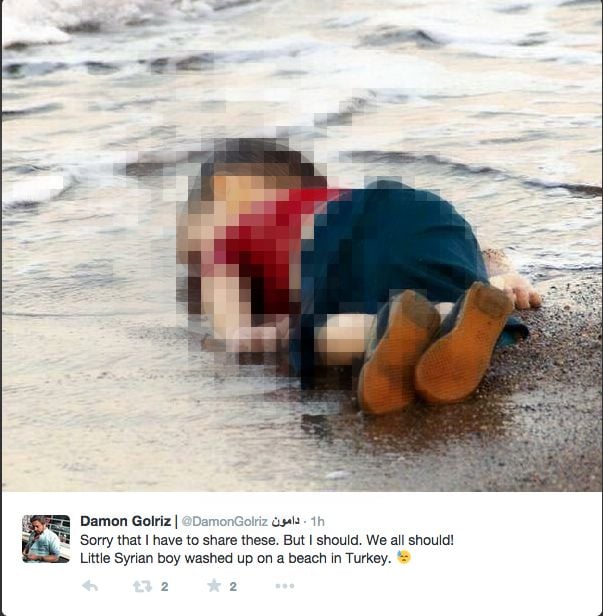 Senior United Nations official, Philippe Douste-Blazy told The Independent: 
"The talk from politicians is of invasion, mass migration. The mood that has been created is one of xenophobia, of nationalism, of fear."
"But, you know, these populists should be careful; the people of Europe are more decent and humane than they think, and they will not like being used for political ends."
More than 300 000 refugees and migrants have crossed the Mediterranean this year.
2,500 have died.
2. Police appeal for information over death of 3-month old girl.
Police in Victoria are appealing for information following the death of a three-month old girl in Heathcote.
Police say the Homicide Squad was notified on Saturday night when the baby was transported to hospital.
The baby died about 7.30pm on Sunday 30 August.
A 20-year old man from Heathcote has been interviewed and released pending further enquiries.
Anyone with information is urged to contact Crime Stoppers on 1800 333 000.
3. Treasurer says Australia not headed toward recession.
The Federal Government has said that Australia is not heading for a recession despite weak economic growth figures.
Speaking to the Nine Network Treasurer Joe Hockey has said "There is no risk of recession in Australia," he said.
"But, if we don't continue down the path of delivering Free Trade Agreements, getting rid of taxes, getting rid of regulation, and opening up more of the Australian economy to competition, then we will risk significant job losses and slower economic growth."
Meanwhile the Australian dollar twice dipped briefly below 70 US yesterday recovering slightly to 70.3 US cents.
4. Wife of millionaire jailed for Centrelink fraud.
The wife of a West Australian millionaire, Julie Bohannan has been jailed for 18 months for fraudulently obtaining Centrelink benefits  between November 2001 and July 2009.
Mrs Bohannan, the wife of former chief executive of Braemore Resources and Bathurst Resources, Hamish Bohannan pleased guilty to making false statements to the welfare payment agency.
Judge Stavrianou said there was a "high level of deception" involved in her crimes reports WA Today. 
"There are three distinct, although separate, counts contained on the indictment," he said. "However it was all part of a course of conduct. Your conduct involved a series of acts. It was planned, deliberate and dishonest conduct. You abused the system for your own personal gain. "The victim of the offences was a Commonwealth Authority. You did repay the amount obtained by your dishonest conduct. The amount which you had gained was a significant amount.
The mother of one claimed more than $60,000 in benefits.
The judge said the offending came to light only following a Centrelink investigation.
"As I have said, I accept you are genuinely remorseful, unlikely to reoffend and you have excellent prospects of rehabilitation. However, personal deterrence still remains a relevant consideration in my view, because of the extent of the offending, its repetition and the premeditation involved."
She was sentenced 18 months in prison but ordered she be made eligible for parole after nine months.
5. Follow up care failing our most fragile.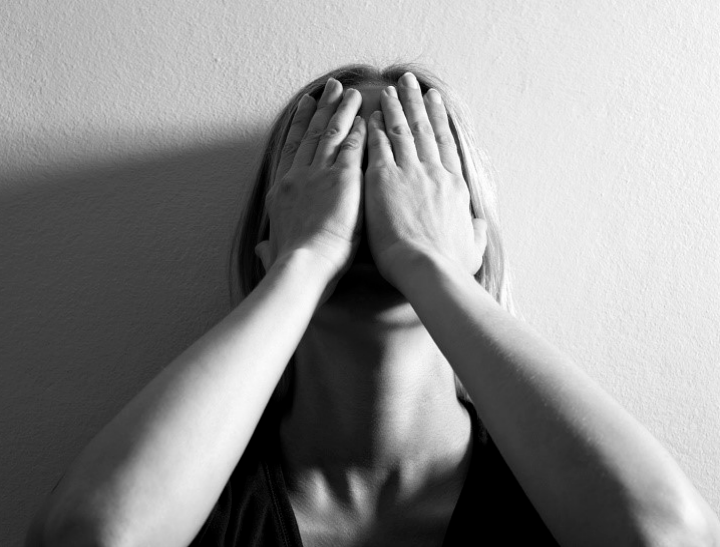 A report released by the Black Dog Institute and the NHMRC Centre for Research Excellence in Suicide Prevention has found that 37 per cent of people hospitalised for their injuries to a suicide attempt were never admitted for psychiatric care or given follow-up psychiatric treatment in the community.
The report spoke to many suicide survivors who felt they were not taken seriously or treated with respect.
Author of the study Fiona Shand told Fairfax Media:
"We heard reports of people who felt like they were being punished."
"Emergency departments are very busy places, staff get burnt out, and despite their best efforts sometimes people don't respond the way they should."
It found that the average number of suicide attempts and hospital attendances was three. One quarter had tried to kill themselves five or more times.
On average nearly 2500 Australians kill themselves every year, with about three times more men dying than women.
For help: Lifeline: 13 11 14. Beyond Blue: 1300 22 4636.
6. Train strike to cripple Melbourne tomorrow.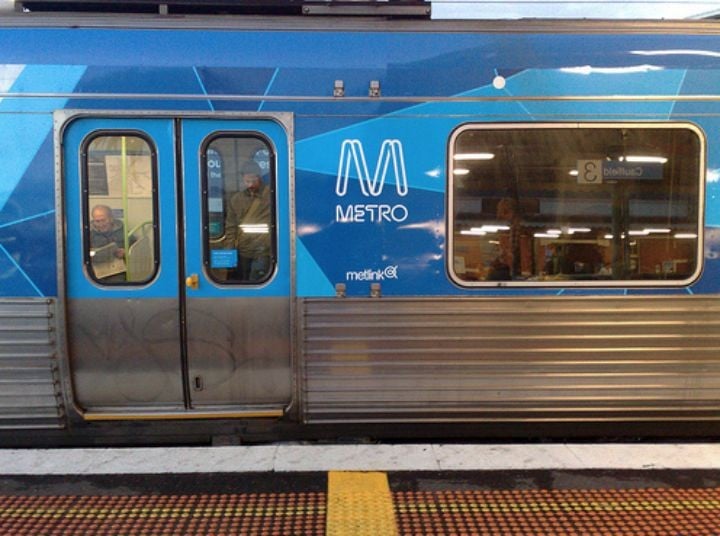 It looks like a four-hour train strike will go ahead tomorrow in Melbourne with almost 700 trains to stop affecting 40,000 commuters between 10am and 2pm.
The strike will result in the cancellation of 689 trains.
More than 300 emergency buses will run during the stoppage, but Metro has warned passengers to expect major delays.
Metro chief executive Andrew Lezala said the cancellations would begin from about 8.30am so that trains could return to depots and sidings.
"We have to start thinning out the service from about 8.30 in the morning, we won't get a full service back until 4.30 in the afternoon. This is a really serious disruption and it's really sad that it's come to this," he said.
Today there will be a one-hour early morning stoppage.
It will be the first train strike in Melbourne since 1997.
7. Police line-up as new protest erupts at Budapest station.
Riot police have lined up in front of Budapest railway station as a fresh migrant protest broke out.
The protest came as thousands of refugees and economic migrants remain stranded at Budapest's main international railway station for a second day as Hungarian authorities enforce EU rules preventing them from leaving for Germany.
The Independent reports that Czech police have begun removing refugees from trains headed to Germany, detaining them and numbering them in pen written on their arms.
8. Queensland study finds magpies really do have it in for you.
Researchers in Queensland have found magpies use facial recognition to target certain people.
Griffith University ecologist Dr Darryl Jones told The Brisbane Times that magpies recognise and remember passers-by.
Dr Jones performed an experiment  having "victims" wear certain masks and found the magpies targeted the same people.
Dr Jones said only 10 percent of magpies attack people, with about half of that figure targeting pedestrians and the other half targeting cyclists or posties.
He said to outwit them maintaining eye contact with the bird and run for your life quickly walk away.
He said traditional methods such as zip ties and googly eyes on a helmet are, based on research, "essentially useless, and make you look like a dork".
9. Shearing Champion called in to save overgrown sheep.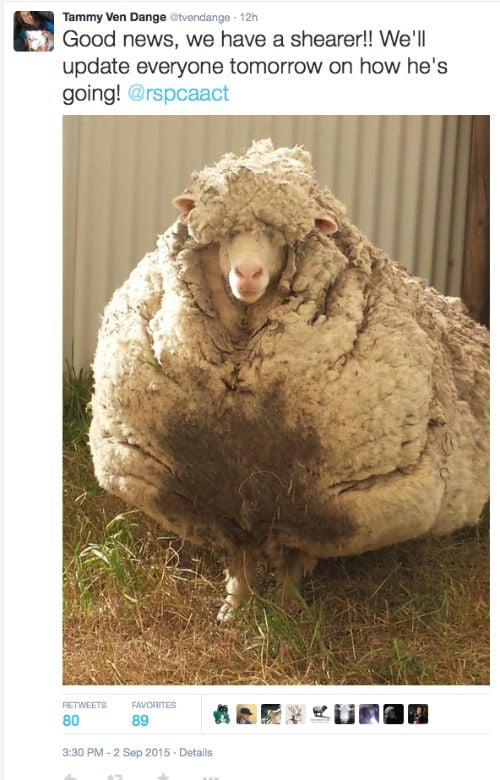 Australia's national shearing champion has been urgently called in to help after a heavily overgrown sheep was found near Canberra.
RSPCA ACT chief executive Tammy Ven Dange told News Limited that the sheep may not survive.
"We don't know if the sheep will survive, he may have to be sheared multiple times and may have underlying health problems. This could put him in shock which we want to avoid," Ms Van Dange said.
So they have called in an expert. Enter Ian Elkins – sheep shearing champion. The man who has shorn over one million sheep.
And today he is going to tackle the big woolly.
For this fleecy fella keeping his coat could have serious consequences. Sheep can develop serious health issues if they are not regularly shorn.
The sheep was "four-to-five times its normal size," Ms Ven Dange said.
She added that the animal was "pretty stressed out" around human beings after what was probably years of solitude.
Ms Ven Dange said while finding a shearer was good news it may not be enough.
" It's probably going to take a couple of goes before we get it all off him," she told the ABC.
"He could go into shock during the shearing process tomorrow so we're going to sedate him to try and take some of that pressure off him."
Best of luck.
Do you have a story to share with Mamamia? Email us [email protected]
[post_snippet id=324408]