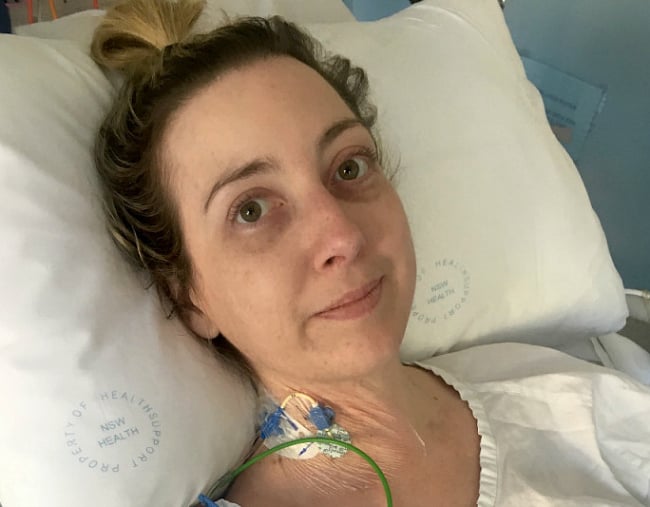 Two years ago, Sarah Joyce was living independently, working a job she loved in the aged care industry. Now the 32-year-old relies on the care of her parents, physically weakened by the disease that ravaged her body in August 2016. A disease that robbed her of several fingers and toes, cost her several organs, and landed her name on the transplant list.
Sarah was visiting her parents' on the NSW Central Coast the evening the symptoms started. It started out feeling like a cold; that vague under-the-weather sensation, tiredness, a foggy head. Then came the fever.
"I was actually meant to be away working that week, and it was just by chance that my schedule changed. It was lucky, because had I not have been with them, I think the outcome would have been very different," she told Mamamia.
Within hours her fever had soared, and was joined by copious vomiting, sensitivity to light and pinprick spots on her eyelids.
"I kept saying to Mum and Dad, 'I feel infected. I don't feel right,'" the Queensland woman told Mamamia. "I just kept repeating it; 'I don't feel right, I don't feel right.'"
"I didn't actually realise that at the time but they were saying goodbye."
As she became increasingly unwell, Sarah's father drove her to the hospital, where baffled doctors pumped her with a variety of antibiotics in hope of quelling whatever infection had taken hold of her body. Then the rash appeared on her legs. Purple, spotty.
"As soon as I saw it I thought, 'Oh f!' I instantly knew that was bad. And then that's probably one of the last things I remember, apart from my mum dad sister coming in," she said. "I didn't actually realise that at the time but they were saying goodbye. They'd been told to come in before they put me on life support and say goodbye, but they didn't want to scare me.
"That's something I'll never forget."