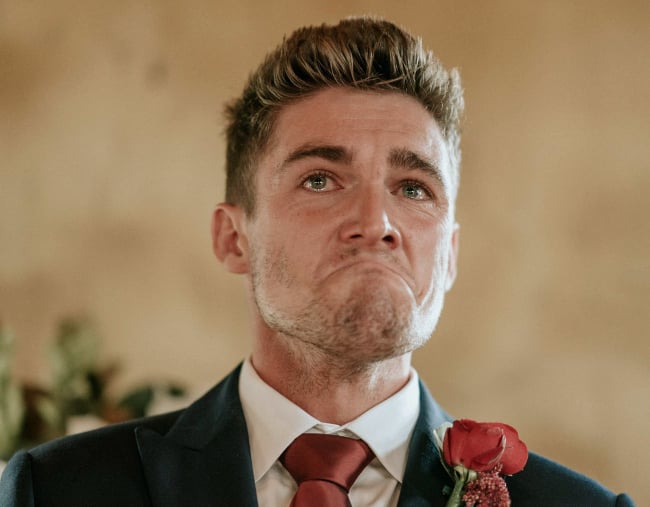 Almost a week "to the day" before Tyrone Armitage's wedding, he and his partner of 11 years Kelly were caught up in the last-minute chaos of wedding planning.
Finding the right coloured ties for the groomsmen. Emergency wedding dress alterations. Organising reception music and run sheets for the ceremony.
It was all part of the fun, the couple kept telling themselves.
Then, the Melbourne man picked up the phone to hear his sister's voice tinged with sadness and pain.
"I instantly knew something was wrong. I knew straight away it was about Dad," the 28-year-old told Love What Matters.
"'Ty, it's about Dad. It's not good. They have found more tumours.' I couldn't quite believe what I was hearing and instantly went from a feeling of one of the biggest highs of my life to snapping back to reality and feeling like my heart just shattered into a thousand pieces."
Want to hear to more?  Listen to No Filter in iTunes, Android or on Mamamia.
Ty's father has been battling multiple myeloma cancers for almost 16 years, he told the publication. Although the last 12 months "hadn't been good", Ty was confident his father would be able to make his wedding day. Unfortunately, doctors found new tumours in his face, shoulder and hip. He was "riddled with [cancer]," Ty remembered thinking.
"Words like tumours, radiation, and palliative care were being thrown around and I remember thinking, 'is this really happening?'" he said.
After hanging up on that phone call, Ty said all the finer details of the wedding planning were quickly put into perspective. All that mattered was that he was marrying the love of his life and he needed the people who mattered most to be there.
"In Dad's true style he said to the doctors, 'Do what you need to do to get me to my son's wedding and do it quickly!'," he said.
With the help of Sydney photographer James Day, Ty and Kel were able to capture their special day – from the moment Ty saw his fiance walking toward him down the aisle to a special conversation with his father he will "cherish forever".