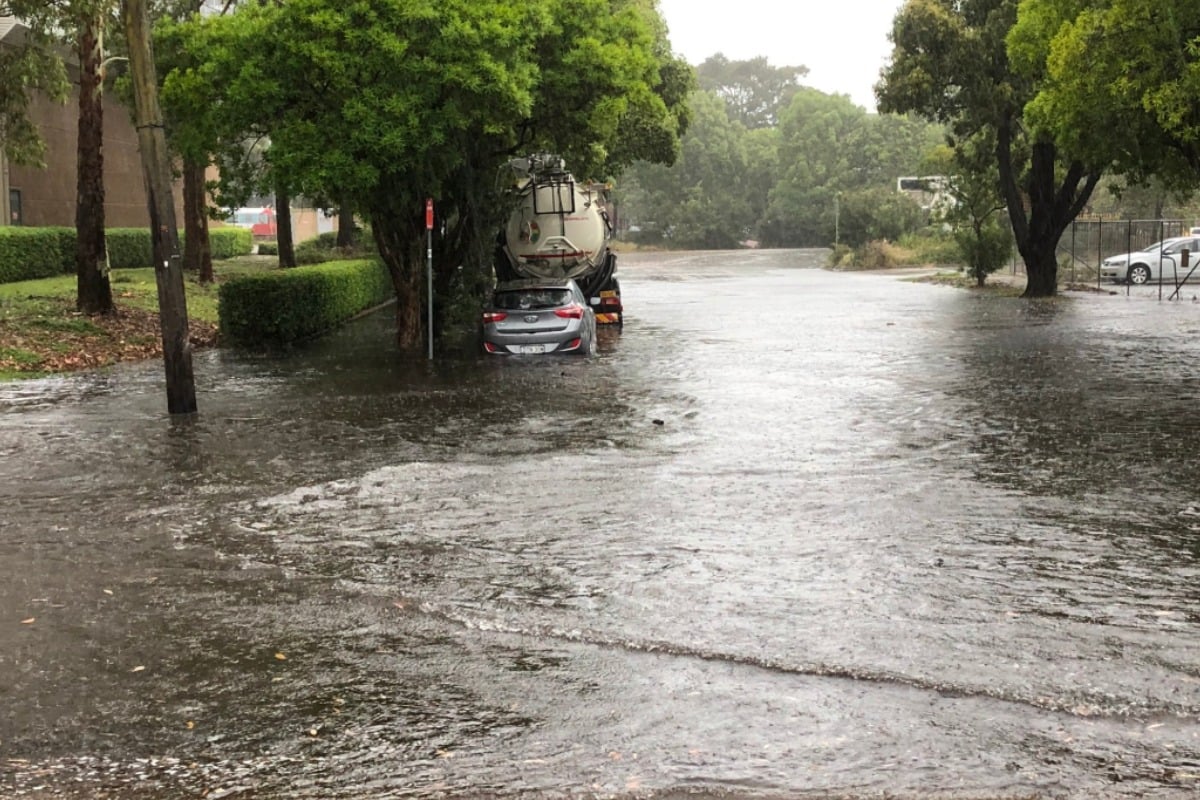 – With AAP.
Hi.
I'm writing this from the comfort of my lounge, because Sydney is no longer a place where it is safe to go outside.
My street is flooded and so is my apartment building, and when I went outside briefly this morning, a policeman simply looked at me and shook his head.
I understood.
According to AAP, at least a dozen people have already had to be rescued as heavy rain and damaging winds lash Sydney and surrounding areas.
The NSW State Emergency Service had received more almost 260 calls for help by 7am on Wednesday, including 11 flood rescues, as severe thunderstorms swept across the harbour city.
"It's turning into being a wild day," SES regional controller Greg Murphy told Channel Seven.
Sydney received more than a month's worth of rain in just two hours – with Observatory Hill recording 84.6mm by 7am. The November average is 83.8mm.
West Pennant Hills, in the city's west, recorded 72.5mm in one hour, while 44mm fell in 30 minutes at Chatswood Bowling Club.
The wild weather has caused chaos on Sydney's roads and transport network.
A number of flights have been delayed or cancelled, with the airport reduced to just one runway.
Flooding has forced the cancellation of trains between Sydenham and Campsie and light rail services, while ferries between Parramatta and Sydney Olympic Park have also been cancelled.
Dozens of roads across the city have been shut due to flash flooding.
The heavy rain isn't expected to ease until early Wednesday evening, but damaging winds could hang around until Thursday.
So if you can – today is the perfect day to sit at home with the heater on and preferably a dog nearby. You probably won't be able to order Uber Eats – unless you're happy for the delivery to take upwards of three days to arrive.
But if you live in Sydney, and you look out the window, it really does look like the apocalypse has started. Here's the evidence:
navigating ones way to work this morning #SydneyStorm #SydneyWeather pic.twitter.com/WkxJ2SVM1k

— Deck the Halls ???? (@channelclem) November 27, 2018