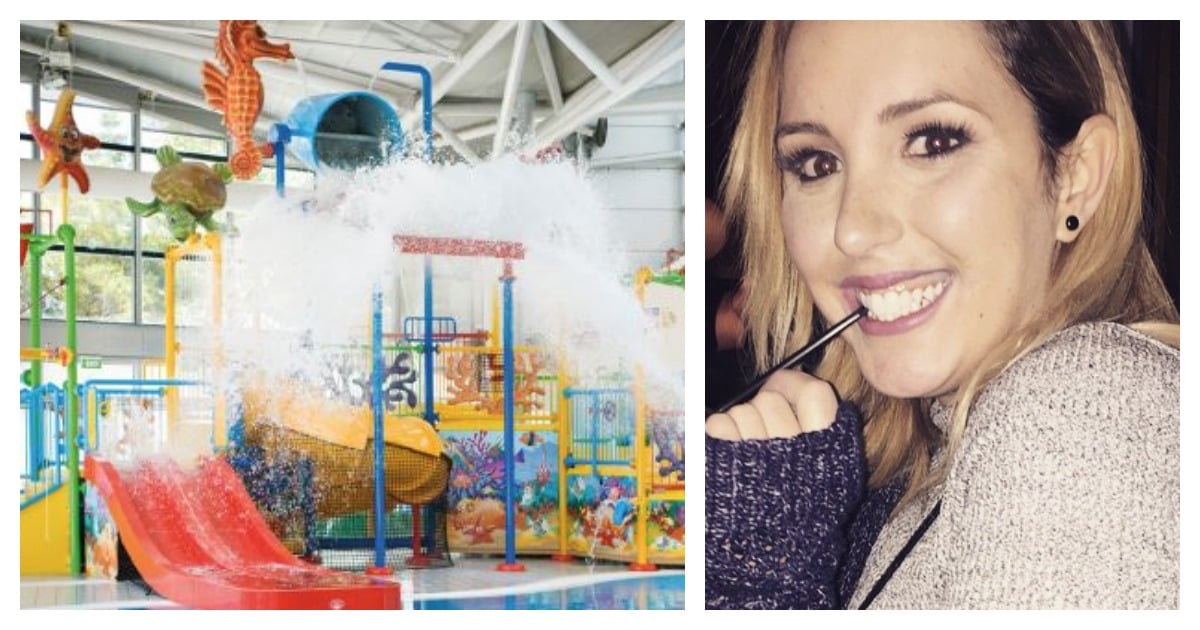 A young mother has bravely written of how her perfect Sunday turned into a nightmare when she was allegedly sexually assaulted at the Sydney Olympic Park Aquatic Centre in Western Sydney while holding her two-year-old daughter in her arms.
Cassandra Sunners, 26, says she was out for what was meant to be "a fun afternoon with my kids at the Olympic Park Aquatic Centre" on Sunday afternoon when the alleged assault took place.
She has told of how while she was in the whirlpool section of the pool with her two children aged 2 and 7 – and she was holding her daughter through the swirling water –  when she was gripped from behind and assaulted.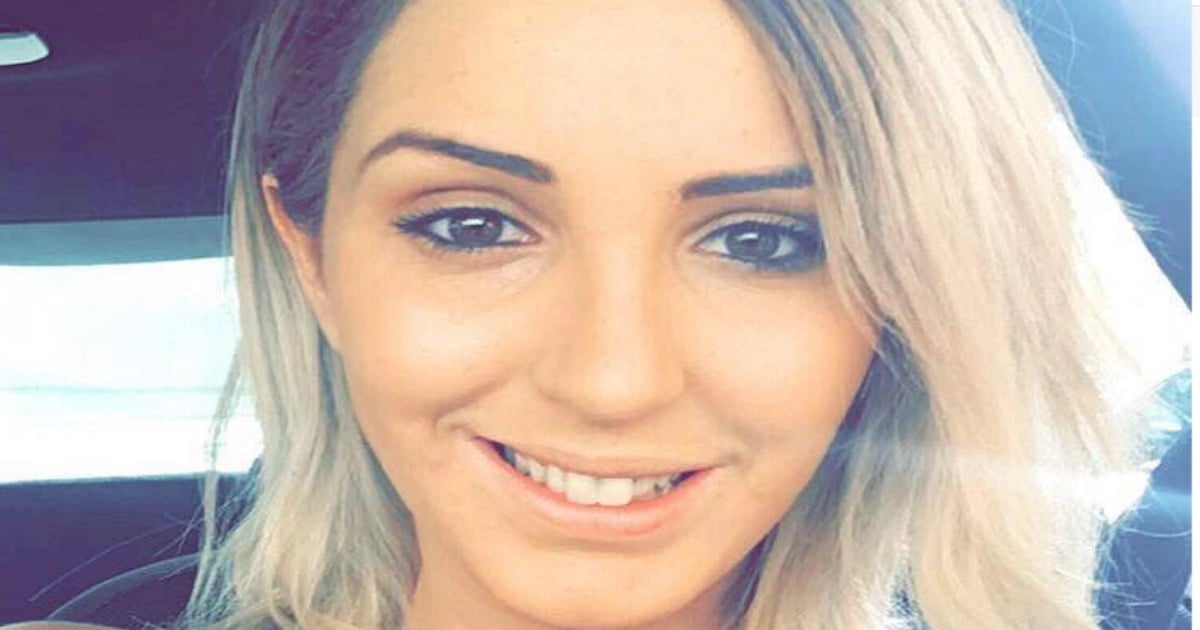 Cassandra Sunners. Via Facebook.
"It took three to five seconds," Cassandra Sunners wrote in a public Facebook post warning others of the attack.
"It took 3-5 seconds for a disgusting vile man to make me a victim. 3-5 seconds."
Ms Sunners alleges says she felt someone grab her from behind.
"My daughter and I were waving at the CCTV cameras when this boy, man, whatever you want to call him grabbed me," she told Kidspot. 
"At first I assumed it was my son."
Ms Sunners alleges the man slipped his hands underneath her swimsuit assaulting her.
"I turned around and looked straight in his eyes - I don't know what I screamed," she said, "I think I swore. As soon as he made eye contact with me he put his head under water."
She says that she screamed for a lifeguard but the man tried to stay underwater.
He was apprehended by the lifeguard and arrested by police, charged with assault, indecent assault and act of indecency.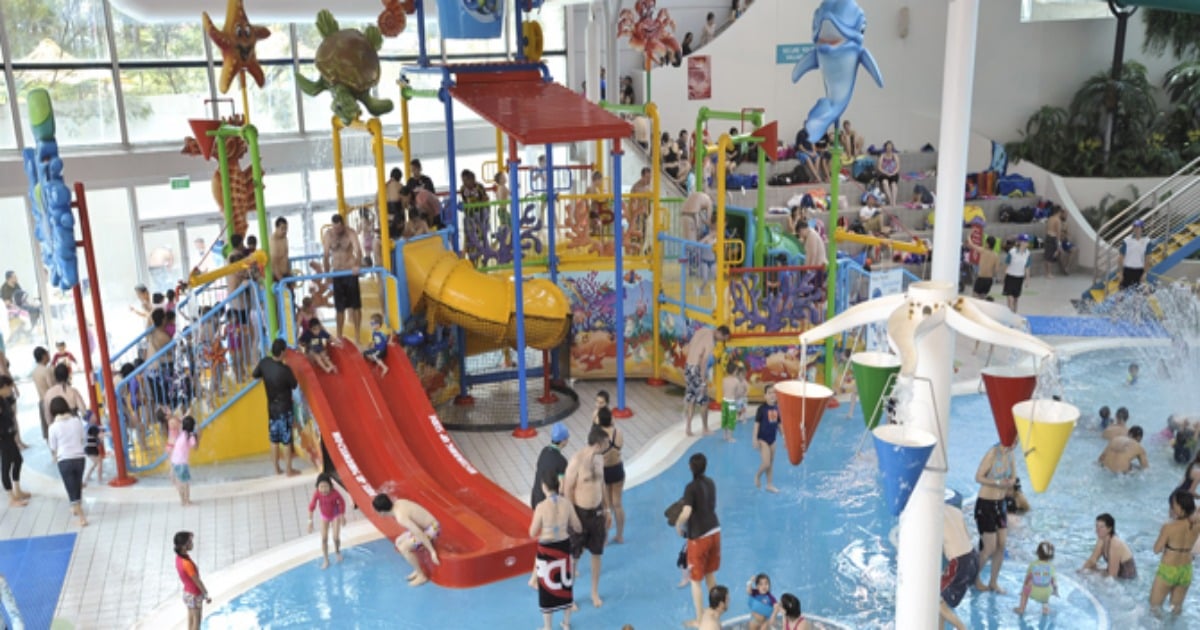 Sydney Olympic Park's Aquatic Centre. Via Facebook.
On Facebook she assured her friends and family that she was okay but she had spoken to warn others of the potential dangers.
She said, "I'm okay guys. I have a beautiful supportive family and wonderful friends like you guys. I would rather it be me than some young girl or boy who may of been too afraid to speak up.
"The officers and guards were amazing and were quick to catch him."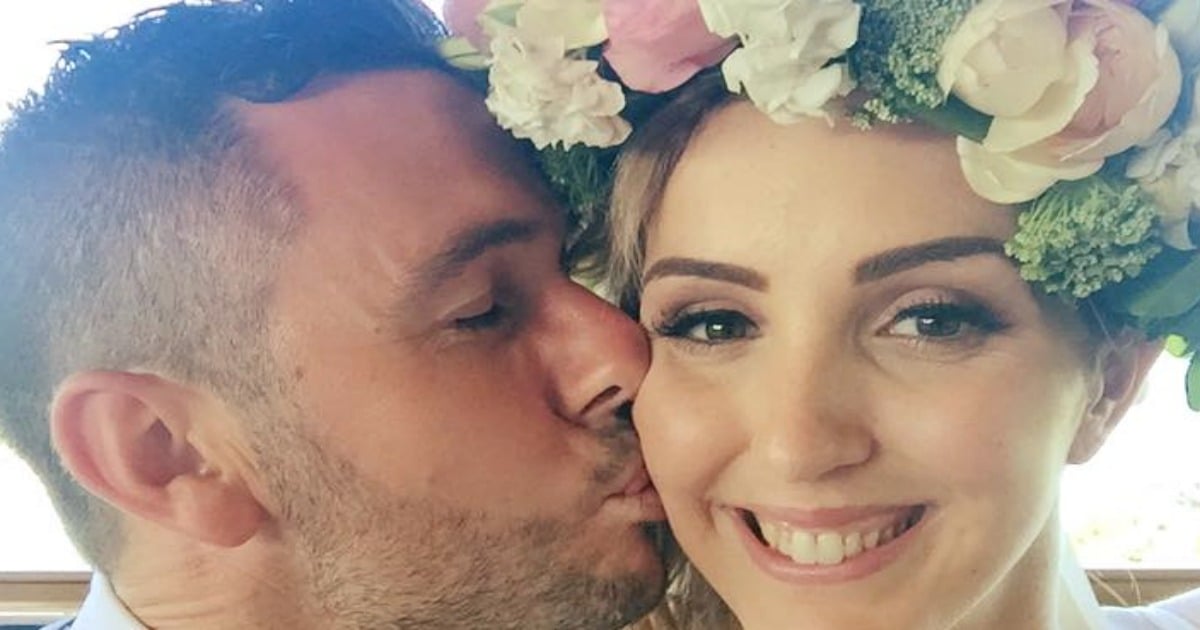 Cassandra Sunners and her husband. Via Facebook.
Since posting Ms Sunners has had several people contact her to tell her that a similar thing had happened to them by, they allege different offenders.
One woman said she was assaulted there over a decade ago, in that same pool.
In 2014 a 33-year-old man pleaded guilty after he indecently assaulted seven teenage girls in the whirlpool.
Mohammed Salem Nazari , a father of five, pleaded guilty to two charges of two 18-year-old girls and five offences of indecently assaulting a person under the age of 16 at the pool.
Police documents tendered to the court alleged he grabbed all of the girls around their waist, touching their thighs, bottoms and breast.
He was jailed for fourteen months and will be deported back Afghanistan after his bridging visa was cancelled.
While in 2001 another man, who was not caught, sexually assaulted four girls, aged between 12 and 13.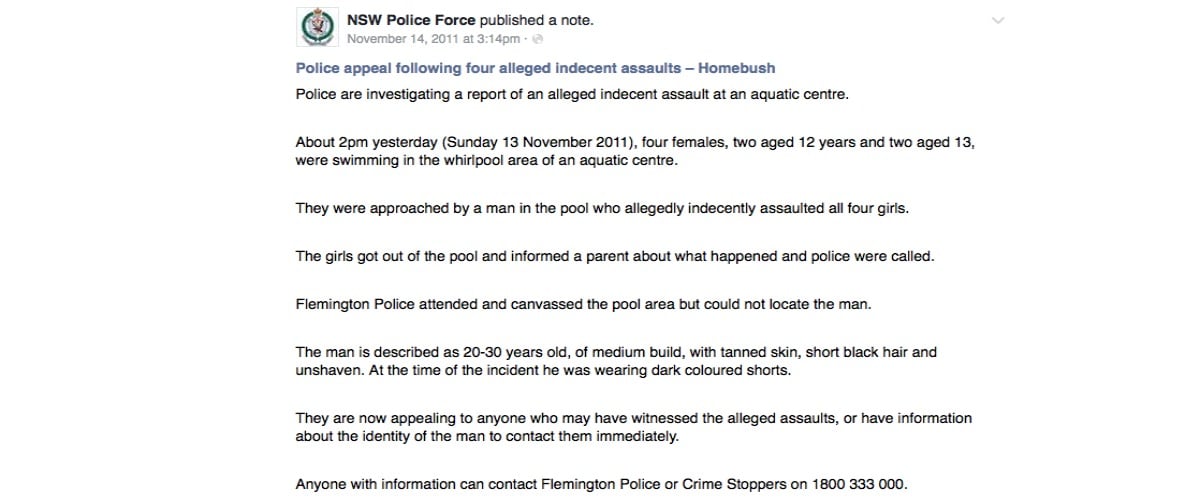 A police report from 2011.
"There's a sign there saying 'inappropriate behaviour in the whirlpool will not be tolerated' so I think they know it happens," Ms Summer told Kidspot.
"And there are lifeguards and cameras. But I think they should shut the whirlpool down. How can you prevent this sort of thing from happening?"
A spokesperson for Sydney Olympic Aquatic Centre told Kidspot they could not comment as it was before the police but they were aware of Sunday's incident"
They also said that these "unfortunate" incidents happen at other public pools too and they are "taking measures" to make sure it doesn't happen again.

She writes on Facebook, pleading with families and women to be vigilant:
"DO NOT LET YOUR CHILDREN IN THERE.  DON'T DO IT."
To the management she addresses her concerns:
Sydney Olympic Park Aquatic Centre,

What are you going to do about these incidents that keep piling up?

Video surveillance?

Video surveillance has got the offender on camera, yes.

Video surveillance did not stop the offender.

Warning signs?

The warning signs did not stop the offender.

More life guards?

No life guard or any person could of stopped the offender.

Maybe a 'enter at your own risk' would be more suitable?

Surely these incidents that are occurring specifically in the whirlpool can only happen so many times before something is done or changed?
Cassandra Sunner's alleged attacker will face court at a later date.