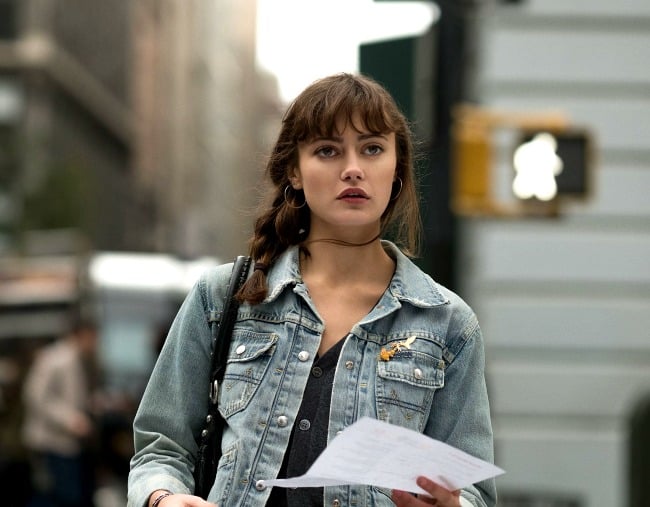 Have you ever wondered what it would be like to watch a revamped version of Coyote Ugly where the main character is not a sweet songwriter but a dour houseplant with the emotional range of an overused kitchen sponge?
Well, wonder no more, my friends, because this is the reality we are now living in and there's no more need to use your imagination.
I'm referring of course to Sweetbitter, the sexy new drama currently airing on Stan in Australia which takes place within the heated and volatile setting of New York's restaurant world.
The TV series, which is based on the novel Sweetbitter by Stephanie Danler, follows Tess, a shy young women who moves to New York alone with not a whole lot of cash to her name and attempts to land herself a job and carve herself out a life in the city that never sleeps.
Tess ends up working in a celebrated downtown restaurant where she begins to form relationships with her co-workers and is slowly introduced to a world of drugs, wine and fine dining.
When you first read the premise of the Sweetbiter, it appears to have all the ingredients of an addictive, guilty pleasure watch that is just begging to be tasted.
Yet, when you actually start watching the series, it begins to feel like someone forgot to actually stir the batter and now all we are left with is a mess of soggy, unappetizing lumps.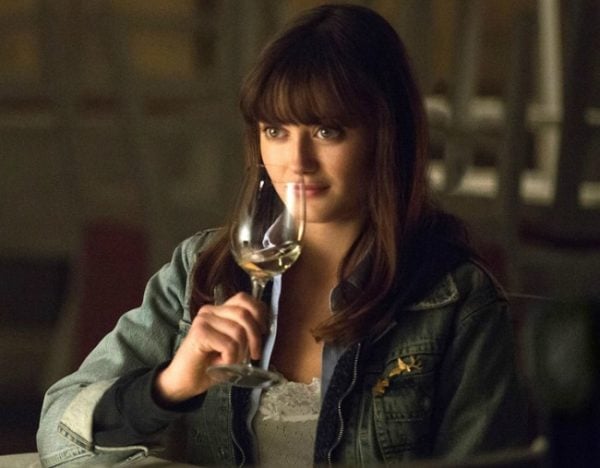 And the biggest uncooked lump of all is the character of Tess, played by Ella Purnell (who I do not hold personally responsible for this mess, I'm sure she is just working with what she has been given).
When we first meet Tess she is wide-eyed and innocent, with a dreamy and mysterious tone to her voice that makes you believe she's a web of secrets just waiting to be unraveled.
Her character fails to give anything away during the show's premiere episode, and on first viewing that play seems very much in-line with the show's overall creative vision.
This series looked like it was all set to be a simmering long-burn, and at the time we had to trust that the Tess character would start to warm up once we got to know her a little better.
However, we are now four episodes into the first season and it's become very clear that someone has forgotten to turn on the heat.
For the character of Tess, a 20-something millennial who was supposed to represent a group of women at a pivotal coming-of-age moment in their lives, a character so many of us have loved within the pages of a book, is not in fact mysterious or deep.
She is simply vacant and unformed to the point where her continued presence on screen is so irritating to watch that I find myself covering my eyes with my hands multiple times within each episode.
First of all, she uses the tired old female character trick of trying to convince us that she is lovingly shy and very deep by failing to conquer the art of speaking in full sentences and continually stuttering while looking down awkwardly and biting her lip.
This is a move very much perfected by Bella Swan in the Twilight films, where she manged to substitute a speech impediment in place of any kind of character depth or development.
In short, it's a lazy storytelling device usually only activated in the space of lukewarm teen flicks and underwritten young adult novels. It's sad to see it appear here in an instance where we could have had a young female character with real depth.
Twenty-something Tess is trying to work things out in Sweetbitter. Post continues.

Then there is the trope that a female character such as Tess (side note, it wasn't until the third episode that I was actively able to remember her name...that's how much of an impression her character has made) must come across as incompetent in order to appear "relatable".
In order to appear as an "every girl", a bland inoffensive woman that audiences are so used to seeing on screen that they are to supposed to unconsciously warm to her, Tess fails to prove that she has the necessarily life skills required to remain walking upright. Let alone move to New York City alone.
She lurches awkwardly through her job interview for the restaurant, only landing the position because she spaces out during the conversation and then compliments the owner on the beauty of his fingernails.
(Note to job-seekers, do not try this at home. You're more likely to be slapped with a restraining order than an employment contract.)
To make matters worse, her awkward behaviour towards her co-workers is also meant to paint her in an endearing light....but in all honestly these are the moments where the character of Tess is depicted as being at her most cringe-worthy.
The moment where she invites herself over to her co-worker Simone's home and then promptly falls asleep in her bathtub is particular low moment.
Tess is very much positioned as a Manic Pixie Dream girl (a movie trope where a crazy, beautiful and almost otherworldly woman changes a man's story-line) except the writers have gone hard on the "manic" and left out the "dream".
The most offensive thing about Tess in general is that the show-runners think this is the type of lead character modern women will relate to and all men will desire. A clueless, robotic stereotype with a stutter and an excellent fringe.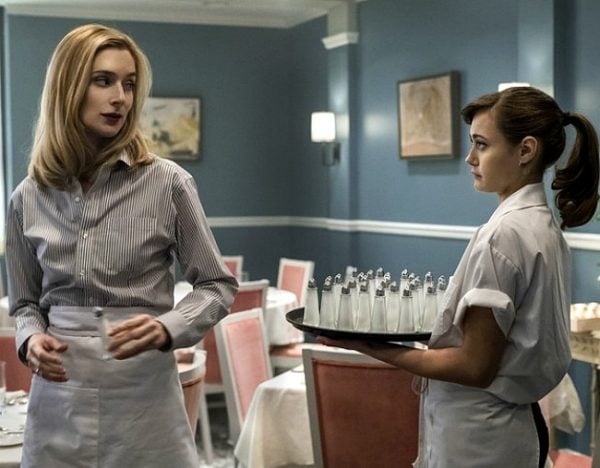 There are, however, some redeeming elements to Sweetbitter.
The show's restaurant setting is utterly mesmerizing and the ensemble cast of characters is both eclectic and intriguing, with Caitlin FitzGerald's Simone a particular highlight of the series.
So if you're looking for an easy binge watch, you can keep Sweetbitter on the list.
You might just want to cover your eyes whenever 2018's most irritating character appears on the screen.
Sweetbitter is currently streaming on Stan, with new episodes dropping weekly. 
For more content like this, you can follow Mamamia Entertainment Editor and host of The Binge podcast Laura Brodnik on Facebook.