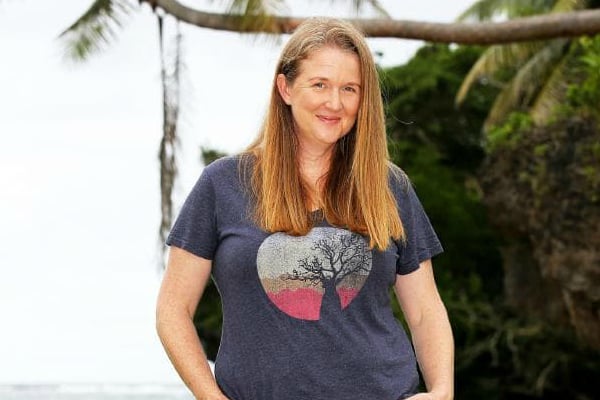 Sarah Ayles is a survivor in the truest sense of the word, and not just because she's a contestant on Australian Survivor: Champions vs Contenders.
Long before being on a national reality show, Ayles survived the 2004 Boxing Day tsunami, which was caused by an earthquake in the Indian Ocean. According to experts, it had the energy of 23,000 Hiroshima-type atomic bombs.
The magnitude was unprecedented in living memory, as was the loss of life; 227,898 people died across Indonesia, Sri Lanka, India, and Thailand.
But Ayles survived.
Speaking to Mia Freedman on No Filter, Ayles described how her life irrevocably changed in a matter of minutes.
Listen to Mia Freedman's interview with Sarah Ayles. Post continues after audio. 
Before her fateful holiday to Sri Lanka, Ayles was "fairly busy", running a cleaning company with business partner Sujeewa Kamalasuriya, whom she had previously been in a relationship with for 11 years, and known for 14.
'Sujee', as Ayles affectionately called him, had lived in Australia since 1990, and "was a converted Aussie."
They pair had amicably separated from their romantic relationship years earlier, but remained close. Explaining why they had holidayed together, Ayles said, "He always felt regret at not taking me to meet his family and to see his country."
And so, that Christmas, they decided to go on an adventure. The friends arrived in Colombo, saw family, and planned to attend a friend's wedding.
On the morning of Boxing Day, they experienced a 'sliding doors' moment.
"We were in a big, solid hotel, and had we remained there, we would have been fine," Ayles said. But because they'd had "such a great time" the day before snorkelling, they decided to venture to the beach again.
They went, as Ayles said, "early in the morning, before the sun and tourists came out."
It would prove to be a matter of being at the wrong place, at the wrong time.
"We'd literally just driven on to this beach, stripped off, and were ready to go snorkelling. But in looking out at the ocean, the horizon was gone. The water was higher than it should have been.
"It didn't look like a wave."
Ayles said that in retrospect, she was obviously in danger – but didn't recognise it at the time. She did, however, notice the water "dribbling in" at their feet at the dive shop where they were obtaining snorkelling gear.
"It was completely silent, except for this swirling sound of water," Ayles recalled.
Realising she needed to get to higher ground, Ayles climbed the stairs of the shop to the next floor. Soon after that, she realised she was in real trouble.