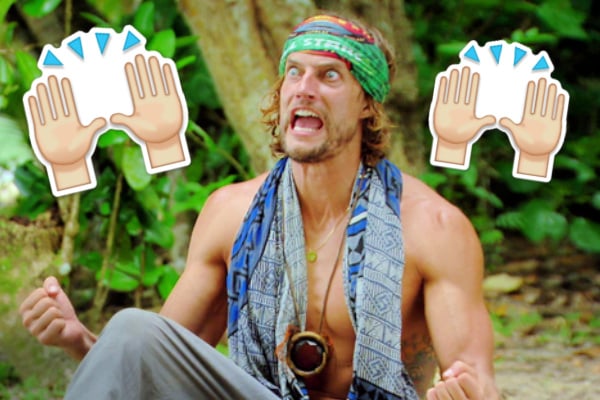 Right now, there are two major reality TV shows on the telly at exactly the same time. Australian Survivor: All Stars and Married At First Sight.
Same time. Same nights. A national dilemma over which show to watch (or at least, which show to watch in real time and which to watch on a streaming service later).
If we're going by the ratings, Married At First Sight is the winner. Since airing at the start of Feb, not once has Australian Survivor: All Stars cracked the top five most-watched shows. Not even on the night it premiered. According to industry website TV Tonight, on the fateful night MAFS and Australian Survivor both premiered, MAFS drew 1.1 million viewers compared to an upsetting 624,000 for Survivor.
You can watch our exclusive interview with Survivor great Luke Toki in the video below. Post continues after video.
But that doesn't matter, because it needs to be said: Australian Survivor is SO MUCH BETTER than the cesspool that is MAFS.
Sure, I can acknowledge there's a universal appeal in the gossip, people throwing things at each other, people swapping partners and messed up toothbrush incidents MAFS brings to the table. But honestly, I've been too busy on the edge of my seat watching hectic Survivor tribal councils to keep up with the MAFS relationship drama(s).
Now, I've gone on record many times saying Australian Survivor is the best reality show on TV, but here's a refresher on why Survivor is premium reality TV content you don't have to feel guilty about loving.
It's the perfect combination of all the genres and elements that test the human condition. Drama, tick. Athletic challenges, tick. The elements, tick. Love and betrayal, tick. Drama, triple tick.
You won't find any fake marriages or roses on the remote Fijian island, but there's a certain magic to Survivor that makes it so addictive and so thrilling, without dipping into, well, low-brow territory. Trashy reality TV will always have its place, but Survivor is on another level.
And the show also has Jonathan LaPaglia, who in his role as host, has delivered some of the wisest lines ever uttered on television.