On Friday night, China's top swimmer Sun Yang was handed an eight-year ban for a dope test violation.
The decision essentially vindicates Australian rival, Mack Horton, who after winning silver at the Rio Games, famously refused to share a podium with gold-medalist Yang and labelled him a "drug cheat".
"The CAS [Court of Arbitration for Sport] Panel unanimously determined, to its comfortable satisfaction, that the athlete violated Article 2.5 FINA DC (Tampering with any part of Doping Control)," the CAS statement said announcing their decision.
The CAS found the reigning world and Olympic 200m freestyle champion guilty of refusing to cooperate with official sample collectors during an out-of-competition doping test in September 2018. It was alleged Sun's bodyguard used a hammer to smash vials containing blood samples.
The ban almost certainly will spell the end of Sun's professional swimming career.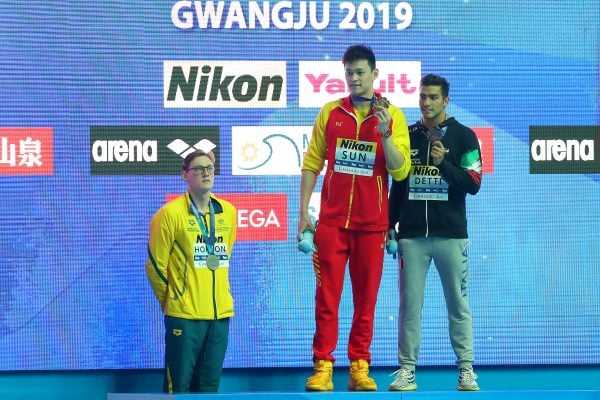 Sun Yang vowed to appeal the ban from the CAS, saying "this is unfair".
"I firmly believe in my innocence. I will definitely appeal to let more people know the truth."
In light of the eight-year ban, Mack Horton has said his focus has always been about "clean sport". The Aussie swimmer spoke to Network Seven after learning of this latest sanction against his rival.
"I think regardless of the outcome it was always going to be a statement to the world and my stance has always been about clean sport never about nations or individuals," Horton said.
The case has attracted huge interest in China, where Sun is currently training at the Zhejiang College of Sports in Hangzhou, and in the swimming world.