The controversial SBS doco about Aussie battlers has aired. And the public reaction is…
Meet Bailee.
She was kicked out of home on her 13th birthday after getting into a physical fight with her mum's boyfriend. On the streets, she was raped, became addicted to ice and tried to kill herself.
Now 16, she is just one of the "down and out" characters featured on the new SBS show, Struggle Street.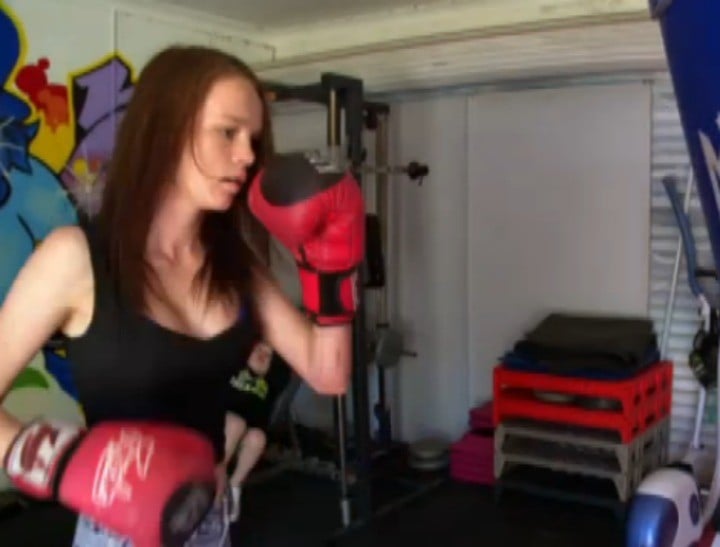 The three-part series documents the grim reality of Australian's "doing it tough" in public housing (referred to as "havens for the downtrodden") in Sydney's western suburbs, specifically Mount Druitt.
You've likely heard of the show due to recent outcry by the residents portrayed in it. They're unimpressed by the way they're depicted, and there have been allegations that it's little more than "publicly funded poverty porn".
More about the outcry: Sydney residents are begging SBS not to broadcast this documentary.
Following the uproar about a promo for the show, SBS cut some scenes "out of respect" for the families involved, including one scene of a man farting on his front porch.
(Another highlight from the preview reel includes a woman yelling at her cat, "You're a slut. Tell the truth, you slut cat.")
Chief content officer Helen Kellie said they removed parts of the episode that participants were uncomfortable with, but that did not distort the story, Mumbrella reports.
She said the broadcaster wanted to ensure they were showing accurate stories, not just those the participants wished they could tell.
The show promised to share the untold stories of battling Aussies. And tonight it delivered.
In case you missed it, here are the most memorable parts of the first episode:
1. Young single mum Erin taking in homeless teen Bailee.
Erin was one of the local "bored teens", who ended up pregnant at 15. "It was all my own fault… I was hanging out with the wrong people, doing the wrong things," she says. Now, the unemployed single mum wants to be a youth refuge worker. "I think if I had someone to help me when I was younger, life might have been bit different, a little bit less of a struggle," she reasons.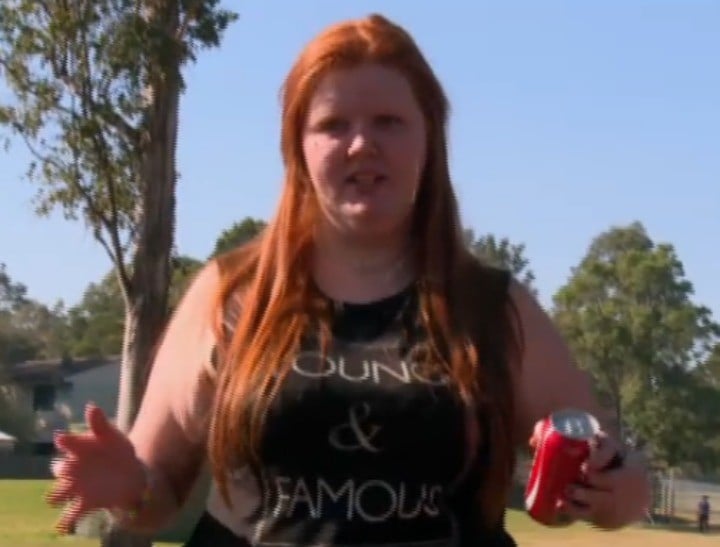 She offers to take in Bailee, the 16-year-old with nowhere to go since her house was trashed and her roommate, who has lots of "bad people" after him, went missing. Bailee, whose arms are covered in cut marks and who recently attempted suicide, said she was too scared to live there.
Bailee – a former ice addict – moves in with Erin and her young boy, but the accommodation is not without its trials. Erin fears that a group of people are going to come around armed with knives and "bash" them due to a "money situation".
2. A homeless man hunting birds for food using a homemade slingshot.
William is homeless and secretly camping in the bush on the suburb's outskirts. He claims to be on the run from police for selling homemade slingshots. Using his slingshot, he shoots rocks at birds in the trees, which he likes to eat stuffed with rice, onion, tomato and "some of those Italian herbs".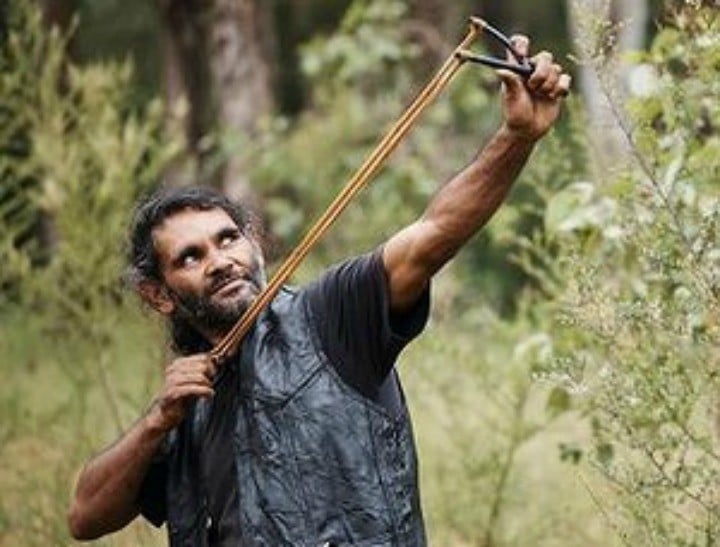 "Why go in the f**king shop and buy a chicken when you can knock one of these c**ts and have a free feed?" he says. William – who has two children he doesn't see – said he would rather starve than see his two dogs go hungry.
#strugglestreet When is the cooking show coming out with the bird c*nt stuffed with tomatoes and onions recipe?

— One of the Rabble (@canthavepudding) May 6, 2015
3. Finding a knife stuck into a tree at the local park.
According to the narrator, even the local parks carry the marks of rampant drug use and illicit activities. While pushing her boy in a swing, Erin notices a large knife stuck in bark high up in a tree.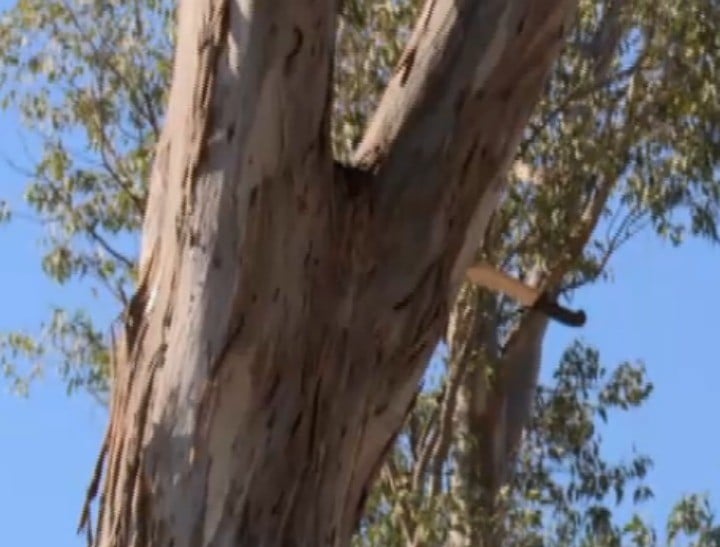 Her friend knocks it down and, after checking for blood, they speculate about its uses – home invasion or someone trying to hide it from the police?
4. The way a large blended family deal with having an ice-addicted son who steals from them.
Ashley, a former truckie, is on the disability pension after suffering a head injury, four heart attacks, a triple bypass and a stroke.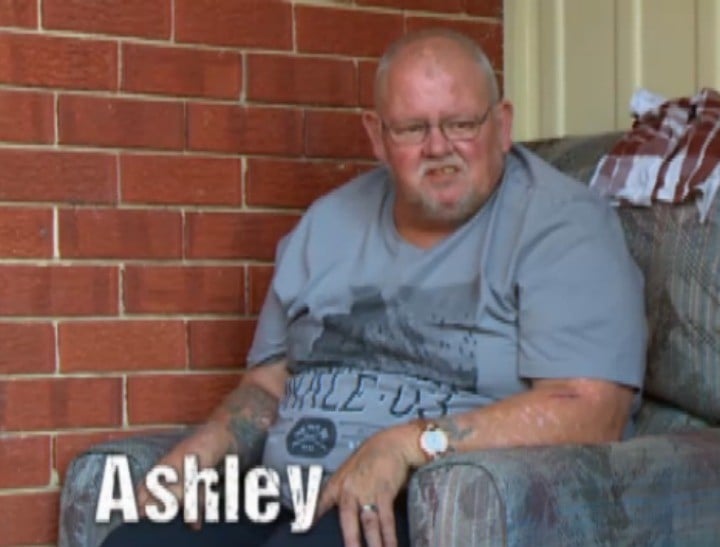 His second wife, Peta, gave up her job to be his full-time carer. "I love you with all my heart otherwise I wouldn't be here," she says.
"I wouldn't wish this on anybody."
Between them, they have 10 kids (most of whom are unemployed) and 18 grandchildren. One of Ashley's sons Corey is an ice addict and a father. Peta is scared of him.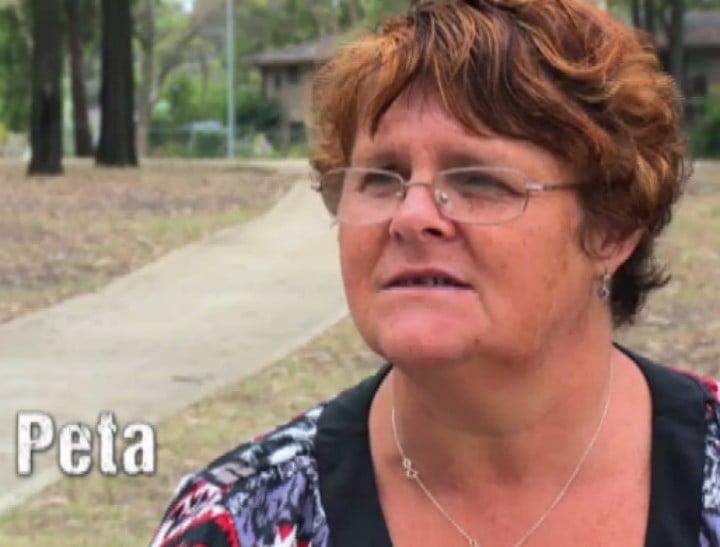 Corey routinely steals and sells the family's possessions and, this time, steals a motorbike. He tells his family he will get the bike back when he is ready. His father Ashley says: "This bloody ice shit… it's evil. He's a good kid normally, the ice has changed him."
Both Ashley and Corey's girlfriend Shantelle, hope he is jailed for the drug and driving charges he faces at court. Shantelle says: "If he gets locked up, well it might be a wake-up call. Hopefully he comes out clean and he might have a bit more respect for his family."
Ashley says: "I don't want to see him go to jail… but probably jail is the best thing. I've lost two kids to natural causes, I don't want to lose a kid to drugs. He's my son. Don't know why, but I love him."
Instead, Corey gets a bond and an $800 fine – he was "very lucky, once again".
5. A couple breaking into their roommate's room to get a piece for their bong.
"Bullshit Bob" and his girlfriend Billie Jo (who appears to be pregnant) are attempting to break into their housemate's room using large knives because they need a cone piece for their bong.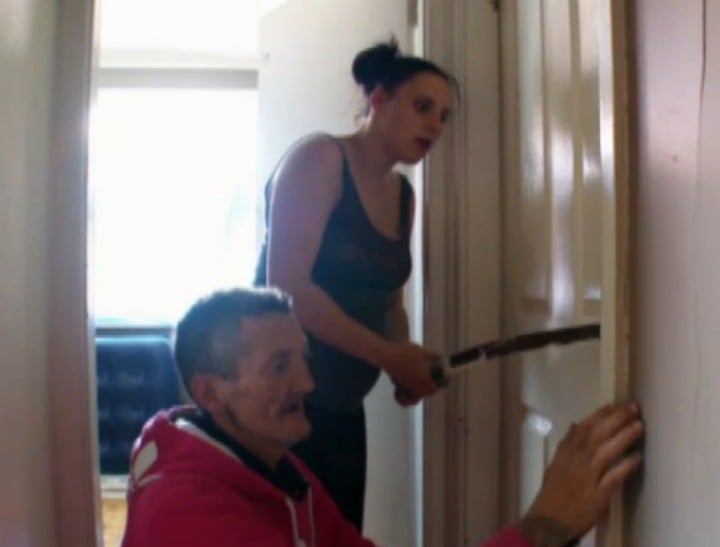 Luckily, before they break the door down, their mate arrives with a cone piece and saves the day.
The very yobbo and cliché-filled narration.
Examples include: "The stories of those struggling to hang on… but when you're dealt a lousy hand, who says you can't win? And when life sticks the boot in, it's about how you fight back."
What's with the voiceover #StruggleStreet absolutely brutal.

— davethescot (@davehinnrichs) May 6, 2015
"Everyone's just trying to make ends meet on struggle street."
The narrator describes living in Australia as "hard yakka if you're not (rich)" and housing estates as "chock-a-block with everyday people being pushed to the edge".
#StruggleStreet judgemental narration & annoying cheesy music detracts from the stories of the people

— Sarah Attfield (@sjattfield) May 6, 2015
"That's how some folk do it, in the Druitt."
"It's a tough life when you ain't got much."
"That's how folks do it, in the Druitt." Hmmm. Really? #StruggleStreet

— Leonie Mellor (@leoniemellor) May 6, 2015
The general consensus on social media was that Struggle Street is a valuable and insightful look into hardship that is full of "heart".
Apart from the slightly condescending commentary and the unexpected juxtaposition of upbeat music and jokes against the stories of people really fighting to get by, this is reality TV at its most realistic.
SBS announced tonight that the series will now be fast-tracked and will conclude next Wednesday with a two-hour episode from 8.30pm due to "the significant public interest in the series" and "in consideration of participants who bravely tell their stories".
Did you tune into Struggle Street tonight? 
[post_snippet id=324408]