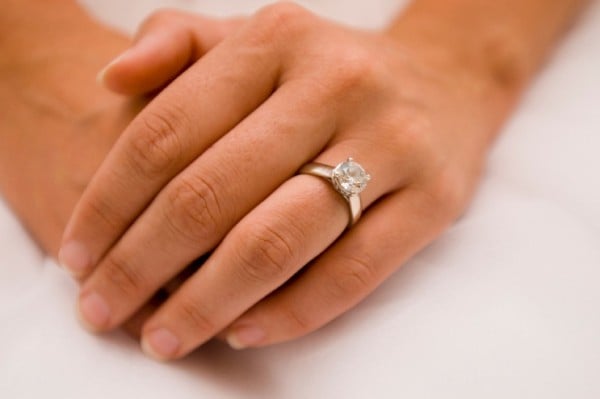 When I was 26 a very sweet, funny man asked me to marry him. I said yes and we went out and bought an engagement ring. A year later, I married him and slid a wedding ring behind my engagement stone.
Next April, we celebrate 18 years of marriage. And, yes, we've travelled the traditional path of children, arguments over pillow thickness and a mortgage that has so many zeros I should start investing in zeros.
Like Debrief Daily on Facebook. 
I've never really thought much about the significance of those rings. I've spent more time looking for my iPhone charger than I have thinking about those delicate pieces of platinum. If I was being honest, if I did contemplate my rings my thought would more likely to be punctuated with words like 'responsibility', 'predictability', 'to-do lists' and 'worry', rather than 'love', 'commitment' and 'pride'.
Because in my mind, people without rings like mine travel toexotic locations at a moment's notice because they didn't have to get six girls to netball camp, drop the dog off at the clippers and wait for the dishwasher repairman. People without rings like mine drive tiny, cute, two-door cars and go to cool outdoor parties that start in the afternoon and don;t even consider wet weather option. People without rings like mine haven't followed a traditional path and following my logic, they are flying untethered and free.
Were the rings, and the length of my marriage, a sign I was boring and safe and would never ever be able to put into action one of those inspirational quotes I read every day on Instagram? I mean, there once was a time when I'd eat chicken from takeaway shops and not worry for the next six hours about food poisoning.
Then, one day, my rings went.
I was playing netball and I jarred my ring finger. It blew up like balloon.
For the first time in 17 or so years, there was nothing on my ring finger. I put them in safe place – an empty Pears soap box under the bathroom sink - and went out into the world with completely naked digits. The swelling will go down in a few days, I thought. It didn't. Then I thought it will go down in a few weeks. I was wrong.
And it was great.
Without my rings there was nothing that showed my history, my marital status and, because I'm in my 40s, the probability that I was a mother. People couldn't place me. I was surprised to realise I did a quick finger glance to clock whether a new introduction was married or not. It's called collecting background info. Strangers obviously did the same with me.
I went to a work meeting with a colleague and three people I had never met, and casually asked how long a new consultant (he was Italian) had been in Australia. Someone started talking about how good looking he was and said she thought he was single and he liked blondes. She practically raised her eyebrows, Benny Hill-style. Toward me. She obviously figured, since I was "single" my enquiry was a romantic one.
Another time, waiting for a friend at a bar, I had forgotten my phone and had to ask to borrow one. The conversation turned flirty very quickly and then I realised: I'm a "single" woman by myself in a bar asking to borrow a man's phone.
Twice (one of those Murphy's Law situations) in one month I ran into a woman I hadn't seen in a decade. The second time she talked to me as though I had obviously split up with my husband, then proceeded to talk about the problem with men.
For the first time in 18 years, strangers didn't know anything about my marital status. I was as close to a mystery as I would ever be. It felt light. I felt fun.